Sugar & Sweeteners: Evolving Trends In Asia Pacific
Monday, May 11th, 2020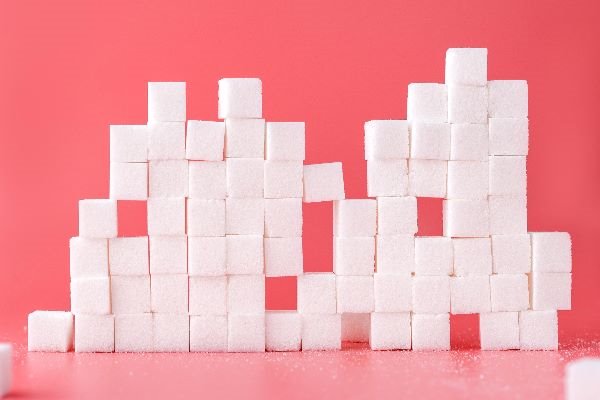 Increasing health awareness among consumers, coupled with government regulations in the form of sugar levies, give soft drinks and confectionery brands across the Asia Pacific (APAC) region an opportunity to innovate and reformulate, says GlobalData, a leading data and analytics company.
Rising Prevalence Of Health Concerns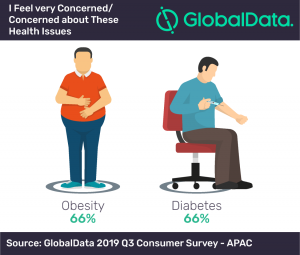 There has been a rise in the incidence of diabetes and obesity across APAC, which can be attributed to the high consumption of sugar rich products. According to GlobalData's 2019 Q3 consumer survey*, 66 percent of respondents feel very concerned/concerned about health issues like obesity and diabetes.
Nabila Azmatulla, Consulting Project Manager, Consumer Products Research, at GlobalData, says: "The rise in sugar consumption has been driven by the increasing household disposable incomes and lifestyle changes leading to the preference for ready-to-eat (on-the-go) foods. As a result, the need for sugar substitutes has led to the rising demand for sweeteners in the region."
In addition, close to nine in ten (87 percent) APAC consumers are actively taking measures to reduce/consume in moderation products that contain sugar. This reflects in their appeal for 'sugar-free' food and drink product concepts/claims, with 33 percent of consumers finding them very appealing and 39 percent perceiving this to be somewhat appealing.
Nabila adds: "Greater health awareness and access to information online is helping consumers make better informed decisions over what is needed to meet their health goals, which is in turn leading them to be more attentive to ingredients."
GlobalData found that consumers have the most affirmative response for honey, followed by other sweeteners like agave syrup/nectar, stevia, corn syrup, xylitol and aspartame.
Nabila continues: "Considering the perceptions around specific ingredients, it is crucial for manufacturers to ensure product formulations in line with needs of the consumers."
Sugar Tax Threat Looms Large
To combat the health issues, various governments across the region are introducing levies on sugar and imposing restrictions on the marketing of sugar rich products. Sugar tax has already been levied in India, Thailand, Brunei, the Philippines and most recently in Malaysia. In addition, countries like Vietnam and Singapore are also considering implementing the same in near future. Singapore has become the first country in the world to ban advertisement of high sugar drinks as part of the measures to reduce sugar intake from beverages.
Nabila explains: "However, sugar taxation is set to affect the sales of beverages with high sugar content as increase in prices may force consumers to buy less or even stop buying altogether. This change in consumer sentiment seems to impact particularly categories such as soft drinks and chocolate/confectionery, which show decreasing sales growth in recent years."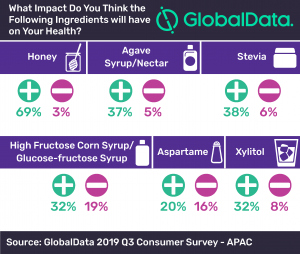 According to GlobalData, the APAC soft drinks market grew at a compound annual growth rate (CAGR) of 9.41 percent between 2008 and 2013, which significantly declined to a CAGR of 3.28 percent between 2014 and 2019. Similar trend is seen in the confectionery market which grew at a CAGR of 4.48 percent between 2008 and 2013, however slowed down to a CAGR of 1.95 percent between 2014 and 2019.
Other categories like bakery & cereals, dairy and meals and meals components also face pressure to reduce sugar content, where sugar is often 'hidden'.
Manufacturers Under Pressure To Develop Low Sugar Options
In soft drinks, as sweet flavors dominate, brands are under pressure to develop low sugar options without compromising on the flavor or aftertaste. Some examples of recent launches in soft drinks market include Applelachia—Sparkling Apple Cider Vinegar Drink (no added sugar) range which was launched in Australia. This product offers unique flavors like Superfood Cola, Ginger Turmeric Yuzu and Raspberry & Native Lime. Similarly, Harveys Fruitoria—Basil Seed Drink—Aloe Vera, was introduced in India. This 'vegetarian' drink is tagged as 100 percent natural, free-from added sugar and artificial flavors.
In Singapore, Coca-Cola Singapore Beverages Pte Ltd recently started the distribution of Sprite branded Sparkling Flavored Drink in a Pear flavor that is said to be at least '25 percent lower in sugar compared to regular Sprite of Korea'. This new release is likely to resonate with consumers, who tend to consider sugar to be harmful for health, but do not wish to change their eating habits.
Coca-Cola Oceania Ltd released Coca-Cola No Sugar branded soft drink in a Peach variant in New Zealand. Offering a soft drink that is also noted to be free from sugar along with providing a combination of peach fruity flavor with the brand's original cola taste is different from the standard products in the category in New Zealand.
In the case of indulgence-driven confectionery and desserts category—sugar being a key ingredient—brands are facing the challenge of balancing between indulgence and health concerns. Some examples for confectionery launches include Wrigley's— Wutang Kouxiangtang—Binggan Kulifang sugar-free chewing gum launched in Thailand, which offers icy hard exterior with a fruity lychee centre, and Frozz—Permen Bebas Gula—Anggur Mint, a product launched in Indonesia, which offers sugar-free mints featuring grape flavour.
Recently in India, Belgian branded Chocolate Bar was launched in the Green Tea variant. This vegetarian-friendly chocolate is free from added sugar. The cross-category combination of dark chocolate and green tea may interest those variety-seekers who are likely to try unusual flavour combinations.
Opportunity For Manufacturers To Tap In To Prevailing Sentiment
According to GlobalData, the 'health and wellness' market of products with claims of no added sugar/reduced sugar/no sugar has grown at a year-on-year growth rate (y-o-y) of 8.92 percent between 2017 and 2018, while the overall standard categories have grown at the rate of 5.16 percent during the same period. This reflects in the number of products with claims of no/low sugar released in the APAC region, which has increased significantly from 92 in 2016 to 180 in 2019
Nabila concludes: "This showcases opportunities for food and drink manufacturers to capitalise on the growing demand for low and no sugar formulations via relevant innovations and reformulations as it becomes imperative to stay relevant to today's health-minded consumers and failure to do so may ultimately harm sales going forward."
GlobalData's 2019 Q3 consumer survey*: More than 7,700 consumers from 10 APAC countries – Australia, China, India, Indonesia, Japan, Malaysia, the Philippines, Singapore, South Korea and Thailand participated in this survey.
Check these articles out:
Health-Consciousness Fuels The Demand For Functional Dairy Blends
Taste Is The Top Reason Consumers Eat Plant-Based Proteins
Givaudan x UC Berkeley: New Protein Sources
Globaldata: APAC F&B Packaging Industry Severely Hit By Coronavirus Outbreak
Roquette Improves Plant-Based Cuisine With New Ingredient
High Performance With A Small Footprint
Bunge Loders Croklaan Introduces Betapol Plus: The Next Generation OPO For Infant Milk Formula
Plant-Based Foods Gaining Global Currency
Novozymes Launches Online Calculator To Help Dairies Develop Products With Less Sugar
Nutraceutical Excipients Manufacturers To Discover Promising Applications
SHARE WITH FRIENDS:
TAGS: