Natural Sweeteners—Industry Insights
Monday, October 21st, 2019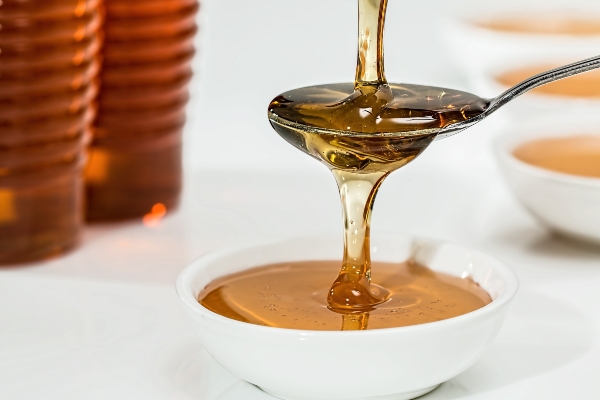 Global worries on overzealous sugar consumption and corresponding rise of sugar related diseases have prompted ingredients manufacturers and product developers to turn to sweeteners as sugar substitutes. By Eddy Lee—Consultant, Chemicals, Materials & Food, Frost & Sullivan.
Trends Of Sugar Substitutes
Natural sweeteners are sugar and sugar substitutes that provide sugar-like taste while contributing to lower calories than sugar with possible other health benefits such as enhancing digestibility. Natural sweeteners which are sugar substitutes are derived through extraction processes from fruits, roots, leaves and other parts of plants. Unlike artificial sweeteners, these sugar substitutes are obtained naturally with no synthesis or artificial production processes involved.
Global worries on overzealous sugar consumption and corresponding rise of sugar related diseases have prompted ingredients manufacturers and product developers to turn to sweeteners as sugar substitutes because they are many times sweeter than sugar but contribute only a few to no calories when added to food. Furthermore, the regulatory pressure in the form of sugar taxes is driving global F&B brands to adopt sweeteners in their food value chain. For example, in France the soft drinks are up to 3.5 percent more expensive as taxes are applied to drinks with added sugars.
The sugary drinks tax saw a 19 euro-cent per litre increase in price of non-pure fruit juices and a 16 euro-cent per litre increase for diet sodas. The other natural-based sugar substitutes used such as corn syrup and agave are nutritive yet high calorie. Therefore, these sweeteners are preferred in certain applications especially beverages due to the prevalence of obesity and non-communicable diseases (NCDs) such as diabetes across the world.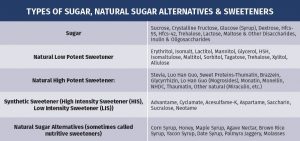 Sugar is the most popular natural sweetening flavour ingredient. High fructose corn syrup (HFCS) honey, agave and maple syrup are among the popular natural substitutes of sugar. According to Frost & Sullivan research, the market size of sugar and sugar alternatives was around US$96 billion in 2017 and is expected to reach US$134 billion in 2025. Sugar constituted 85 percent of the market share. The sugar substitute market was estimated to be around US$14.49 billion in 2017 and the HIS dominated the market value share with 52 percent, followed by with high fructose corn syrup (HFCS) 46 percent, LIS 1 percent and natural sweetener 1 percent. By application, the HIS such as aspartame and sucralose are mostly used in the beverage industry, followed by table top.
Consumers Shifting Towards Natural Sweeteners
Global adoption of natural sweeteners (as a sugar substitute) is still very low at 1 percent, but has slowly gained more popularity than artificial due to health benefits, changing consumer behaviour and product taste issues. Consumers' health awareness has driven and prompted the emergence of "clean label" trend in F&B industry, creating a shift from artificial sweeteners to natural substitutes.
The probable side effects that arise due to prolonged consumption of artificial sweeteners can range from headaches, obesity, diabetes, heart disease to poor cognitive function and impairment of liver as well as kidney functions according to various research studies. Moreover, certain artificial sweeteners are unable to withstand the molecular structure when used in hot  drinks and  baking,  thereby,  disintegrating into  unwanted  by-products  that change  the  organoleptic characteristics, making the products unpalatable.
Lingering aftertaste is also another challenge faced by the beverage companies using artificial sweeteners. For example aspartame in Diet Pepsi and Diet Coke, the taste is acceptable when it is consumed at small concentrations, but in higher concentrations, they can result in a bitter aftertaste.
Though natural sweeteners are increasingly demanded by consumers, their wide scale adoption is hindered by possible variation in yield and purity. The latter are highly dependent on the batches of plants used for cultivation, thus it is difficult to gauge the final amount that is obtained post processing. Developments in extraction and purification technologies will help in increasing the yield of the sweetening agents and also the purity levels.
Moreover, process improvements related to minimised or no use of solvents have increased the cost of production for natural sweeteners, resulting in a higher price in comparison to the synthetic ones. F&B companies will continue to find the application of natural sweeteners difficult unless the challenges of adoption are addressed.
Stevia: The Most Commonly Used Natural Sweetener In The F&B Industry
Natural sweeteners are categorised based on the raw materials used for extraction: plants, algae and microorganisms. Stevia, a naturally sourced plant native to South America, leads the natural sweetener segment, and its consumption tripled from 2011 to 2016. The high purity stevia leaf extract consists of at least minimum 95 percent steviol glycosides with a purity range of 80 to 99 percent, depending on purification process. It is considered as GRAS for use in food and beverage products and FDA permitted. The no-calorie stevia is  considered 200  times  sweeter  than sugar  when  used  in  the  same  concentration.
Due to consumers' growing interest in naturally derived ingredients, the application of stevia in the F&B industry has been accelerating and diverse in usage from fruit, alcoholic and non-alcoholic drinks, sauces, dairies to confectionaries. Around 10,000 new stevia-containing food and drink products have been introduced during the past five years, while 24 percent of the launches were used in the production of soft drinks.
However, one of the main challenges faced by the soft drink companies is the sweetener's bitter and undesirable aftertaste, which the consumers have found out in the beverage brands introduced with stevia like Pepsi True and Coca-Cola Life. Innovation in this industry was consistent until last year, when Coca-Cola soft launched their new product, Coca-Cola Stevia No Sugar in New Zealand. They worked with Pure Circle—one of the most innovative producers of stevia ingredients—on Reb M, a stevia glycoside that imparts "a clean, sugar-like sweetness" with no more aftertaste.
Monkfruit, native to South Western China, is gaining focus as an adjunct to Stevia and US is leading the adoption. The sweetness comes from fruit pulp that contains mongrosides, which makes up approximately 1 percent of the fruit by weight. This sweetener is commonly known as Luo Han Gou and is extracted using water commercially after shredding followed by centrifugation and ultrafiltration. The final product is usually available in pure liquid concentrate form.
Other than sweetening properties, monkfruit has anti-carcinogenic effects as well. Consumers have used the sweetener for medical application to combat infection, fatigue and diabetes. Nevertheless, the higher extraction and production cost when compared to stevia is hindering monkfruit's wide-scale adoption.
Switch The Sweetness
Health and well-being rank third of the UN's Sustainable Development Goals. F&B companies are committed to create a healthier future to their end consumers. Due to the rising demand for healthier natural food, we are seeing breakthroughs and innovation in food natural flavours, one of which is a switch from artificial sweeteners such as sucralose and aspartame towards the natural sweetening options, such as stevia extract and monkfruit.
Collaborative and developmental efforts between the product companies and the ingredients manufacturers are vital in introducing new natural sweetening agents, especially in the F&B and nutraceutical industries, as well as addressing the challenges of their adoption. Additionally, gaining a holistic understanding of the motivations, needs and attitudes of today's customers is a must in every company's DNA to drive product innovation.
Check out these articles:
Sugar Alternatives Are Carving A Larger Slice Of The Pie
Novozymes Launches Online Calculator To Help Dairies Develop Products With Less Sugar
UK Packaged Food And Beverages Are The Healthiest
Market Outlook For Sugar Alternatives And What To Expect In 2018
The Coca-Cola Company Raises Revenue With Less Sugary Beverages
SHARE WITH FRIENDS:
TAGS: