World's First Carton Packages Using Certified Recycled Polymers
Friday, January 14th, 2022 | 170 Views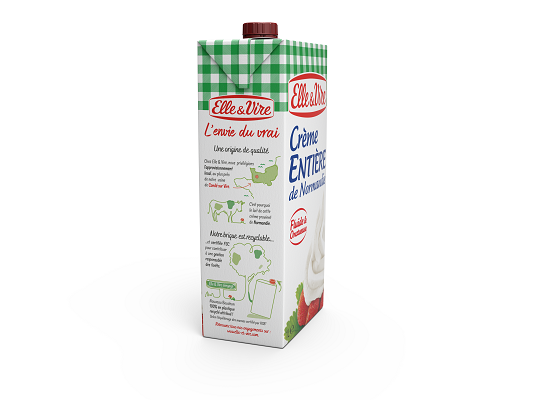 Manufactured at Tetra Pak's Châteaubriant plant in France, the new caps integrating attributed[1] recycled polymers have been chosen by Elle & Vire, the number one French cream brand and part of Elvir's portfolio.
Tetra Pak, in partnership with Elvir, a subsidiary of Savencia Fromage & Dairy – a world leading milk processor – has become the first carton packaging player in the food and beverage industry to launch a cap using certified recycled polymers.
This move marks a key step in both companies' progress towards circularity. By helping to find an economically sound use for plastic waste and responsibly sourcing raw materials, Tetra Pak and Elvir continue to minimise their dependency on virgin, fossil-based resources.
Elle & Vire chose the HeliCap™ 23 cap solution to complement its cream products, which are distributed in Tetra Brik® Aseptic 1L Slim carton packages. This one-step resealable screwcap is manufactured at Tetra Pak's Châteaubriant plant in Loire-Atlantique, France – a site that has been awarded the Roundtable on Sustainable Biomaterials (RSB) Advanced Products certification and boosted by a €100 million investment to accelerate the transition to the production of tethered caps. The HeliCap™ 23 cap offers consumers ease of opening and features a clearly visible tamper evidence ring, providing reassurance that the product hasn't been opened before.
Chakib Kara, Managing Director France & Benelux at Tetra Pak, commented: "We are extremely proud of the work being done alongside Elle & Vire. Both teams are inspired and motivated by a shared commitment – to develop more sustainable food systems. Together, we are contributing to making recycling more economically viable, while addressing increasing consumer preference for responsible companies[2]. Comparative studies show that, already today, our paper-based carton packages have a lower carbon footprint than alternative options, such as glass, plastic or metal packages[3]. Deploying cartons integrating attributed recycled polymers represents a key step in our journey towards the ultimate sustainable food package, one that is fully made of responsibly sourced renewable or recycled materials, fully recyclable and carbon neutral."
Annick Renou, Global Marketing Director at Elvir, added: "By adopting caps which integrate attributed1 recycled polymers, Elle & Vire is a pioneer in circularity. Based on recent research, approximately three in four French consumers are concerned with environmental issues, and the same number say that their purchase intention increases if a brand is addressing sustainability issues[4]. We are pleased to be benefiting from Tetra Pak's expertise and ability to provide such an innovative and environmentally sound packaging solution. I am sure this will strengthen our leading position in the cream market, while meeting the increasing expectations of our consumers."
The new caps using attributed1 recycled polymers are manufactured under the RSB chain of custody attribution method. This means that the plastics are made of a mix of recycled and non-recycled materials, with the corresponding mass of recycled materials tracked throughout the Tetra Pak supply chain. This is verified by a third-party auditor according to the RSB Chain of Custody Procedure, which forms part of the RSB Advanced Products certification.
Marco Marchetti, VP Packaging Materials, Sales & Distribution Solutions at Tetra Pak, concluded: "As a signatory of the Ellen MacArthur New Plastics Economy Global Commitment, Tetra Pak has pledged to incorporate a minimum of 10% recycled plastic content on average across carton packages sold in Europe by 2025. Having listened to Elle & Vire's demands and activated our ecosystem of innovative partners, such as INEOS and RSB, who are helping us to move away from virgin, fossil-based resources, we are now one step closer to reaching this goal."
[1] The recycled polymers used in Tetra Pak carton packages are produced under the RSB attribution model (RSB Advanced Products Category III). The plastic produced via such a process is made of a mix of recycled and non-recycled plastic, the exact composition of which is not possible to determine in each individual product, but by purchasing attribution credits according to the mass balance system, and tracking these throughout the Tetra Pak supply chain, the material used in the caps corresponds to a similar amount of chemically recycled plastic. This is verified by a third-party auditor, according to the RSB Chain of Custody Procedure, which forms part of the RSB Advanced Products certification.
2 According to Tetra Pak Index 2021, 84% of global respondents say the use of environmentally sound packaging would make them more likely to consider the brand.
[3] ifeu 2020, "Comparative Life Cycle Assessment of Tetra Pak® carton packages and alternative packaging systems for beverages and liquid food on the European market".
[4] Sustainable Packaging Consumer Research 2021, Tetra Pak's latest environmental survey, run in summer 2021 and comprising a total of 12,000 consumer interviews based on an online questionnaire in 23 markets: Germany, France, UK, Italy, Saudi Arabia, Turkey, South Africa, China, India, Japan, Australia, Brazil, USA, Mexico, Chile, Poland, Sweden, Spain, Russia, Greece, Serbia, Dominican Republic, Argentina.
MORE FOR YOU:
Brightseed And ofi Announce Partnership To Explore Health Benefits In Popular Spices
ADM Announce Partnership To Advance Decarbonisation Of Ethanol Production
Cutting Sugar In Beloved Chocolate Hazelnut Spreads
2021's Best Selling Packaging Machines And Customer Trends
I Can't Believe There Is No Butter: New Vegan Flavour Solutions From International Taste Solutions
NTU Research Team Develops Smart And Sustainable Food Packaging
Food Sustainability Solutions: An Interview With BioArk
To not miss our exclusive articles, follow us on our social media platforms LINKEDIN, FACEBOOK, TWITTER
WANT MORE INSIDER NEWS? SUBSCRIBE TO OUR DIGITAL MAGAZINE NOW!