WEBINAR: The Rise of Sourdough in Asia Pacific
Wednesday, November 1st, 2023 | 3092 Views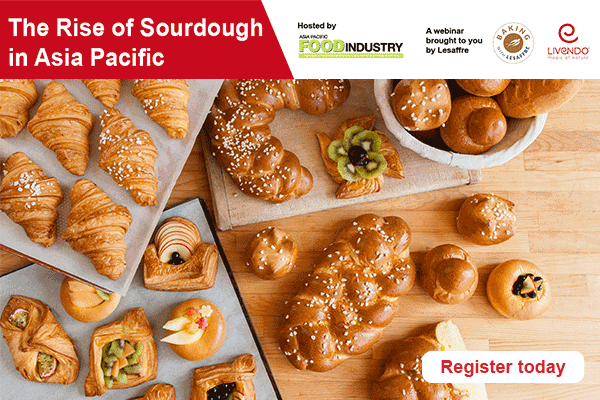 Curious about sourdough? Come join this exclusive webinar brought to you by Lesaffre
22 November 2023 @3pm Singapore time
In this exclusive webinar, you will:
Learn about sourdough consumption in Asia Pacific.
♦
Discover how consumers perceive sourdough.
♦
Explore the opportunities of sourdough in the region.
♦
Learn how Lesaffre's Livendo® sourdough range can support your business.
Click "Next" to complete the Zoom registration form.
For more webinars, click here.
Meet the experts who will be sharing consumer trends, business solutions and tips on how to tailor sourdough recipes for the Asia Pacific region.
Honey Lim |

Marketing Analyst at Lesaffre Singapore
With a decade of experience in consumer trends and market dynamics, Honey will kick off the session by exploring the appeal and motivations behind the growing popularity of sourdough in Asia Pacific.
Sourdough Appeal in Asia Pacific: Understanding and Exploring the Trend
Nearly half of consumers in APAC are aware of sourdough, and a staggering 64% of them have tasted it in the past year. What's fueling the popularity of sourdough breads in APAC? Find out the motivations for sourdough consumption, the factors that may deter them, and gain insights into how we can encourage more consumers to try sourdough breads. This session will help you to gain valuable consumer insights and explore the exciting innovations of sourdough breads in APAC.
---
Allison Chew | Business Development Manager at Lesaffre Singapore
Allison brings over 17 years of experience in delivering optimal solutions and strategic insights. She'll introduce you to Lesaffre's revolutionary Livendo® sourdough range, designed to elevate your bakery business and meet evolving consumer tastes.
Elevate Baking with Livendo® Sourdough Solutions 
The Livendo® sourdough range has been developed using natural fermentation properties of selected yeast and bacteria strains as observed in nature. Explore the myriad benefits of Livendo®, from elevating flavour profiles to enhancing bakery efficiency. Discover how Livendo® empowers bakers to ride the wave of consumer trends, ensuring your products meet evolving tastes and preferences. Join us to learn how Livendo can take your business to greater heights in the world of baking innovation.
---
Jean-Louis Bouvier | Master Baker and Technical Baking Advisor at Lesaffre
Jean-Louis has spent a lifetime perfecting the art of breadmaking. Join him as he shares practical tips on using Livendo® Sourdough solutions to craft soft and sweet breads tailored to the Asia-Pacific region.
Innovating APAC Soft Breads with Livendo®
Master baker, Jean-Louis Bouvier, will share practical tips on using Livendo® Sourdough solutions to craft soft and sweet breads tailored to the Asia-Pacific region. You will discover ways to simplify sourdough bread baking, making it achievable for bakers of all levels and for different bakery processes. Explore the remarkable versatility of Livendo® solutions and unlock fresh opportunities for your bakery business. Elevate your baking skills and explore boundless possibilities with Livendo® Sourdough in this engaging session.
Join us for this engaging webinar as we delve into the world of sourdough.