Webinar: Food Tech Trends in 2023 [VOD]
Monday, April 17th, 2023 | 5928 Views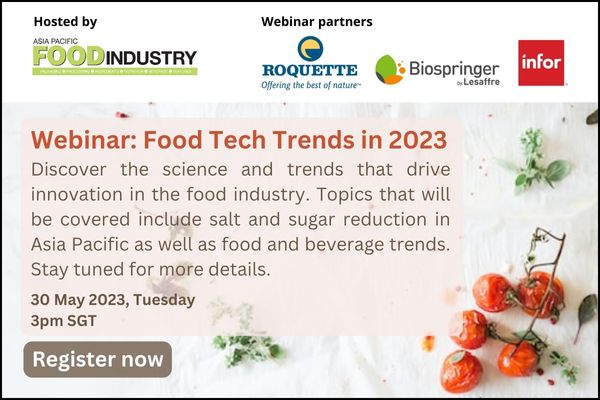 Food Tech Trends in 2023: Discover the science and trends that drive innovation in the food industry. Topics that will be covered include healthy ageing, salt and sugar reduction in Asia Pacific as well as food and beverage trends.
For more webinars, click here.
Topics & Speakers
Healthy Ageing with Roquette

 
Healthy ageing and healthy eating are interconnected concerns in the Asia-Pacific region where there is a rising silver generation demography. Along with higher purchasing power and good access to quality health and social care, new needs arise for food innovation that cater to their specific needs. There is a growing emphasis on overall well-being and maintaining a good quality of life — enabling them to have the freedom to do what they want. Roquette is well-positioned to meet these needs with a diverse portfolio of plant-based food ingredients that address key concerns such as cognition, immunity, and muscle health. Our ingredients are suitable for a range of food applications, making it easy for food manufacturers to create products that support healthy ageing. In this webinar, we will share valuable market insights and supporting studies on Roquette ingredients.
Marilyn Dee
Head of Marketing, Greater Asia | Roquette
As the Head of Marketing for Greater Asia, Marilyn manages the marketing activities for core ingredients and protein at Roquette. She has over 20 years of marketing experience in the food industry, from B2C multinational CPG companies like Unilever and Kellogg and B2B flavours company. She also has an entrepreneurial spirit. At the age of 27, she has co-founded her own Italian gelato company in the Philippines which was cited as one of 'top brands to watch out for' in 2007. Marilyn holds bachelor's degree in Legal management, a Master's degree in Business Administration and also studied Digital Marketing at London Business School.
Caroline Perreau
Nutrition & Health Research Manager | Roquette
Caroline was trained in biology at Institute Agro Rennes-Angers and biotechnology at AgroParisTech. She joined Roquette in 2016 as a Nutrition and Health Lab Manager, working on the health effects of various Roquette products such as polyols, starch, fibers and proteins. Since 2021, she was appointed as Nutrition and Health Research Manager, focused on the demonstration and the valorization of the health benefits of fibers and proteins already on Roquette's portfolio. Her research interests include from one hand dietary fiber, gut microbiota, gut health, blood-glucose management, satiety, immunity, gut-brain axis and in another hand plant-based protein, nutritional quality, sarcopenia, muscle protein synthesis and metabolic disorders.
——-Food Tech Trends in 2023——-
Salt and Sugar Reduction in Asia Pacific
In Asia, the demand for healthy food is fast rising: 54% of consumers have started eating healthier food. The 'reductionism' trend is invading the market: consumers want less salt, sugar and fat, as well as a clean label. This tendency, mainly coming from the World Health Organization recommendations, but also from a better knowledge of what we eat, is boosting innovation. In this webinar, our experts Bee Chen Lim and Kevin Lwe are going to focus on salt and sugar reduction and will present Biospringer's main solutions for healthier formulations.
Bee Chen LIM
Product Manager | Biospringer Asia Pacific
Bee Chen is the Product Manager of Biospringer by Lesaffre who oversees product marketing activities and consumer trend insights for the business. As a passionate foodie, her interest revolves around baking and exploring food to inspire innovation. Bringing almost 10 years of professional working experience, Bee Chen is a strong believer in building impactful change within the food industry and enjoys cross-collaborating with industry experts to challenge innovation boundaries to create more sustainable and tasty healthy food.
Kevin LWE
Culinary Center Manager | Biospringer Asia Pacific
Kevin is responsible for driving innovation concepts and its commercialization using yeast-based ingredients for the APAC market through his strong understanding of the regional customers' needs. He brings extensive knowledge and experience in the taste solution and food application to overcome the technical challenges from food manufacturers. In response to increasing demand for natural solution, Kevin and his Culinary team have successfully developed technical solution for salt and sugar reduction to tackle the consumer trend in the health and wellness topic.
——-Food Tech Trends in 2023——-
Top 5 Food and Beverage Trends
The food & beverage industry will need to explore new avenues for products, sourcing, and technology to become better equipped for the unexpected. The industry has been greatly affected by consumer preferences in the last decade, which has catalysed and pushed businesses to innovate quickly. Food & beverage organisations will further lean on cloud-based solutions to get to the next level, and scale their businesses to meet consumer demand while addressing the pressures of supply chain instability and climate change. Eric will share some trends that food and beverage organisations should be aware of.
Eric CHEAH
Solution Consultant | infor
Eric is a Solution Consultant with more than 20 years of experience in the food and beverage industry. During that time, he has helped a number of food and beverage manufacturers by implementing fit-for-purpose solutions, as well as providing consultancy. Today, he is responsible for providing advice and solutions to food and beverage companies, in order for them to achieve their company objectives and business goals.