Food Safety Spotlight 18 Oct 2022_VOD
Tuesday, September 20th, 2022 | 3454 Views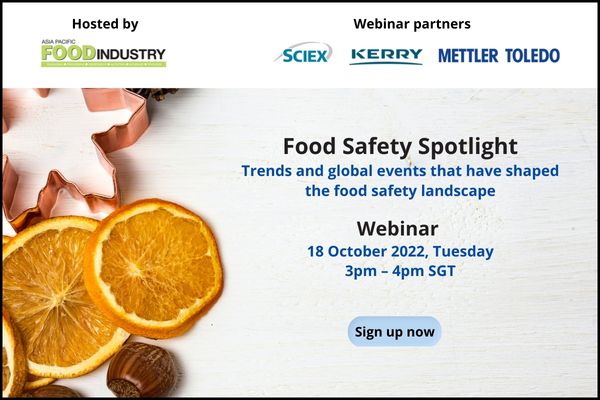 In this Food Safety Spotlight webinar, speakers will be touching on hot button topics such as solutions for shelf-life extension and food safety, screening for pesticide suspects, how product inspection methods can impact sustainability efforts, and more.
Emerging data on the harm caused by foodborne illnesses underscore the global threats posed by unsafe foods, and the need for coordinated, cross-border action across the entire food supply chain. According to the WHO, millions fall ill from foodborne diseases every year, and many die from consuming unsafe food. Foodborne diseases also affect economic development via different sectors such as tourism and the food export industries. The Southeast Asian region is one of the most affected by foodborne diseases with more than 150 million cases and 175,000 deaths annually.
For more webinars, click here.
Our Speakers
Amanda MCNEELY
Global Marketing Manager, Food Protection & Preservation | Kerry
Amanda McNeely is a global marketing manager for Kerry's Food Protection and Preservation business, focused on the meat industry. She holds degrees in animal science and life sciences communication from the University of Wisconsin. Amanda grew up in the agriculture industry and knows what it takes to produce the food we enjoy every day, and the value behind it. She combines her passion for marketing and science background to market ingredient solutions that keep food safe and reduce food waste all the way across the supply chain to the consumer's plate.
Dr Pornpun THEINSATHID (PhD)
Business Development Manager, Food Protection & Preservation (Meat) | Kerry APMEA
Dr. Pornpun has more than 15 years of global experience in food protection and preservation as well as expertise in Clean Label and Neutral Foods. Combining a master's degree in Biochemistry and PhD in Innovation Management, Dr. Pornpun uses her unique blend of techno commercial skills to work closely with customers in developing products that meet consumer needs, from food safety, nutrition, to taste.
3:00–3:20 pm
Protecting Food, Extending Shelf-Life
Since the pandemic, consumers in Asia and globally have grown increasingly concerned about food safety. Inflation and food prices are also at an all-time high, resulting in greater consumer awareness of their food choices, from pricing to minimising food wastage. Hear from Kerry's Food Protection & Preservation experts on these trends and learn about solutions for shelf-life extension and food safety with conventional or clean label preservation, and a new Food Waste Estimator that shows the impact of food waste and the difference shelf-life extension can make.
——————– Food Safety Spotlight Webinar ——————–
Robert ROGERS
Senior Advisor Food Safety & Regulation | Mettler-Toledo Product Inspection
Rob has over 26 years of experience in various commercial and technical roles and has facilitated Mettler-Toledo's customers' development of food safety programmes around the company's product inspection technology. In this strategic role, Rob provides customers with regulation and compliance expertise within the food industry as they relate to product inspection solutions. Rob has provided consultative services to customers that have delivered value in their systems suitability and efficiency. His consultation has covered areas such as process capabilities, validation and verification and guidance on maximising efficiencies through proper system identification and placement, all within the scope of the customer's limitations and resources.
3:20–3:40 pm
Achieving Sustainability Through Product Inspection
Today's businesses are focused on several different initiatives that may seem disconnected from each other like food safety and sustainability efforts. Sustainability is centred around economic, social and environmental pillars, whereas food safety is centred around risk assessment, preventive controls and continuous improvement. There is however close connections between the two efforts. The presentation will highlight how a robust product inspection process throughout your facility can impact sustainability efforts.
——————– Food Safety Spotlight Webinar ——————–
Yip See-Chung
Field Application and Market Development Manager | SCIEX
See-Chung has a rich experience in the Mass Spectrometry and is still actively involved in new method developments, consultation services and collaboration with customers in applied markets especially Food Safety and Environmental Application. He is routinely involved in training and developing MS technologies in regulated laboratories. Prior to SCIEX, Mr Yip has worked in Shimadzu and Waters as application chemist with a total of 19 years of experience in the analytical field. Academically, Mr Yip holds a Bachelor of Science with Honors in Chemistry and Master of Science in Chemistry majoring in Analytical Chemistry from National University of Singapore. He has also published several international journal papers and SCIEX's technotes.
3:40–4:00 pm
Searching For The Good And Bad In Citrus Oil
Quantification Of Pesticides In Citrus Oils And Natural Product Identification
Citrus oils are widely used in the food and cosmetic industries for their flavour and fragrance. In addition, citrus oils are increasing employed as therapeutic agents due to their apparent antibacterial, antifungal and anticarcinogenic activities. In this webinar, you will get to learn on how to set up an acquisition run to monitor both the natural products and screen for pesticide suspects with a QTOF instrument. In terms of data-processing, we will apply both targeted and untargeted approach to look for knowns and unknowns in citrus oil. Hundreds of natural products were identified using the non-target peak finding processing. Using a targeted screening list, known pesticides compounds were detected in the citrus oils.