WEBINAR: Food Safety Forum 2023
Monday, October 2nd, 2023 | 2514 Views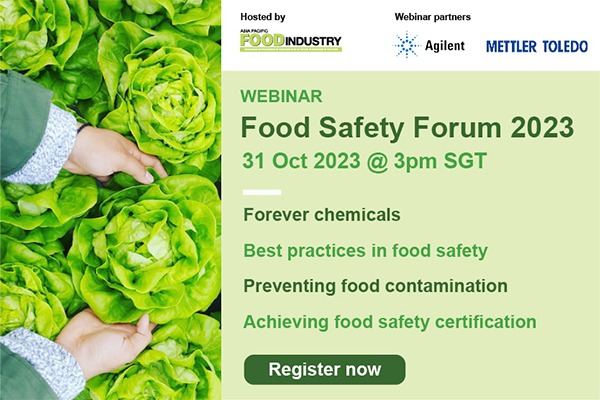 Join us for an informative food safety forum, a dynamic webinar hosted by Asia Pacific Food Industry, a leading B2B media platform. Gain insights into the latest industry trends, regulatory updates, and best practices to ensure the highest standards of food safety. Don't miss this opportunity to stay informed and protect your business.
Click "Next" to complete the Zoom registration form.
For more webinars, click
here
.
Topics & Speakers
Preventing Contamination and Upholding Safety: The Critical Need for Due Diligence in Food Production
There are an increasing number of challenges for today's food manufacturers. One of the most important challenges is to provide safe products to the end consumer and take the necessary steps to minimise the risk of hazards leading to product recalls. In the event of a recall, legal investigation, or an audit from food safety authorities, manufacturers must be able to provide the necessary documentary evidence to prove that they have been diligent in mitigating risks of contamination and/or mislabeling in the production process. This webinar will cover the concept of due diligence as it relates to product inspection processes and covers legal requirements and standards as well as product recalls.
Robert Rogers
Senior Advisor Food Safety & Regulation, Product Inspection | Mettler-Toledo 
Rob has over 26 years of experience in various commercial and technical roles and has facilitated Mettler-Toledo's customers' development of food safety programmes around the company's product inspection technology. In this strategic role, Rob provides customers with regulation and compliance expertise within the food industry as they relate to product inspection solutions. Rob has provided consultative services to customers that have delivered value in their systems suitability and efficiency. His consultation has covered areas such as process capabilities, validation and verification and guidance on maximising efficiencies through proper system identification and placement, all within the scope of the customer's limitations and resources.
——-Food Safety Forum 2023——-
Unpacking Per- and Poly-Fluoroalkyl Substances (PFAS) in Food Contact Materials
PFAS are synthetic chemicals widely known for thermal stability, hydrophobicity, and relative inertness but may cause harmful health effects. PFAS contamination in food can come from the environment and food chain, but these 'forever chemicals' can also get into food via materials that touch our food, such as take-out and delivery containers, deli paper, paper plates, microwave popcorn bags, and baking supplies. Testing for PFAS in food contact materials is critical to ensure food safety. This webinar highlights LCMS and GCMS workflows to analyze PFAS in food contact materials.
Lorna De Leoz
Global Food Segment Director | Agilent Technologies
Lorna De Leoz, Ph.D. is the Global Food Segment Director at Agilent Technologies. Lorna has nearly 20 years of experience in the food industry. Previously a Research Chemist at the National Institute of Standards and Technology, she extended the scope of the NIST mass spectral libraries to include oligosaccharides and led a global study on glycosylation of monoclonal antibodies. Lorna completed her Ph.D. in Chemistry at the University of California, Davis where her research focused on understanding the role of milk oligosaccharides in infant gut.
——-Food Safety Forum 2023——-
3 Challenges in FSMS Implementation at Food Packaging Manufacturing Facilities and How to Overcome Them
Food packaging manufacturers grapple with specific challenges while implementing Food Safety Management Systems (FSMS). The clash between hot, noisy environments and strict hygiene is the initial hurdle. Achieving traceability poses the second challenge. The third challenge is workforce training. In this presentation, the speaker will share tips to resolve the issues and successfully achieve your targeted Food Safety Certificate and gain the trust of your customers. 
Saint Yi Htet
Food Safety and Product Development Specialist | Global Food Safety Institute
Saint is a devoted Food Safety Specialist with diverse experience in ensuring food safety and quality in agri-food and marine product processing, food manufacturing and food packaging materials. With expertise in HACCP, ISO22000, and FSSC22000, I've successfully provided FSMS implementation services for over 20 Food Business Operators (FBOs). My mission is to guide FBOs in achieving ISO22000 and FSSC22000 certifications, which will in turn, help them reach global markets. Building consumers' trust in the quality and safety of the food supply chain is my pledge.