APFI's Focus On Food Tech Webinar VOD
Monday, June 7th, 2021 | 2217 Views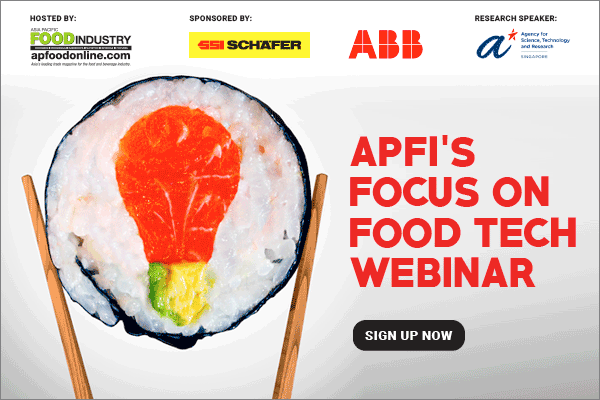 We hosted the Focus On Food Tech Webinar on 1 June 2021. The recorded webinar is now ready to view!
View the video now by filling the form below:
New normal, new problems.
As we enter an interesting and unpredictable decade, the challenges that F&B manufacturers face are extraordinary. Most are placed in a high-pressure environment to keep innovating and adapting the changing consumer tastes and demands.
On 1 June, Asia Pacific Food Industry magazine will connect with innovative logistics partner SSI SCHAEFER, global technology company ABB, and renowned research agency A*STAR to understand the challenges consumers and manufacturers are facing in the new normal.
Sponsored By:
Meet our speakers!
Wallace Tay
Regional Director, Logistic Solutions | SSI SCHAEFER
Wallace leads the Logistic Solutions Business Unit in SSI Schaefer and is responsible for the Asia market business.
With more than 15 years of experience in the material handling industry, he also spent 10 years as a logistics practitioner in the petrochemical industry.
Prior to joining SSI Schaefer, he led a team of engineers to materialise the first autonomous truck running in Asia.
Wallace's aspirations remain strong and he endeavours to continue his passion in bringing intralogistics solutions to various industries.
______________________________________________________________________________
Dr Min Hao Wong
Group Leader (Corporate Strategy & Business Development) | A*STAR SIFBI.
Min Hao is concurrently the deputy scientific director (adjunct) at the center for Disruptive and Sustainable Technologies for Agricultural Precision (DiSTAP) at CREATE/NUS and a Research Affiliate at the Department of chemical engineering at MIT. Min Hao was formerly a project leader at the Boston Consulting Group (Boston office), where he worked primarily with clients in the agrifood and specialty chemicals sectors. He was named a 2018 Forbes 30u30 and MIT tech review innovators under 35 for his work in teaching spinach to send emails. He holds a PhD (Chemical engineering) and MBA, both from MIT.