UOB Helps Small F&B Businesses Transform Their Purchase And Payments Process
Friday, November 2nd, 2018 | 802 Views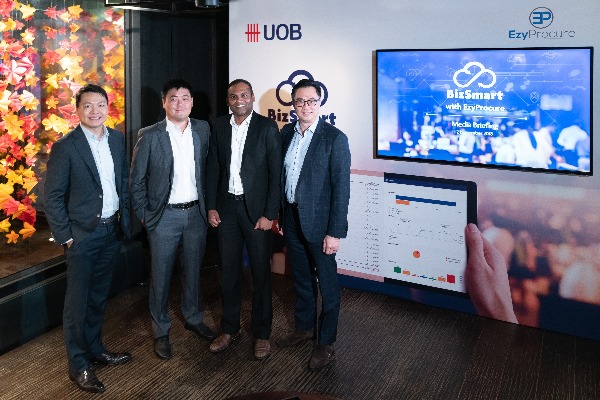 United Overseas Bank (UOB) today announced it has upsized its cloud-based integrated digital solution, UOB BizSmart, to help small businesses in the food and beverage (F&B) sector manage their suppliers more effectively. The Bank enhanced the UOB BizSmart solution by integrating into it a digital procurement platform, EzyProcure, that enables the small businesses to purchase and to pay for their goods quickly and easily.
Inventory management is one of the top productivity concerns for more than 60 percent of F&B operators as many of them still carry out such processes manually, resulting in inaccurate or duplicate orders. In managing their inventory and suppliers, F&B operators generate purchase orders, confirm receipt of goods and reconcile and process payments. All these require manpower and are time-consuming. However, with the enhanced UOB BizSmart solution, the entire supplier management process is digitalised. As a result, F&B operators would be more productive as they could free up time and refocus on other activities such as business development.
Payments made through the enhanced solution's EzyPayment service also benefit the entire supply chain. By tapping UOB's Virtual Payment Solution, the payment service provides buyers with interest-free credit, giving them the flexibility to extend their credit cycle by up to 90 days so as to overcome cash flow concerns. Suppliers would receive payment immediately which improves their accounts receivables for better cash flow.
The availability of such cash flow data helps F&B operators to obtain bank financing as there is greater visibility on their day-to-day operations. With the detailed information, the Bank is able to determine the business' creditworthiness more accurately and in turn, extend credit with more certainty.
With the upsized UOB BizSmart solution, businesses have a consolidated view of their operations as purchase records are integrated with their accounting and inventory management system. This helps F&B operators to streamline the reporting process, to view in real-time their transaction data to understand their purchasing patterns and to forecast future buying needs better.
Further reading:
Royal DSM Powers Nutrition Among Workers In Malaysia
Crown Equipment Continues Southeast Asia Expansion In Vietnam
Championing The Cause Of Organic Food Consumption