What Do You Know About Cooking Oil?
Tuesday, June 15th, 2021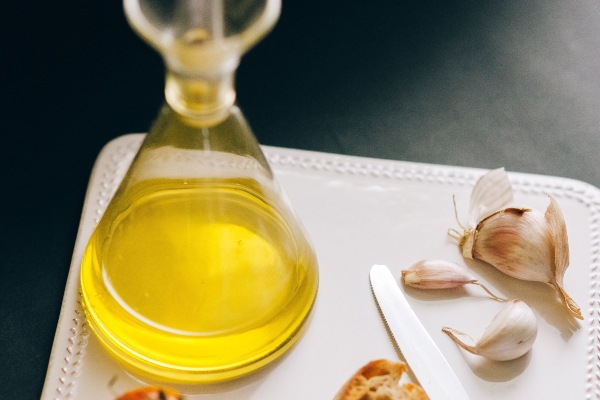 There was a time when "cooking oil" was a vague term. Oil was just oil, and cooking oil was just oil you used to cook. In most cases, cooking oils were derived from oilseeds, such as canola, corn, sunflower seeds and olives.
Fast forward to today and you will find a variety of edible cooking oils to choose from at grocery stores. The options have expanded beyond canola oil to include avocado, sesame, coconut … you name it. They all have different characteristics and are used in a multitude of ways. In addition to their use in cooking, these oils are used in processed foods, such as salad dressings, margarine, mayonnaise and cookies.
Typical vegetable oils include soybean oil, sunflower oil, olive oil and coconut oil.1,2 While most health professionals consider vegetable oils to be healthy, some think they may have adverse health effects.1 These potential effects can vary depending on (i) which fatty acids the vegetable oil contains, (ii) which plant the oil is extracted from and (iii) how the oil is processed.
Not all fats are equal
The healthy fats in oils are an essential part of every diet. Dietary fats play a vital role for the body, helping it absorb vitamins A, D, E and K. They are also necessary for brain and nerve function.3 The 2015–2020 Dietary Guidelines for Americans recommends that diets include oils with healthy fats to support healthy body weight and reduce the risk of heart disease.4
Figure 1 compares the composition of different fats and oils in terms of monosaturated fat, polyunsaturated fat and saturated fat.5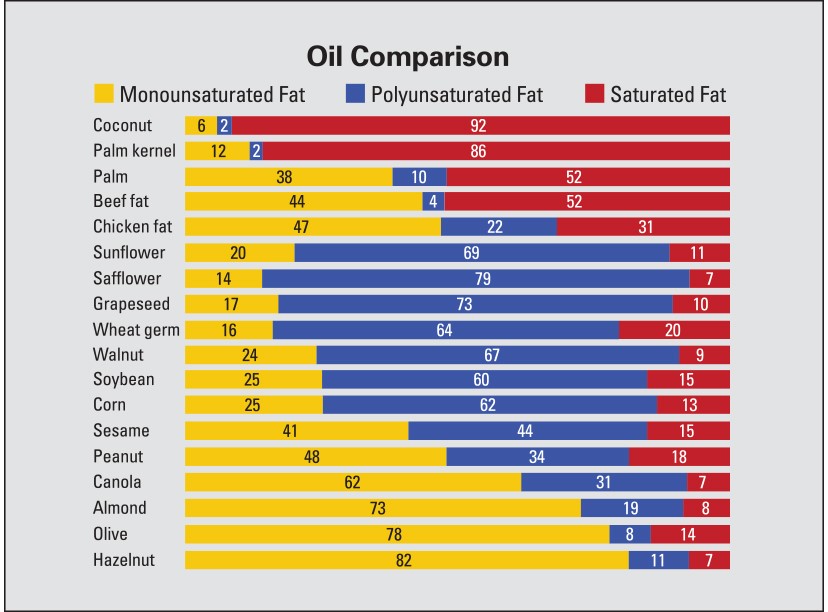 Figure 1. A comparison of the fat composition of different oils and fats.
It is important to distinguish between saturated, trans, polyunsaturated and monounsaturated fats. Saturated and trans fats raise cholesterol levels and are not healthy for the heart. Polyunsaturated and monounsaturated fats are considered "good" fats. Oils that are high in monounsaturated fats are particularly beneficial because they lower low-density lipoprotein (LDL) levels, commonly known as "bad" cholesterol. Replacing fats and oils that are higher in saturated and trans fats with those that are higher in monounsaturated and polyunsaturated fats has been shown to be good for overall health.6,7
The benefits of healthy plant-derived edible oils have led to high consumer demand for them. However, this demand has also led these oils, especially olive oils, to become some of the most contaminated and adulterated products on food shelves as manufacturers, distributors and sellers seek to increase profits.8,9 As consumer interest in nutrition and food ingredients continues to grow alongside increased regulation, the ability to accurately identify the composition of these oils has become critical.
In search of real oil: the origin of your plant-derived oils
Edible oils extracted from plants are composed of mainly triglycerides (TAGs). The physicochemical and nutritional profiles of these oils vary depending on the fatty acid present in the oil. These properties are also crucial when it comes to the authenticity and traceability of these oils. Studying the structure and fatty acid composition of TAGs can provide more accurate, direct and reliable evidence than traditional methods for assessing adulteration.10,11,12
Current analytical techniques for determining the origin and authenticity of cooking oils rely on bulk measurements, which means performing an entire sample assessment all at once. Techniques such as ultraviolet-visible (UV-vis) spectroscopy and electrochemical voltammetry provide broad signals characteristic of specific oils. However, these techniques are not sensitive or specific enough to determine minor adulteration or detailed origin information.
In addition, because the signals are broad and non-specific, samples can be easily adulterated to mimic a specific oil or to go undetected by these techniques. While using infrared (IR) or Raman spectroscopy techniques increases measurement specificity, as some chemical structure information can be pulled from these measurements, these are still bulk measurement techniques. As a result, they are not sensitive enough to detect small amounts of adulteration or to differentiate the small variations of some oils from various origins.
The drawback of these bulk measurement techniques is that they do not directly measure the composition and concentration of the individual chemical components that make up the sample. Mass spectrometry, on the other hand, is ideally suited to this task.
Mass spectrometry to the rescue
Accurate mass instruments, such as the SCIEX X500R QTOF System, provide rich, specific information to enable confident compound identification. The determination of specific chemical markers for the identity and origin of various cooking oils can be performed using statistical analysis. In addition, since particular triglycerides are unique to different oils, and their composition can change depending on where the oil was sourced, a sensitive and specific quality, authenticity and origin assessment can be achieved by performing quantification specifically on the marker triglycerides.13
Using various pieces of SCIEX software—such as LipidView™ Software for determining specific lipid targets, MarkerView™ Software for statistical analysis and SCIEX OS Software for quantitative and qualitative sample analysis—a full end-to-end workflow can be established with highly specific and highly confident data that cannot be achieved with bulk measurement.
Learn more about using mass spectrometry for compound identification by reading about an approach that uses it to determine the authenticity and the number of lipids (fats) found in 7 kinds of common plant-derived edible oils.
By Yip See Chung, SCIEX
The author would like to extend his most sincere gratitude and appreciation to Ms. Radhika Madana Mohan for her insights and invaluable advices for the topic of interest.
1 Hyman, Dr. Mark. Why Vegetable Oils Should Not Be Part of Your Diet. EcoWatch, February 2, 2016. https://www.ecowatch.com/dr-mark-hyman-why-vegetable-oils-should-not-be-part-of-your-diet-1882164589.html
2 Gunnars, Kris. Are Vegetable and Seed Oils Bad for Your Health? Healthline, updated on December 12, 2019. https://www.healthline.com/nutrition/are-vegetable-and-seed-oils-bad#what-they-are
3 Caporuscio, Jessica. What are the most healthful oils? Medical News Today, March 30, 2019. https://www.medicalnewstoday.com/articles/324844
4 U.S. Department of Health and Human Services and U.S. Department of Agriculture. 2015–2020 Dietary Guidelines for Americans. 8th Edition. December 2015. https://health.gov/dietaryguidelines/2015/resources/2015-2020_Dietary_Guidelines.pdf
5 Gatewood, Jody. Vegetable Oils – Comparison, Cost, and Nutrition. Iowa State University, August 19, 2013. https://blogs.extension.iastate.edu/spendsmart/2013/08/19/vegetable-oils-comparison-cost-and-nutrition/
6 Sacks, Frank M. et al. Dietary Fats and Cardiovascular Disease: A Presidential Advisory From the American Heart Association. Circulation. 2017;136:e1–e23. https://www.ahajournals.org/doi/epub/10.1161/CIR.0000000000000510
7 Khaw KT, Sharp SJ, Finikarides L, et al. Randomised trial of coconut oil, olive oil or butter on blood lipids and other cardiovascular risk factors in healthy men and women. BMJ Open. 2018;8(3):e020167. https://www.ncbi.nlm.nih.gov/pmc/articles/PMC5855206/
8 European Union Agency for Law Enforcement Cooperation. 150 000 Litres of Fake Extra Virgin Olive Oil Seized from 'Well-Oiled' Gang. Europol, May 14, 2019. https://www.europol.europa.eu/newsroom/news/150-000-litres-of-fake-extra-virgin-olive-oil-seized-%E2%80%98well-oiled%E2%80%99-gang
9 Krishnan, Maitreyi and Sylvia Karpagam. Can Adulteration of Edible Oils Be Addressed by the Goonda Act? Down to Earth, December 31, 2020. https://www.downtoearth.org.in/blog/food/can-adulteration-of-edible-oils-be-addressed-by-the-goonda-act–74846
10 Georgios P. Danezis, Aristidis S. Tsagkaris, Federica Camin, Vladimir Brusic, Constantinos A. Georgiou. Food authentication: Techniques, trends & emerging approaches. Trends in Analytical Chemistry (2016). DOI: 10.1016/j.trac.2016.02.026
11 Wei F, Hu N, Lv X, Dong XY, Chen H. Quantitation of triacylglycerols in edible oils by off-line comprehensive two-dimensional liquid chromatography-atmospheric pressure chemical ionization mass spectrometry using a single column. J Chromatogr A. 2015 Jul 24;1404:60-71. DOI: 10.1016/j.chroma.2015.05.058
12 Indelicato S, Bongiorno D, Pitonzo R, et al. Triacylglycerols in edible oils: Determination, characterization, quantitation, chemometric approach and evaluation of adulterations. Journal of chromatography. A. 2017 Sep;1515:1-16. DOI: 10.1016/j.chroma.2017.08.002
13 Zong, Yang et al. Authentication and Geographical Origin Analysis of Plant-Derived Edible Oil Using the SCIEX X500R QTOF System. SCIEX, 2019. https://www.sciex.com/content/dam/SCIEX/pdf/tech-notes/all/Authentication-and-Geographical-Origin-Edible-Oil.pdf
Check these articles out:
New Approach to Fryer Cleaning
Clean Label Solutions For Frying Oil Stabilisation
Spotlight On Soy Plant Protein
Snack Manufacturing: Potato Chip Manufacturing Thrives On Efficiency
Three Fake Milk Plants Busted In India
Snack Manufacturing: Potato Chip Manufacturing Thrives On Efficiency
SHARE WITH FRIENDS:
TAGS: