Time For Tea
Friday, September 27th, 2019
Optimising the mouthfeel and texture of milk tea for the Asian consumer.
Tea was first drunk in China over 5,000 years ago and is still popular today as it provides a feel-good moment in daily life. But increasing globalisation is changing the way we drink tea. New trends are driven predominantly by Taiwan and mainland China, as well as Thailand, Hong Kong and Singapore. With the Chinese market forecast to reach $10 billion over the coming few years (Passport, 2018), a population of around 1.4 billion potential tea-drinkers in China alone, and a booming milk tea market in Southeast Asia, there are many opportunities and challenges facing the foodservice, out-of-home, hospitality and industrial beverages sectors.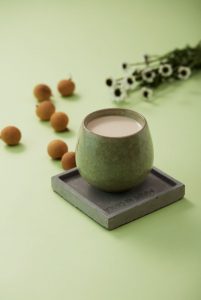 Now Trending…
Asia's growing middle class has greater spending power, and modern millennials will happily pay a premium for an instantly instagrammable novelty drink. Enjoying the experience as whole is becoming a must for tea-drinkers.
Tea With A Milk Cap
One such instagrammable innovation currently conquering Asia is tea with a milk cap, a delicious picture-perfect foam layer to top tea. Already mainstream in China and Taiwan, the trend's popularity is now exciting the rest of Southeast Asia. The fusion of savoury and (sometimes salted) cheese with sweet tea satisfies both cravings, with a thick and creamy velvety cheese foam texture for added indulgence. It offers a unique taste and complete sensation in the mouth, without leaving consumers feeling over-full.
Unlike popular bubble tea, where the tapioca balls are something of an add-on that do not affect overall taste, the cheese foam on cheese tea is an integral part of the drink, although sometimes consumed separately.
The combination of taste and texture with an enjoyable mouthfeel is attracting young customers, and the trend has already hit the world's most vibrant metropolitan cities. A choice of toppings compatible with the premium milk cap enables consumers to personalise their drink and share the results with the world via social media.
Milk cap types of layer are now are expanding beyond tea, and becoming a versatile experience in many drinks including on coffee, fruit drinks, and even on desserts.
Conscious Indulgence
With more disposable income in their pockets, consumers are enjoying a higher standard of living and opting for the finer things in life. And attitudes to food and drinks are also changing: beyond simply satisfying a basic need, what people eat and drink is becoming a conscious expression of what they believe, their views, their interests, how they connect emotionally, their mental state and their prosperity.
With information more readily available thanks to app-packed smartphones, consumers are well-equipped to make better informed dietary choices. As well as calorie content, they also scrutinise sugar, fat, additives and E-numbers, and ethical and sustainability credentials.
Reassuringly recognisable dairy ingredients, for example, are considered to be honest, natural and authentic, thus driving a growing sector. Manufacturers are adjusting their formulations and introducing innovations accordingly.
Loving The Layers
Now available in the trendiest of tea houses, layered tea is a good example of consumers' love of new experiences. Different layers allow for multiple sensations in the same drink.
It started with fruit teas gaining in popularity as fresh drinks to boost well-being. As sales increased, consumers also demanded variety…. and the layering trend was born as a new experience.
In the meantime, layering has migrated from tea drinks alone, and is now also a favourite of many consumers in coffee and fruit drinks.
The Ultimate Experience
In addition to a superior taste and striking good looks, today's consumers want a drink that offers them an all-round experience. From where they drink their tea, to its temperature, texture, colour, innovative toppings, ethical origins and sustainability claims, the simple milk tea has been elevated to an indulgent adventure.
Regional Differences
Despite the general popularity of these new Asian takes on tea, there are clear regional differences throughout Asia in terms of the properties of milk tea.
A recent study across Greater China (excluding Taiwan), conducted by FrieslandCampina Ingredients Food & Beverages (formerly: Kievit), has shown that even within China, it is impossible to serve the whole of the population with one single milk tea—let alone the whole of the population of Asia!
The study engaged focus groups comprising consumers and milk tea experts to explore various aspects of milk tea in five key regions: Shanghai, Taiwan, Chengdu, Wuhan and Guangzhou. The results of these preferences were then mapped against the products currently commercially available.
Key findings of the China consumer preferences study
These differences in sensory preferences are apparent outside China, too: a Thai milk tea in The Philippines tastes completely different from one in Vietnam or Thailand for instance.
Flexibility With Ingredients
This creates many challenges for manufacturers under pressure to present new drinks quickly in line with trends that come and go at alarming speed. At the same time, they need to tailor their products to specific countries or even cities. In a fast-paced environment with frequent new product launches, manufacturers need the capacity to develop and trial their innovations quickly yet cost-effectively.
With new concepts coming to the market all the time, there is a need for versatile ingredients to facilitate rapid development, without compromising on end-product quality. The ingredients can make the difference.
Versatile creamers give manufacturers the flexibility they need to tailor products to regional expectations, whilst also enjoying economies of scale. Creamers that allow consumers to enjoy the texture and mouthfeel they crave are on the rise.
Technical Expertise
Creating versatile creamers is no easy task, however. Achieving the right mouthfeel and creaminess level without overpowering the tea taste, or reaching the right level of milkiness without making the drink "cowy", for example, requires extensive expertise from the creamer producer and the formulator. In addition, different type of tea and different concepts require a carefully crafted balance between the ingredients.
FrieslandCampina Ingredients Food & Beverages, develops such versatile ingredients, for example unique ingredients to make a milk cap in an instant from a powder. These ingredients boast characteristics such as compatibility with many other ingredients, including many different toppings. This allows beverage manufacturers to easily and conveniently serve consumers' desire for a milk cap tea, coffee, fruit drinks and even desserts, and to top off their favourite drinks exactly as they want it.
As well as ingredients development, basic recipes are provided in which they work perfectly. In-depth data and insights generated from consumer panels, online listening to consumer preferences, and landscaping studies allow commonalities between countries to be identified, as well as differences. Based on these insights, new ingredients are developed with scope to cater to local differences in taste, mouthfeel and texture.
Collaborative Innovation Kitchens
Innovation kitchens such as those from FrieslandCampina Ingredients Food & Beverages in Shanghai and Manila provide a collaborative space in which to refine recipes with the support of experts from different departments including R&D, marketing and sales. Actively engaging with customers and consumers in different regions ensures leadership in local trends, and the kitchens are the incubator for many innovations, some of them award-winning. Understanding precise preferences, and catering to ever-changing trends with versatile and cost-efficient ingredients are key to success.
Contributed by Luc Steenwelle, Business Development Lead Food Service, FrieslandCampina Ingredients
Further readings:
Flora-Based Milk Protein: No Cows About It!
Snack Appeal—Five Opportunities For Fresh Snacking
Dairy Alternative Trends Within Asia
SHARE WITH FRIENDS:
TAGS: