The Key To Formulating Ambient Drinking Yoghurt
Tuesday, March 17th, 2020
With their regional R&D experts, CP Kelco has developed an extensive range of custom solutions as well as ingredients that help with sugar reduction, organic compliance, vegan needs and more to meet clean-label requirements.
Drinking yoghurts are fermented beverages with a protein base (dairy or plant-based). This category utilises a fermentation process that induces a drop in pH from a neutral to an acidic environment. Yoghurts can have a short shelf-life (three to four weeks) and demand cold storage to stay fresh, but long shelf-life versions have been developed. Ambient Drinking Yoghurts (ADY) include an important heat treatment step that allows the product to be stored for months at room temperatures without changing taste, mouthfeel or nutritional value.
Intersecting multiple trends, the rising popularity of ADY can be attributed to several factors:
ADY provide a rich source of protein. We know that global protein consumption is up 40 percent between 2000 and 2018, according to FIAL (Food Innovation Australia Limited). More than half of that increase was driven by Asia.
ADY are seen as a healthier alternative to soft drinks
ADY are great for on-the-go snacking: the ambient nature allows the product to be consumed anywhere, making them so convenient. ADY easily solve the debate of whether a product can be healthier and convenient at the same time.
Room temperature is often the preferred way to drink beverages in Asia. In a Japanese convenience store test market study, room temperature drinks had 40 percent higher sales than their cold case counterparts.
Because it's fermented, ADY have low lactose levels so it's easily digestible. Lactose intolerance is a concern for many across Asia.
ADY save companies from worrying about costly cold chain distribution challenges. Room-temperature dairy products can be transported easily across greater distances and also carried by small stores that do not have refrigeration units.
Innovation in drinking yoghurts can be seen in the protein of choice and texture options. In the non-traditional dairy market of Asia, dairy is an indulgent treat. However, new plant-based solutions offer the opportunity to add another protein source.
Texture can range from a milk-like drink with a thin mouthfeel to almost-spoonable thickness. Suspended ingredients such as cereals, seeds and fruit also add chewy texture and flavour.
3 Elements To Consider When Developing Ambient Drinking Yoghurts:
       A. The Recipe
Your protein source and the level of protein you want. The basic composition has either a dairy or plant protein content of 0.5 percent to 3 percent.
Either fresh or powdered protein source
A starter culture for fermenting
Your fat source—either dairy or vegetable—and how much you want in your product. Fat improves the mouthfeel and provides creaminess. Typically, fat content is 0 percent to 3 percent.
Deciding how much added sugar and sweeteners you will use: The current trend is to reduce sugar, so between 0 percent – 10 percent.
Other ingredients include fruit or fruit juice, flavour, colouring, possibly added dietary fibres, vitamins and minerals, and the inclusion of other particulates for texture.
A stabilisation system. Ambient products require stabilisers to provide the sensory profile that consumers expect. They also demand hard-working ingredients that can stand up to the heat treatment necessary to ensure the product stays stable over timeB. The Process
The typical production process starts with dry ingredients being mixed into liquids, preheated and homogenised. The ingredients are then pasteurised, cooled and fermented to the desired pH. The product is heat-treated after fermentation to prolong shelf-life. This inactivates the starter bacteria, kills mould and minimises post acidification.
Depending on your process requirements, stabilisers can be added either before or after fermentation. They may be added to the dry ingredients before mixing with liquids. Or, if you prefer, stabilisers can be added after fermentation, followed by homogenisation. Another heat treatment is then applied before the product is filled (hot or cool).
There are benefits to adding the stabilisers before fermentation: It means simpler handling and fewer steps with less risk of contamination downstream too. However, it may require an adjustment in stabiliser use to compensate for neutral pH conditions.
Adding stabilisers after fermentation can be advantageous too. It's particularly suitable for low-protein, ambient drinking yoghurts. Typically, it requires a lower use level of stabilisers because you would be adding it at an optimal pH condition. However, it's important to remember that you'll need to add extra process steps—and perhaps, equipment—to prepare the slurry. There's also a risk of contamination and the need for harsher heat treatment when you add stabilisers after fermentation.
        C. The Product You Desire
Perhaps the most important step is envisioning the end goal you desire: your targeted shelf-life, a thin or thick texture, pH, the packaging you will use, and the consumer you want to attract.
The Role Of Stabilisers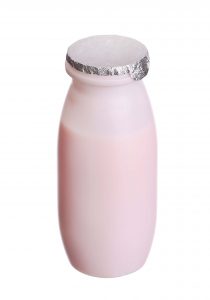 Stabilisers serve multiple purposes in the success of your product: They protect your protein source against aggregation, which is achieved by electrostatic interactions with the casein in milk at the acidic pH conditions that prevail after fermentation. We know if an ADY is not well made with a stabiliser system, textural characteristics will be lost. The heat treatment and even the pumping of the product into packaging will cause syneresis, sedimentation and loss of viscosity. In reduced-sugar recipes, stabilisers add creaminess and mouthfeel that consumers desire. Some stabilisers also provide pseudoplasticity (suspension) for your particulates, ensuring every sip tastes the same.
The most common stabilisers in ADY are pectin and gellan gum, both nature-based ingredients. Pectin, easily recognisable by consumers, is made from citrus peels. Gellan gum is a fermentation-derived ingredient produced by a bacteria culture that originated from a lily pad plant. Both ingredients are tolerant of the heat treatment process in ADY applications. They also serve multiple functions, adding body, creaminess, protein stabilisation, suspension and mouthfeel.
4 Points To Consider When Choosing A Stabiliser System
Does it work with the total solids and fat content in your formulation?
Know the desired firmness, viscosity and consistency you want to achieve
Know your market: Is a Kosher/Halal or Non-GMO compliant ingredient important?
Will it work with your process/heating system, filling temperature and packaging?
CP Kelco has been producing nature-based stabilisers especially for ambient drinking yoghurt producers for years, including GENU Pectin and KELCOGEL Gellan Gum. Relying on our regional Asia R&D experts, we have developed an extensive range of custom solutions for you as well as ingredients that help with sugar reduction, organic compliance, vegan needs and more to meet your clean-label goals. We'd be happy to work with you to solve any application challenges. For more information, please see www.cpkelco.com.
Check these articles out:
Automation And Customisation Needed In The F&B Processing & Packaging Equipment Market
tna Opens New Australian Manufacturing Facility To Triple Production Capacities
Obsolescence Management For Food And Beverage
Crown Equipment Grows In Southeast Asia With New Philippines Branch
Flexicon Opens New Office In Jakarta
Consoveyo Completes Conveyor System Installation For JTC Food Hub @ Senoko
Bakery Processing Equipment Market To Exceed USD 11 Billion By 2025
Obsolescence Management For Food And Beverage
Crown Equipment Continues Southeast Asia Expansion In Vietnam
Debunking The Top 4 Myths About Warehouse Maintenance & Upgrading
SHARE WITH FRIENDS:
TAGS: