The Growth Of Healthcare Confectionery
Monday, October 14th, 2019
The functional, nutraceutical and medicated confectionery is driven by consumers looking to overcome psychological barriers associated with tablets and capsules, thus providing easier and more palatable delivery methods than pills or capsules for OTC medication. 
The rapid growth of starch-free depositing in the production of functional, nutraceutical and medicated confectionery is no surprise.  High levels of accuracy and hygiene are combined with low production costs, along with an ability to make products that are unachievable with other methods.
The growing market for healthcare confectionery includes functional, nutraceutical and medicated and can be conveniently split into two segments. Functional and nutraceutical products are designed to improve health and well-being, not treat an ailment, so delivery of beneficial ingredients in confectionery form overcomes a psychological barrier caused by the association of tablets and capsules with illness and medical intervention.
Functional and nutraceutical confectionery is mainly in the form of jellies and gummies, and has seen vigorous development as consumers opt for prevention rather than cure.    Functions range from boosting the intake of essential nutrients such as vitamins, minerals, fibre and protein, to adding beneficial supplements such as folic acid and Omega-3 to the diet.
This sector also extends to sports nutrition where candy is ideally suited to portable and convenient energy and recovery products. The healthy positioning may be enhanced with the inclusion of fruit pulp or pieces.
The market for medicated confectionery is also driven by consumers looking for easier and more palatable delivery methods than pills or capsules for OTC medication.
Medicated products may be more suited to a hard candy delivery system, particularly where slow release of the active ingredient is required. These include antiseptics, menthol and eucalyptus oil to alleviate the symptoms of minor ailments such as coughs, colds, sore throats and nasal congestion.
While functional, nutraceutical and medicated confectionery is not a new concept, innovative techniques have increasingly made starch-free depositing the process of choice. Crucially, the process adheres to the principles of GMP and is readily capable of validation to FDA/EMEA standards.
A Process Fit For Purpose
The principal characteristics of starch-free depositing are central to the successful production of functional, nutraceutical and medicated confectionery. The process does not degrade expensive active ingredients, and there is high accuracy throughout mixing, cooking and depositing. Exactly the right proportion of active ingredients is added to ensure that the therapeutic dose is correct.
Every deposited piece is precisely the same weight, and the process is reproducible. The consistency achieved by starch-free depositing ensures products have a high-quality appearance, taste and mouthfeel feel that supports positioning and pricing as a healthcare product.
The traditional starch mogul process for jellies and gummies is not suitable for healthcare products: not only does the use of the starch bring with it the risk of cross-contamination and hygiene problems but the long multi-stage process does not lend itself to economic low and medium volume production.
Starch-free depositing, on the other hand, is a simpler process with hygienic characteristics—solid moulds, non-contact ejection system, fully automatic wash-through function and no recycling of starch. This combination of benefits makes starch-free depositing the only viable process for healthcare confectionery.
Compared to conventional methods such as die forming, starch mogul or cut-and-wrap, starch-free depositing of hard candy brings substantial quality and choice benefits for both lollipops and candies.  It provides a high-quality, smooth product with accurate weight, size and shape characteristics.
At whatever output, starch-free depositing is more efficient and significantly more cost-effective in every aspect than traditional alternatives: capital cost, floor space, energy consumption, labour and consumables.
High quality is achieved by a cooking system that develops the right texture and flavour followed by continuous depositing into silicone or metal moulds at final moisture.  Depositing can add different forms of active ingredients at various stages. Heat stable ingredients may be incorporated at the start of the weighing and mixing process, while low-volume liquid additions are mixed in after cooking using the high-accuracy colour/flavour incorporation system. Viscous ingredients can be deposited as a centre filling, which may be encapsulated within either a jelly or hard candy shell.
Volatile ingredients are added just before the depositor hopper, which has a low retention time to minimise evaporation and waste at the end of a run.
Continuous production in a system automated and integrated from ingredient feeding to cooled product creates complete control throughout, leading to:
Extremely high dimensional, shape and weight accuracy
Negligible scrap rates and efficient wrapping
Maximum hygiene with low maintenance
Product set-up on Baker Perkins ServoForm depositors is completely recipe-driven, with ingredient calls, temperatures, flow rates, speeds and depositor profiles all downloaded from the control system to the machines automatically. Recipes can be locked and every operator change during production can be logged against a user ID so traceability right up to CFR 21 Part 11 standards is possible.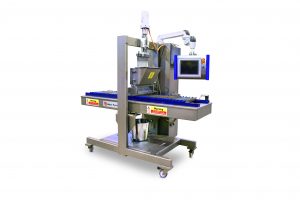 New Small Batch Production System
There is a key difference between production requirements for conventional and healthcare confectionery: unit consumption is low—perhaps one item a day—unlike with confectionery where a bag full of candies can disappear with great rapidity. This, combined with a wide range of different formulations means that batch size and output requirements are often lower than a typical confectionery line. Outputs from 500 to 1,500 kg per hour are achievable with confectionery-scale equipment, but for lower outputs and/or very small batch sizes, Baker Perkins has developed the ServoForm Mini small batch cooking and depositing system.
This provides outputs up to 60 kg per hour. In addition to the healthcare arena, it is used for standard confectionery by start-up companies and niche manufacturers, and as a lab or pilot-scale machine by established confectioners. The ServoForm Mini is also extremely flexible: changing products is simply a matter of picking up a different mould set.
Its introduction brings the quality, hygiene, flexibility and efficiency of depositing to companies who would, in the past, have had to compromise in all of these areas in order to achieve low-volume production.
Check out these articles:
Water Activity And Quality In Confectionery
Nestlé Launches YES! Snack Bars In Recyclable Paper Wrapper
SHARE WITH FRIENDS:
TAGS: