The Future of Food 2040 — by Deliveroo
Thursday, July 20th, 2023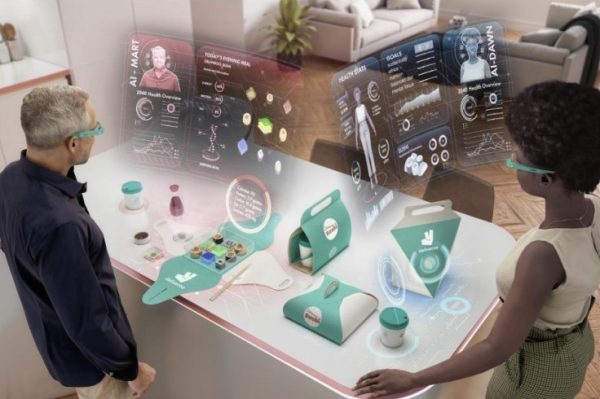 Deliveroo's newly launched Snack To The Future Report reveals 3 key trends in the future of food
The Rise of 'Me-ganism' — a new diet fully tailored to individuals' biological, physical, mental and sustainability needs through breath-prints
Eat to Thrive — health and wellbeing incorporated into consumers' food and diet through new products such as anti-aging ice cream
Tucking into the Future — meal experiences using technologies to provide new and unique ways of dining, such as VR dinner parties and restorative restaurants
On 3 July 2023, Deliveroo launched its Snack To The Future Report, bringing together leading industry experts across the world of food, science, technology and innovation. The report identifies how consumers in Singapore and the region will be eating by 2040.
The report further comes timely amid climate change and threats to global food supplies, highlighting the required changes to consumer diets and resilient food systems. Singapore is working towards strengthening its food security with the 30 by 30 goal in mind — to produce 30 percent of the nation's nutritional needs locally by 2030. Additionally, Singaporeans tend to focus on food quality, safety and sustainability. This is driven by their increasing interest in healthy diets and alternative proteins, which increases the significance of these food trends by the year 2040.
The report also finds that by 2040, consumers' diets could become fully customisable thanks to AI technology. For example, food delivery services could synchronise meal options with someone's personal AI and provide recommendations based on their physiological and psychological state at any given time.
Led by Deliveroo, alongside Singaporean food experts, Yip Hon Mun and Luke Tay, with several other global industry leaders, the report uncovered key food trends that will be impacted by technological advancements and shifting consumer preferences by 2040.
Key Trends in the Future of Food
Breath-prints will make our future food decisions for us. Expect personal tech devices to be enabled with BreathTech, enabling consumers to breathe on a device and get information about the foods they should be eating for overall wellbeing.
Going beyond Keto, the next big thing is Me-ganism, or the Me-gan diet. Me-ganism is a hyper-personalised diet that is fully tailored to each individual's nutritional needs, and will be powered by AI technology.
Underpinning the Me-gan diet and lifestyle, personal AI technology will offer consumers their own personal AI, something like a lifelong AI buddy, that will help automate and tailor what they eat based on their preferences and needs at any given time.
Dining will be a fully immersive experience that delivers foodgasms. So, food delivery services can use experiential formats such as augmented imagery, audio and packaging to elevate consumers' meal enjoyment as part of their delivery orders.
Get ready to see the food and beauty industry become more integrated than ever with a rise in edible beauty products like anti-aging ice cream and the chance to dine from hormone-balancing and dopamine-driving menus.
From packed lunches to printed lunches, food prep is about to become a lot easier. With advances in 3D printing technology, it can help consumers create perfectly portioned and nutritionally balanced meals of their choice at home.
A metaverse of food discovery will expand into an interconnected world. This is where consumers' digital and physical engagement with food fully converge. With the rise in augmented artificial smell technology, the metaverse can be
incorporated into meal delivery platforms, where consumers will virtually smell and taste the food before ordering. This will help consumers discover new food options and help with deciding among a wide menu selection.
In restorative restaurants, diners will be removed from distractions of the outside world, and be fully immersed in the restaurant experience. Personal tech devices will be banned from entry. In response to popular demands, silent cafes and restaurants will only offer tables for one to encourage mindful eating.
Newfound food staples will look a bit different from the usual rice and noodles. The following could become daily staples: Petai, jackfruit, cowpea, arrowroot, azuki bean, buckwheat, amaranth, and other variants of Asian yams, beans, and other kinds of superfoods.
Alt-ohol refers to the pairing of alcohol alternatives with aspects that promote healthy living. Gone will be the days of awful hangovers. Because by 2040, we expect alt-ohol beverages, like wine-inspired cordials formulated to mirror the dryness and depth of wine but fortified with vitamins and nutrients, to keep consumers healthy. We would literally be raising a glass to longer life.

Personalised and convenient, sustainably sourced and produced, augmented and virtual — the future of food delivery and enjoyment is set to be an intriguing, immersive and innovative space in the future.
Industry Insights
"The most notable trend across all is the need to empower consumers with control over their food choices, allowing them to enjoy meals on their terms, precisely when and how they prefer. In addition to considering affordability, taste, and nutrition, customers will have the option to select sustainably sourced food or customise their meat to align with their ethical and environmental standards," said Yip Hon Mun, a Senior Adviser on food technology in Singapore.
Beyond the shifting consumer preferences, the report highlighted that climate change and overpopulation will continue to contribute to future food shortages, people's diets and the way they live. Many of the plant varieties that are grown today might not be available because they are unable to meetthe climate challenges of tomorrow.
"For tropical countries like Singapore, we will face harsher and more volatile weather, shaping Singaporeans' life- and work-styles. Hence, their nutritional needs and food-styles will transform in tandem," said Luke Tay, a Food Systems, Sustainability and Geopolitical Analyst from Singapore.
"People will also become more nocturnal, working and eating amid the cooler night hours, leading to food and delivery services being a segment that never sleeps, catering to consumers round-the-clock. Concurrently, with climate change impacting staple crops, it gives way to other mainstream ingredients that will need less water to grow and sustain in Singapore," shared Tay.
"Operating in a food haven like Singapore allows for a massive catalogue of meals. With these new technologies, those willing will be able to make more informed food decisions based on data collected of their daily food intake. There's even the option for food companies to recommend various meal options that increase convenience and ensure nutritional needs and goals are met consistently in line with Singapore's Healthier SG Strategy," said Jason Parke, General Manager at Deliveroo
Singapore.
"I started Deliveroo in 2013 with a mission to connect people to the best quality food from local restaurants and deliver it directly to people's doors. It has been an incredible ride over the past 10 years and I am really proud of what we have built. As we look towards the next decade and beyond, Deliveroo will continue to create exciting new innovations in food delivery, build new and better consumer experiences and take Deliveroo beyond functionality and convenience to really capture the passion and emotion of food," added Will Shu, Founder and CEO of Deliveroo.
Deliveroo is an award-winning delivery service founded in 2013 by William Shu and Greg Orlowski. Deliveroo works with approximately 176,000 best-loved restaurants and grocery partners, as well as around 150,000 riders to provide the best food delivery experience in the world. Deliveroo is headquartered in London, with offices around the globe. Deliveroo operates across 10 markets, including Singapore, Hong Kong, Belgium, France, Italy, Ireland, Qatar, United Arab Emirates and Kuwait.
MORE FOR YOU:
Edible Packaging — Cups You Can Eat
e-Commerce Packaging: More Than Just a Box
Breaking Down the Benefits of Inclusive Packaging
Sustainability in the International Supply Chain
Plant-based Beverages and Frozen Desserts
Sustainability at the Core
Packaging Trends
Sugar Alternatives
The Demand for Immune Boosting Foods
Plant-Based Formulations Using Citrus Fibre
Sealed Air: The Future Of Packaging Is Here
Food And Nutrition Trends
SHARE WITH FRIENDS:
TAGS: