The Advantages Of Automated Food Packaging
Tuesday, March 1st, 2022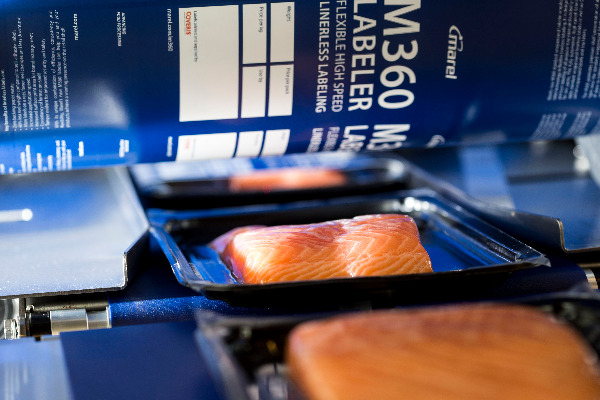 From obvious to overlooked benefits, intelligent packaging adds up to important gains for your business.
---
Food packaging serves three main purposes: to preserve products, to provide information, and to attract consumers. Implementing an intelligent food packaging solution ensures that your products are packaged as hygienically, informatively, and attractively as possible.
The packaging process is often your last control point before your product leaves your production facility, so it's essential to get it right. Processors must follow every possible measure to prevent contamination and ensure traceability at this final step of processing.
However, the importance of packaging goes beyond food safety. It is a multi-step process that includes batching, packing, and labeling, and continuous improvement through automation can quickly add up to substantial benefits for your production.
The Benefits Of Intelligent Packing
Whether you're looking to enhance labor efficiency, increase productivity, or improve food safety, automating your packaging process is vital to compete in today's food industry.
Increase Productivity And Capacity
A fully automated packaging line can run high volumes with amazing speed while minimizing the need for manual labor. It can also be fitted to the available space, greatly increasing capacity with just a small footprint.
Achieve Superb Weighing Accuracy
Intelligent packaging equipment can automatically calculate product weights to put together a batch with the exact predetermined target weight. This prevents giving away extra product and selling underweight packs.
Improve Versatility And Flexibility
Automated packaging makes it easier to fulfill order requirements and offer a wide variety of products. An automated process is also highly flexible, allowing you to manage fluctuations in demand with a push of a button.
Enhance Product Quality And Customer Satisfaction
Whether you're selling 250 g packs or 40 kg crates, an intelligent packing solution helps maintain your product's freshness, flavor, and appearance every single time.
Ensure Traceability
Automated packing supported by traceability software enables you to track and trace products in an instant. This is essential to ensure food safety and minimize the risk of product recalls.
Create Attractive And Informative Branding
Labels are your products' voice , so it's vital that they're attractive and communicate the right information to consumers. Innovative labeling solutions such as Innova Labeling and the M360 Label Applicator make it easy to brand your products with appealing and informative labels that ensure your products stand out from the competition.
Reduce Cross-contamination Risks
Automated packaging minimizes human contact with your products, dramatically lowering the risk of cross-contamination at this key stage of production.
Improve Employee Well-Being
Meat packing facilities contain a wide range of serious health and safety risks for workers, including bacterial and viral illnesses, muscoskeletal problems caused by poor ergonomics, and various dangers posed by machinery. Automating repetitive processes helps to protect your employees from danger while reducing labor costs and reliance on skilled workers.
Avoid Litigation
Food labels must include all information required by law and must not include any misleading information. Labeling software and solutions help prevent human error and enable you to immediately access product information to determine whether it meets the necessary standards.
Different Types Of Meat Packaging To Preserve High Food Quality
Packaging meat, poultry, and fish can be challenging due to their perishable nature and susceptibility to spoilage and pathogens. Processors increasingly make use of preservation technologies such as vacuum packaging and modified atmosphere packaging to extend shelf life.
There are many systems available, and your ideal solution will depend on factors such as the volume of product being handled, how you wish to present it, and your budget.
Physical Contamination From Packaging Material
The packaging stage poses a significant risk of biological, chemical, and physical contamination of food products. These risks include foreign objects in packaging materials, chemical hazards such as cleaning compounds, and dirty or broken packaging materials. It is therefore crucial to use hygienic packaging methods that minimize human contact and other sources of contamination.
All of Marel's packaging and labelling solutions are engineered to keep the risk of contamination at an absolute minimum. For example, by integrating the ValueDrum tumbler for coating and marinating, and the Multihead weigher, we've created a highly efficient inline process from marinating to packaging by eliminating manually handled transport. Solutions like this help to minimize human contact with food while speeding up processing time and saving on manual labor.
Marel understands the great importance of intelligent batching, packing, and labeling solutions for the food industry. We offer an excellent range of equipment and software for poultry, meat, and fish processors, including producers of convenience food products and alternative proteins. All Marel packaging equipment fulfills the most stringent requirements in the food industry, thanks to their versatility and easy-to-clean design.
MORE FOR YOU:
What's In For 2022 And Why Cocoa Should Be On Your Radar
Three Major Global Food Trends Identified In New 2022 Trend Report
ADM Unveils The Next Big Consumer Trends
Asia's Beverage Industry Approaching A Tipping Point For Sugar Reduction Initiatives
Rise Of Alternative Beverages
Growing Popularity Of 'Food As Medicine' Concept Amongst Global Populations
Supporting Growing Consumer Health Needs With Fortified Food And Beverages
Coffee Evolution: Adding A Healthy Halo With Protein
Red Microalgae Makes Veggie Burgers 'Bleed'
To not miss our exclusive articles, follow us on our social media platforms LINKEDIN, FACEBOOK, TWITTER
WANT MORE INSIDER NEWS? SUBSCRIBE TO OUR DIGITAL MAGAZINE NOW!
SHARE WITH FRIENDS:
TAGS: