Sustainable Solutions To Food Waste & Food Safety Issues
Friday, May 20th, 2022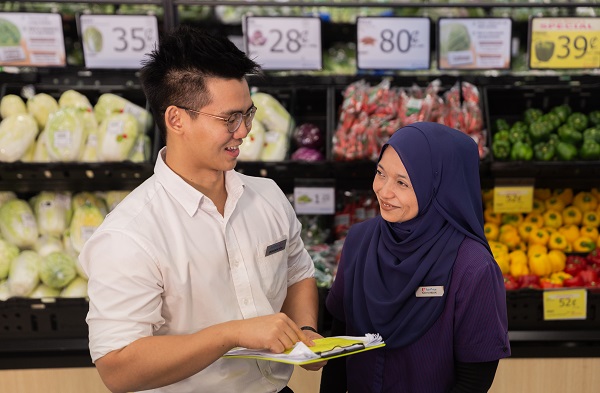 NTUC Fairprice Co-operative Ltd was founded by the labour movement in 1973, with a social mission to moderate the cost of living in Singapore. As the largest supermarket chain in Singapore with over 370 outlets island-wide, serving over half a million shoppers daily, FairPrice recognises the importance and is committed to upholding a high level of food quality and safety standards, and in protecting our environment and preserving resources.
---
FairPrice caters to the diverse taste preference of our customers and we employ various strategies to provide better value and selections for our customers from all walks of life. This includes diversifying our import sources to over 100 countries while offering over 2,000 FairPrice housebrand products that are priced about 10 to 15 per cent lower than comparable national brands.
Food safety and quality is paramount
We have in place an extensive food safety and quality assurance programme to ensure we provide safe and good quality food for our customers. Our Food Safety Management System complies with the ISO 22000:2018 international standard, which is a more stringent food safety assurance scheme than the current foods safety standards that is required by the authorities.
These standards cover the supermarket outlets and warehouses where it looks into temperature control, level of freshness, packaging and even food traceability. To ensure that we deliver safe and wholesome groceries to our customers, we also have in place stringent packing protocols and guidelines to uphold a high level of product safety standards. For example, different food temperature goods have to be packed separately as they are stored differently so as to ensure the item's integrity, freshness and quality when the customer receives them. We also import produce from reputable sources to upkeep its standards to food quality and safety.
All FairPrice frontline employees have to undergo training to ensure the fresh produce we sell is handled properly to ensure safety and consistent quality. We also have in place various initiatives to help our customers shop with confidence. This includes a Freshness Guarantee Policy, which allows customers to return or exchange fresh products that are of an unsatisfactory quality at the same store of purchase, with receipt.
Sustainability a key focus
As an environmentally-conscious retailer, FairPrice recognises the importance of protecting our environment and preserving resources. We are committed to environmental sustainability in our operations and recognise our responsibility as a leading supermarket retailer to promote eco-friendly practices, aligned with our goal of creating "Healthier Lives, Healthier Planet". We have in place a structured programme called the FairPrice Food Waste Framework, which was launched in 2015 – where we take a holistic and sustainable approach towards tackling the issue of food waste on multiple fronts – Processes, Public Education and Partnerships.
Under the FairPrice Food Waste Framework, we run a food donation programme where all FairPrice stores donate unsold but still wholesome food products to the community. This programme entails partnerships with like-minded agencies to benefit the less fortunate while raising awareness on reducing food waste, including charity organisations like Food from the Heart (FFTH) and Food Bank, where we donate unsold but still wholesome groceries to them regularly.
The continued partnership saw a donation of over S$234,000 worth of unsold but wholesome groceries to their food distribution programme, supporting beneficiaries from close to 400 welfare homes. In 2018, we also supported special projects such as FFTH's Clean Plates campaign which encouraged over 10,000 primary school students not to waste food, where we donated S$100,000 to benefit needy families; and Ngee Ann Polytechnic's 10-Tonne Food Drive for Food Bank Singapore to aid the needy with food donations.
Last year, we launched the Food for Good Community Fridge @ Marine Terrace, in collaboration with Marine Terrace Breeze Residents' Committee, Marine Parade, which sees food distributions via community fridges to provide free food to residents in the area. Our charity arm, FairPrice Foundation sponsored two brand new chillers and will also be providing a year's worth of fresh and nutritious produce such as fruits, vegetables, milk and meat worth an estimated S$100,000. This community fridge initiative complements the FairPrice's Food Waste Reduction initiative, which aims to minimise waste from unsold but still wholesome food. Under this scheme, all of such food from two FairPrice stores in the vicinity will be donated to the community fridges to provide for the less fortunate while also reducing food waste.
Through our e-commerce platform, FairPrice Online, we have also introduced the "Clearance Sale" section since October 2017. The types of products found in this section generally consist of off-season items and near expiry items. For sale of near expiry items, the expiry date will be clearly stated on the website. Perishables that have expired will be disposed of, and not listed in this section. Additionally, we have introduced the "Great Taste, Less Waste" selection since 2015, which encourages customers to purchase produce which may not look appealing but are good for consumption. Wholesome fruits and vegetables with slight blemishes are repackaged to be sold at a lower price to reduce food waste.
In September 2019, we also launched a S$1 million FairPrice Sustainability Fund, which aims to address sustainability issues through awareness and public education, support innovative ideas and initiatives, and foster strategic partnerships. Through the fund, FairPrice calls for the community to share in its efforts to reduce waste and looks to sponsor projects that tackle waste reduction, such as food wastage, in Singapore.
Food waste is a pertinent issue that requires sustained and concerted efforts from industry players, government agencies and the community. We will continue to review our initiatives and look into how we can work hand-in-hand with our partners, stakeholders and customers to expand efforts to create a more sustainable environment, making lives better for all.
Looking ahead
As a social enterprise that is here to stay, our priorities remain rooted in serving our customers well and ensuring that they continue to have access to daily necessities at affordable prices. FairPrice will continue to strive to remain relevant, and continue to "Do Well to Do Good' in order to give back even more to the community.
MORE FOR YOU:
Asia, It's Time To Look Closely At Snack Trends
APFI Magazine Speaks To Neils Arbjerg, President Of Asia Pacific Region, Danfoss.
Evo Foods And Ginkgo Bioworks Announce Partnership To Develop Animal-Free Egg Products
Next Gen Foods Appoints Two New Board Members
Edible Fungus Market To Surge At 8.5% CAGR Due To Reluctance To Meat Consumption
Tradition Meets Trend: Soyfoods are a Mindful Choice
Smart City Kitchens Expands With Its Newest Facility In Bedok, To Revolutionise Singapore's F&B Industry
To not miss our exclusive articles, follow us on our social media platforms LINKEDIN, FACEBOOK, TWITTER
WANT MORE INSIDER NEWS? SUBSCRIBE TO OUR DIGITAL MAGAZINE NOW!
SHARE WITH FRIENDS:
TAGS: