Starting At End-Of-Line Packaging
Monday, September 18th, 2017
Jan-Pieter Grootendorst, market development specialist, Symach, A thiele technologies company, gives his opinion on end-line packaging trends, and which aspects manufacturers should consider and opt for in order to improve their business.
To me, the term end-of-line packaging does not seem to do justice to its importance. It should not be just something you think of after having determined all other aspects of packaging; in fact, you should consider this right at the start.
After all, it is the right end-of-line solution that delivers products to the customer in a timely, efficient and effective manner. It is what your customer sees first. And if that is not enough reason by itself, having the right solution can impact associates' wellbeing significantly.
Manual bag palletising, for instance, has been associated with low back disorders. Automating this type and other types of strenuous and often repetitive manual work will help prevent physical wear and tear.
Three Packaging Stages
So simply put, all packaging after primary packaging, such as dosing, weighing, and filling of the product can be considered as end-of-line packaging. Two stages out of three for end-of-line again underlines its importance.Now that I have touched on the importance of end-of-line packaging, I feel it is good to establish what we generally mean by 'end-of-line'. When we distinguish packaging by its three stages of primary, secondary and tertiary packaging, the latter two are typically considered end-of-line.
Three Global Packaging Drivers
What are the trends and global drivers for the packaging industry? From an end-of-line standpoint, we are seeing three major trends that will drive the packaging industry for the next decade.
Ageing Population
First and foremost, there is the trend of an ageing world population. Demographic data from the UN show that undeniably, the percentage of the population aged 65+ years is growing. In some countries faster than in others, but the ageing population is a global trend.
In Japan, the number of people aged 65+ will exceed the number of children below the age of five in 2020 already. What kind of impact can we expect for the packaging industry?
One of the major changes is smaller packaging due to smaller portions for households of one or two people. In some regions, we are witnessing this change in the retail outlets.
Growing Middle Class In Asia
Another important trend is growing prosperity, mainly seen in Asia. The middle class will grow strongly in the coming decade. Consumption patterns will be affected strongly by this growth. One major change to come will be a higher demand for disposable products, such as disposable diapers.
Convenience products will be affordable to a larger part of the population. The two trends of an ageing population and a strong growth in middle class will affect consumer brands. More and changing target groups will lead to differentiated products to cater to those groups.
Brands will want to distinguish themselves by reinforcing the brand identity and product lines. The number of SKUs in the outlets will increase strongly. This increase in SKUs will translate to shorter production runs and more changeovers. This change will have an equal outcome on packaging runs in general and end-of-line packaging in particular.
The Environmental Impact
The third major trend is the increasing concern of consumers on the environment. The threat of climate change has led to the Paris Agreement in 2015. In December 2016, this agreement was signed by 194 countries and went into effect November 4, 2016. Each participating country has set ambitious goals towards lowering greenhouse gas emissions. This will surely influence packaging as it has already been influenced by environmental arguments.
On the one hand, it is national and regional legislation that will influence packaging requirements, but on the other hand, it is the consumer. Consumers worldwide look for environmentally friendly products, having expressed their preference for products that leave less waste, that can be recycled, that use less water and energy producing it—the list goes on and on.
The change towards more compact products or compact flexible packaging is driven by the environment, but for the industry, equally important is profitability. Using less water and energy, and reducing the cost of logistics can have a very beneficial effect on your profit and loss. At the same time, it can improve your competitive position as your product is perceived to be environmentally friendly.
These three trends are all drivers of end-of-line packaging. Smaller packaging, smaller production runs, more SKUs and more flexible packaging are but some of the results of these trends. And the one common denominator for packaging here is flexibility.
Customer's Point Of View
When talking about or analysing a topic, in my experience it is always a good idea to start from a customer's point of view. What does your customer want and expect and, what does he experience? Does your customer have unmet needs that would be valuable to him?
When you know the answer to this, you would already have a good understanding of what is needed. If you do not understand, it would be good to talk to several customers to gain that understanding. Most customers will be only too happy to talk about their expectations and troubles they experience.
To retailers, for example, suppliers' underperforming logistics can be very disruptive and have a significant, negative impact on profitability. In the recent past, for this exact reason, we have seen a shift for certain logistic activities from a retailer level to their suppliers. This helps retailers to facilitate easy distribution, but puts an additional demand on suppliers' end-of-line packaging. This translates into shorter packaging runs, with more changeovers driving a need for flexible solutions with short changeover times.
Flexibility Rules
The growing demand for flexible solutions is not restricted to consumer packaging, but can be seen across several industries, making this an important trend for end-of-line packaging. The need for flexibility drives change in the industry value-chain. Manufacturers and/or suppliers are adapting their packaging lines, or in some cases subcontract packaging to contract packaging companies or co-packers.
Not adapting your packaging line to cater to this need for flexibility does not seem to be a viable option. Shorter runs, and subsequently more changeovers, can have a significant impact on your competitiveness. Changeover costs can be very high when your machine solutions do not offer the needed level of flexibility; changeovers often require tool changes and hence a lot of adjustments and starting up a new run can cause a high number of product to be damaged initially.
How To Set Up Or Adapt Your End-Of-Line Packaging Line?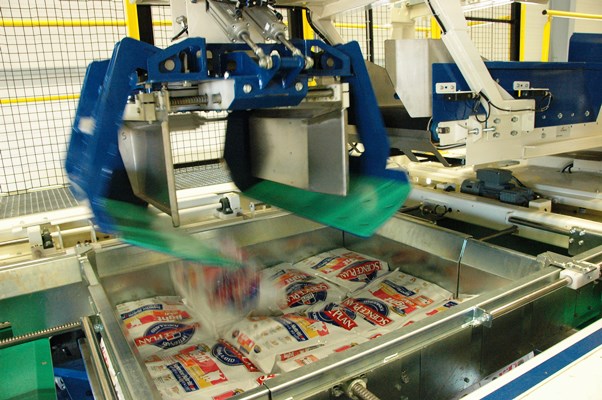 Again, it is vital to start by assessing your current and future demand: what capacity, type of packaging, load securing and labelling is needed now or in the near future. A relatively small additional investment now might avoid significantly higher upgrade costs in the future.
As aforementioned, you can learn a lot from your customers, but you also need to look at potential markets you would like to enter. A thorough analysis is needed before starting to draw your end-of-line solutions. Knowing what you need and what you do not need is a must. And if needed, there are companies that can offer independent engineering and technology services to help you assess those needs and provide solutions.
The level of automation and integration you require will depend on the outcome of your assessment. Semi-automated or fully automated, standalone or integrated solutions, are all decisions to be made based on the ROI and total cost of ownership. And then again, your assessment of future needs might not be completely accurate, so to be considered as well would be the amount of flexibility the solution you are looking at can provide.
Customer's Trust
Finding trustworthy partners who are capable of providing the best solutions for your company is essential. You need to be able to trust the company you are going to work with.
Take time to review not only the products, but also a company's culture: Will they offer good service and training? Are they an innovative partner? Do they respond quickly and professionally? Are they good people to work with.
End-Of-Line Packaging Solutions Introduction
Going into the details of or even the capabilities of all end-of- line solutions can be quite extensive, so instead I will give a brief introduction of some commonly seen end-of-line solutions.
Palletising
A strong, growing segment of end-of-line packaging is automated palletising. This is becoming more prevalent even in regions where labour cost was low, as the shift from manual to automated palletising is seen. The need to reduce the percentage of damaged product and the need to create more efficient logistics are also drivers for automated palletising.
Depending on your product, type of primary packaging, speed, logistics, and shipment requirements, there are three main palletising segments to choose from: robotic palletising, low level and high level palletising.
Load securing
After palletisation, the load can be further secured by several solutions, such as stretch wrapping, automated protective corner setting, strapping and stretch hooding. Load securing can help protect your product from outside element
s and, keep the stacked pallet stable.
Pallet transport
Your end-of-line solution can be integrated by setting up a pallet transport system. Setting up an automated, guided system of pallet conveyors possibly with pallet turntables or pallet shuttles will facilitate your logistics.
Using an integrated system can offer the additional benefit of sending pallet information along with each pallet through the packaging line. This information can be used to report back to an ERP system or can be used for pallet labelling.
Labelling
Product traceability and automated shipping codes that can be used to identify a pallet are but some of the important trends in many industries that drive the need for labelling. Labelling in an end-of-line solution can be applied to bags, cartons, crates but also to pallets, both as a standalone or as an integrated solution.
Add Value With The Right End-Of-Line
Add value for your customer by delivering high-quality shipments to the customer in a timely, efficient and effective manner. The right end-of-line solution can do that for you. But remember, assess your needs carefully and stay flexible!
SHARE WITH FRIENDS:
TAGS: