SSI Flexi Shuttle: Maximum Flexibility For Freezer Logistics
Friday, April 12th, 2019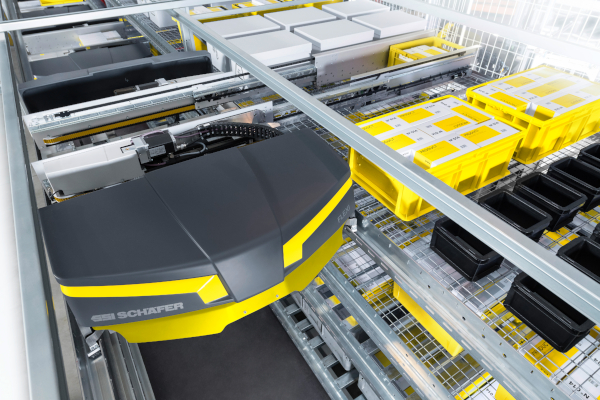 SSI SCHAEFER's Flexi Shuttle is an innovative solution for use in automated miniload systems with dynamically adaptable storage location sizes to store a wide variety of transport units of up to 50 kg. The intelligent energy concept with supercapacitors also makes the single-level shuttle the perfect solution for the highly dynamic storage of frozen small load carriers.
 With the SSI Flexi, SSI SCHAEFER offers an innovative solution with a modular design, combining shuttles, lifts, and a racking system. It allows tailored system concepts with excellent use of space. The system is suitable for single-, double-, and multiple-deep storage with variable height and width partitions, up to an aisle length of 150 m and a height of up to 30 m. One major advantage is that it can store a broad spectrum of loading units and dimensions. It can handle a wide range of loading units with dimensions of up to 860 x 680 mm (L x W) using a universal load handling device with adjustable width. Cubic and conical containers can be stored in the racking system extremely efficiently and safely, with optimum use of space, along with cartons, trays and containers with a load capacity of up to 50 kg.
This excellent use of space is particularly beneficial for users in the freezer sector, where space-optimised construction and high space utilisation play a key role. As well as having high-performance lifts installed at the end of the aisles, this solution also allows any number of integrated lifts to be installed in any position throughout the storage aisles, using the patented 3D-MATRIX Solution concept. It is, therefore, possible to combine highly dynamic solutions with automated storage, buffering, and sequencing in just one system.
Cool Solution For Storing Future Product Varieties
Unlike traditional concepts, with the SSI Flexi, SSI SCHAEFER has eliminated the need for fixed allocated x-storage positions in the racking system. Instead, the intralogistics expert can rely upon an open, millimeter-precise positioning concept that functions independently of the installed hardware and an optimised shelf occupancy concept. Combined with intelligent IT strategies, the rack conception allows size-independent, fully automatic, space-optimised storage and offers users an unimaginable level of freedom. This kind of space-optimised rack compartment occupancy with maximum storage density can even be achieved with a high diversity of loading units and a broad spectrum of transport dimensions. Additional units and dimensions can be integrated as required during system operation. With maximum dynamics at a traveling speed of up to 4 metres per second, the SSI Flexi is an incredibly attractive and high-performance shuttle system even in deep-freeze conditions.
Perfect Fit For Freezer Environments, Thanks To Supercapacitors And Intelligent Energy Management
The new high-performance shuttle is also a major part of efforts to increase sustainable energy efficiency. The integration of supercapacitors as an energy source ensures maximum power density while also delivering maximum throughput. The use of this technology has made it possible to eliminate the components of conventional power supply concepts that are subject to wear. Intelligent material flow control also ensures that the system is operated only as needed, i.e. the shuttles only run as fast as necessary, not as fast as possible.
Very little heat is emitted in the storage system, thanks to low energy consumption combined with the integrated intelligent energy management system, integrated energy recovery when the shuttles slow down and, in particular, the highly efficient drive technology. This is particularly important in deep-freeze environments, as the temperature must be kept constant here (e.g. -28 deg C), which consumes a significant amount of energy. Users, therefore, benefit from energy cost savings. This is thanks to the use of supercapacitors that offer high-performance density combined with very short charge cycles.
High-Performance Shuttle Portfolio
With the new SSI Flexi, SSI SCHAEFER has added a major component to its shuttle family, increasing market coverage for fully automated storage systems. Whether single-level or multi-level solutions for the handling of pallets, trays, cartons, or bins, the scope of SSI SCHAEFER shuttle systems is comprehensive and fits perfectly into almost any modern warehouse.
Thanks to an extensive shuttle portfolio, the intralogistics experts can create an optimised storage solution with fast materials transport and short access times.
SHARE WITH FRIENDS:
TAGS: