Solving Malnutrition Through Affordable Food Fortification
Wednesday, September 13th, 2017
There are approximately 795 million people suffering from malnutrition globally. How can governments and the food industry help relieve this issue in a sustainable yet affordable way? Yannick Foing from DSM's nutrition improvement program Asia-Pacific discusses possible solutions.
Is food fortification important? Why?
Micronutrient supplementation and fortification have been ranked as one of the top development investments by the Copenhagen Consensus, delivering a return on investment of a significant ratio of US$1 to US$46. Malnutrition can lower a nation's gross domestic product by at least two to three percent.
Food fortification with essential micronutrients is important because healthy foods are not always available or affordable, and people do make diet choices that may not give them the required micronutrient intake. Vitamins and other micronutrients are important for humans to grow, function, stay healthy and prevent the onset of non-communicable diseases.
Today, around two million people worldwide suffer from malnutrition or 'hidden hunger', which occurs when a person consumes enough calories but does not have sufficient intake of essential micronutrients. This prevents individuals from leading healthy and productive lives.
Vitamin and mineral deficiencies account for an estimated seven percent of the global disease burden, while iron, vitamin A and zinc deficiencies rank among the top 10 leading causes of death due to disease in developing countries. The cognitive development of 40-60 percent of infants in the developing world is impaired due to nutrition insecurity and micronutrient deficiency.
What have been some significant breakthroughs in food fortification in recent years?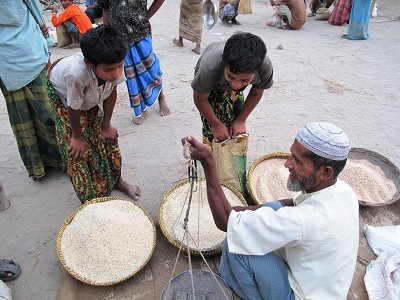 Rice is the dominant staple food crop of approximately half the population worldwide. Micronutrient deficiencies of public health significance are widespread in most countries consuming high levels of rice. Thus, rice fortification has the potential to help aid vulnerable populations that are currently not reached by wheat or maize flour fortification programs. Rice can be fortified by different technologies, one of them being to add a micronutrient powder to rice flour. This will then be extruded and shaped into partially precooked grain-like structures, which can then be blended with natural polished rice.
The recent development of this technology now allows the production of fortified rice without any difference in taste, colour or cooking techniques. Fortified rice has been shown to be fully accepted by consumers in many countries in Asia, Africa and Latin America, which indicates that they are willing to pay a small premium to purchase more nutritious rice.
Which type of food or beverage do you think the government and companies should invest in for fortification?
Staple food fortification is a proven cost-effective strategy available for improving public health in a sustainable way. It provides important micronutrients without necessitating a change in the dietary habits of a population.
DSM's Nutrition Improvement Program focuses on food fortification (flour, sugar, oil, rice) and fortification of targeted foods and products, such as lipid nutrition supplements and micronutrient powder supply. We work alongside our customers and partners to ensure micronutrients are made available through such products to the people who need them most.
Successful programs have been activated across the regions where the impact is felt most, which include countries in Asia, Africa and Latin America.
Is there any way to bring sustainable yet cost-effective fortified foods to developing countries?
Public Private Partnerships (PPPs) continue to be effective in leveraging the best of both sectors to address malnutrition: the public sector brings policy and regulatory frameworks, core funding and political will to bear, while the private sector offers scientific and technological research, product development, production, distribution and supply in the countries where it operates.
Now, this PPP model is evolving to embrace hybrid business models. For example, co-funding of locally-based food production through a joint venture company can offer a ready supply of foods for distribution while enabling part of the off-take to be sold commercially. The profits are reinvested to further scale-up nutrition in the region.
In this model, base food sources and fortification are more likely to involve local farming and manufacturing, rather than imports. Funding and investment derived from both public and private sectors and logistics may well be a joint operation working flexibly together with intragovernmental organisations to deliver nutritious, blended foods to the vulnerable populations who need them most.
Our company also works closely with food companies to make sure that more fortified, aspirational and affordable products are made accessible for base of the pyramid consumers, which today represent four billion people globally.
What do you think are the challenges manufacturers face when bringing fortified food to the developing countries and how can these challenges be overcome?
Fortified food in developing countries has to meet the three A's rule:
1. They have to be Affordable: Meeting a price point that a majority of the local consumers can afford, especially those who may be in the lower income bracket, is essential. Affordability does not mean compromising on nutrition, as there are ways to keep the prices low without sacrificing the nutritional value of the product.
2. They have to be Accessible: To make sure fortified products reach their consumers, they have to be on the shelves where the consumer shops. This means that how they are distributed, whether in the supermarket, the local shop or even through door-to-door sales is a consideration for the manufacturer.
3. They have to be Aspirational: Low income consumers also have the same aspirations for high quality taste, ingredients and packaging as wealthier consumers. Therefore, how it looks, the quality of the ingredients and the package it comes in need to be attractive enough as well.
Another common mistake that is made is to simply think that a food product that sells well in a developed country will also be a best seller in a developing country. This is often not the case, and it is important to conduct market demand research and collect consumer insights before introducing a new product on the market.
SHARE WITH FRIENDS:
TAGS: