Snack Appeal—Five Opportunities For Fresh Snacking
Tuesday, July 30th, 2019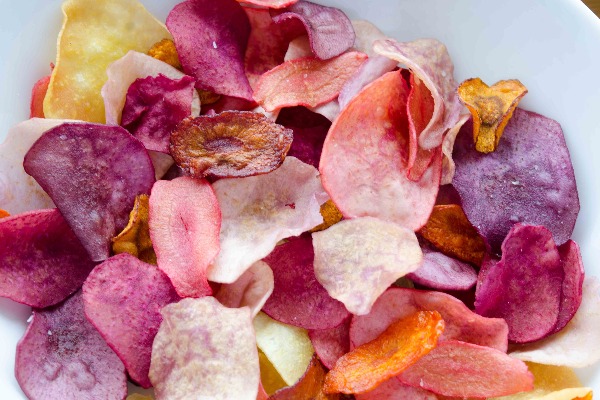 Due to our increasingly hectic society, snacking is gaining in importance for today's consumers. People have little or no time to cook or to prepare food. But food has to be fresh, appealing and satisfying even when snacking in-between meals or on the go. EXBERRY, the leading global brand of Colouring Foods, has identified the top five snacking trends to fulfil consumers' wishes this year.
1. Couch Potatoes Are Turning To Sweet Potatoes
When it comes to nibbles on the couch during the weekends, unhealthy snacks have served their purpose. Due to the growing consumer concerns for health and well-being, completely natural products are in greater demand. There has been a 45 percent average annual growth of food & beverage launches with a vegan positioning. Therefore, vegetable and plant-based snacks with ingredients such as beetroot, carrot, kale, nuts or seeds are popping up more often on supermarket shelves. To create the fresh and healthy appearance expected by consumers, it is important to colour them in a natural way. The deep purple of a beetroot or the vibrant orange of a carrot can easily be achieved with EXBERRY Colouring Foods (colour concentrates made exclusively from fruit, vegetables and edible plants)—simply colouring food with food.
2. Spice It Up With New Eating Experiences
Colour and flavour come hand in hand. With growing international cuisines, consumers are embracing new experiences and exciting worlds of taste. Unusual and exotic colours can help to stimulate appetite and enjoyment, a key driver for consumers choosing products for snacking. When it comes to flavour, Europeans, for instance, tend to choose ingredients such as exotic spice blends or wasabi. In Latin America, cheese and pizza flavours are in high demand. But even the most exotic flavour is not enjoyable if it does not look appealing. Natural colours are indispensable because they influence taste experiences and are the primary indicator for quality and freshness. Comprising more than 400 different shades, the EXBERRY colour portfolio offers all shades to create the perfect colour concept for any new flavour trend.
3. Colour Is Taking Over The Internet
Colour is not only required to support new flavours, it has actually become a trend in itself. Market Research Institute Innova identified "Say it with colour" as one of the top developments in 2018. This applies equally to snacks. Colour is the first characteristic that customers recognise when browsing supermarket shelves: we eat with our eyes. The rise of social media has made colours even more important. Colourful and delicious looking food—such as pink crackers or rainbow popcorn, are photographed and shared with friends and family on social media. Purple is just one of the unusual colour that is becoming more popular in snacking products: weaving purple into savoury applications is a great way to engage customers as well as to suggest potential nutritional benefits visually. Creating these eye-catching concepts in compliance with the global health drive requires clever product design and technical knowledge. The experts behind EXBERRY can assist throughout the entire product development process, from colour matching to upscaling.
4. Popcorn Becomes Premium
Popcorn is no longer only a snack for the movies. Having already emerged some time ago, salty popcorn is experiencing a major boom. Unexpected flavour combinations are creating hot, grown-up snacks that go nicely with a glass of wine as well as a relaxing evening in front of the TV. Gradually, the savoury alternatives are outstripping sweet popcorn options—whether in the form of green popcorn tossed with herbs and parmesan or an orange chili-jalapeno snack. Consumers have acquired a taste for premium creations, with unusual flavours and appealing colours. To provide premium solutions, brands have to deliver high-end ingredients. This means that additives and artificial colours are becoming a no-go.
5. Meat Meets Needs
The effort spent working out, needs to be worth it. After training, people no longer want bars that are loaded with sugar. To guarantee optimal nourishment, snacks such as dried meat and fish bits are on the rise. The launch of meat snacks has grown globally by almost 30 percent over the past five years. When it comes to colouring meat, additives or nitrites are still commonly used, as there has until been a lack of completely natural solutions available so far. However, these kinds of colourings clash with consumers' expectations. Thanks to the EXBERRY Savory Range, the first full range of Colouring Food ingredients for savoury applications is now available, providing truly natural colour opportunities for meat products and the overall savoury market.
The major trends in snacking all point in the same direction: playfulness and conscious eating. To fulfil consumers' demands for healthy and delicious snacks in appealing colours, manufacturers only have one choice: Colouring Foods. With EXBERRY colours from fruit, vegetables and plants—clean, clear and easy to understand labelling can be achieved. EXBERRY can be labelled quite simply as "Colouring Food (concentrate of carrot, beetroot)" providing positive and informative communication for the consumer.
Further reading:
SHARE WITH FRIENDS:
TAGS: