A Smarter Cold Supply Chain For A New Era In Online Grocery Shopping
Tuesday, August 14th, 2018
Digitisation is changing the food supply chain, says Karl Deily, President of Sealed Air Food Care.
When Amazon ventured into the grocery category with its AmazonFresh offering in 2017, the company most likely looked at regions like Asia-Pacific where about 37 percent of Asia-Pacific consumers already use online grocery ordering and delivery services. Food is a primary growth driver for Asia-Pacific's e-commerce industry. Thus, Amazon understood that it was not a question of if online grocery sales would take off worldwide, but when.
But the e-tailer also understood that delivering fresh food was different than its other product categories. While current packaging solutions can protect most consumer goods from the rough-and-tumble e-commerce supply chain, shipping perishable food products represents a more significant, logistical challenge.
If fresh food is not adequately protected from temperature abuse, you risk not only disappointing consumers, but also compromising their safety and contributing to the problem of food waste. Many companies have attempted to find workarounds for this logistical challenge. Some grocery stores now allow consumers to shop online and either pick-up or receive groceries delivered to their doorstep. Meanwhile, online meal kit providers have been testing different packing products to ship their ingredients through the small parcel carriers such as UPS or FedEx.
Neither of these approaches on their own will usher in a new era in online grocery shopping. Grocery stores need additional labor to shop and deliver groceries to their consumers, and grocery store packing is not always appropriate for the small parcel e-commerce supply chain and often requires additional packaging and insulation, especially when it comes to chilled food. The cost of those extra resources—labour and extra packaging—would ultimately be passed onto consumers who are often unwilling to pay more.
Shipping perishable food requires an entirely new cold-chain e-commerce infrastructure than what we, in the food and e-commerce industries, are accustomed to. Amazon understood that and decided to acquire Whole Foods. This acquisition provided them with an immediate, localised footprint for a hub-and-spoke distribution model, servicing customers from their local stores. Less than a year later, the company's online food sales have jumped 35 percent.
The Ever-Evolving Grocery Store
Amazon is disrupting the retail grocery space, and it's only a matter of time before consumers' behaviour changes as well. Other e-tailers and grocery stores need to start thinking about how to bring their stores to the consumer rather than consumer coming to them. The grocery store of the near future will have a much smaller footprint, driven by the need to manage resources more efficiently and by increasing urbanisation that will put a premium on retail space.
While the perishable perimeter of fruits, vegetables, and meats in today's grocery stores will remain on the floor plan, the shelf-stable product aisles in the centre of stores, like canned foods, will all but disappear. Those non-perishable products will be kept in the back-storage room, a more efficient packing facility to optimise online sales and delivery.
Some retailers are already investing in such store operations, optimising their front-end floor space and using robots and automated systems to pick products in the back-end. Such automation will be essential to reducing costs and dependencies on labour.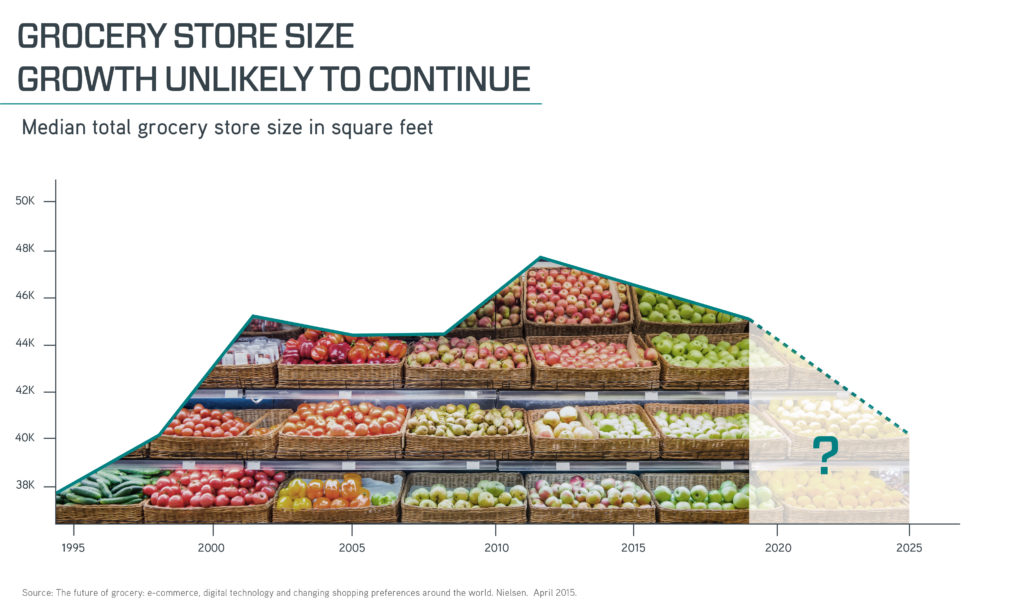 A Smarter Cold Supply Chain  
So, what other changes are coming? Big data analytics, automation, and the internet of things have the potential to drive resource efficiency within the ever-evolving food supply chain. But this shift toward an omnichannel food supply chain will be difficult for retailers that are hesitant to invest in the digitisation of their operations to gather the data needed to find solutions.
Take the weather, for example. If you are shipping food in Singapore, the temperature can rise up to 35 degrees Celsius and threaten the safety of food deliveries. The warm or tropical weather in other parts of Southeast Asia pose similar challenges on handling perishable goods. Depending on the weather forecast for a particular day or week, retailers can adjust the number of gel packs needed to keep their food fresh. Incorporating sensors throughout the supply chain can enable automated temperature monitoring and ensure food safety.
Recently, one of our online meal kit customers was having a problem with leaking meat packages, resulting in upset consumers and costly refunds. Our team audited their supply chain data and discovered that some leakers were caused by packaging while others were caused by issues such as supplier equipment setup, overfilling or abuse from other products during shipments.
Our team helped them identify the optimal packaging solution that reduced waste and improved profitability. Now, we are working with them to improve packing and reduce the box size. Without the right data, and without asking the right questions during our audit, we could not have traced the problem back to the source.
As business leaders, if we do not embrace innovative technologies to evolve our business models and meet the everchanging needs of consumers, we must ask ourselves: are we creating our own extinction? Seeing the increased competition in the online grocery shopping space, the businesses that embrace smart technology will take a bigger bite of the market.
Want more insider news? Subscribe to our e-book now!
SHARE WITH FRIENDS:
TAGS: