Smallholder Farmers, Our Future
Friday, September 22nd, 2017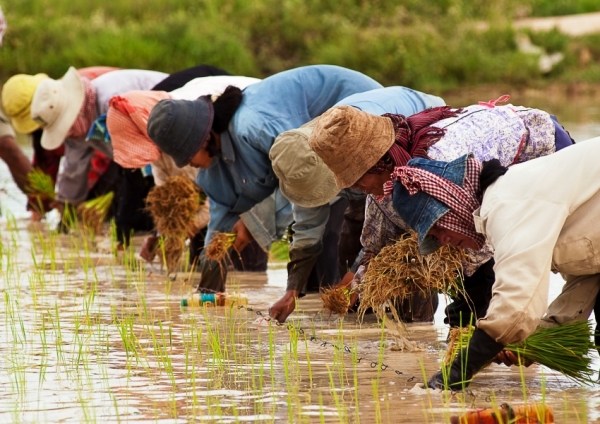 Smallholder farmers, farmers who only own an average of half to two hectares of land, produce the largest percentage of the world's food. Yet, majority of them are also among the poorest globally. What can authorities do to improve their stand, and thereby secure our food for the future? By Michelle Cheong
The human population currently stands at 7.2 billion, but the latest update from the Food and Agriculture Organisation (FAO) of the United Nations (UN) reports that this figure will rise to 9.7 billion by 2050. To feed this many people, experts revealed that this increase might pose a threat to food security, again.
This threat to global food security is not new; a similar situation occurred following the Second World War, when countries struggled to restore their pre-war food production and avoid famine. Smallholder farmers were the core of the global agricultural industry then and were counted on to produce more food in shorter periods of time. These are typically small-scale farmers, pastoralists, forest keepers, or fishers who generally work in family-focused motives that rely on family labour according to FAO.
With their collective efforts, they managed to avert the food shortage problems in their own countries by using new agricultural techniques that soon became part of a widespread 'green revolution' of the 1960s and 1970s. These included modern irrigation projects, pesticides, fertilisers, and the planting of improved crop varieties such as cultivars of maize, wheat and rice that were considered 'high-yielding'.
However, at the same time this was happening, the richer countries had also begun to give financial aid to developing countries in order to reduce poverty even more quickly. While this seemed to be a positive event in general, this move had negative implications for the farmers. In return for the financial aid they received, the developing countries were encouraged to import cheap grain from that of the developed countries; smallholder farmers begun to suffer with the lack of support from the locals. As the industrial farms in the developed countries prospered, smallholder farmers in developing countries slowly found it harder and harder to compete with foreign competitors and began to fade out from the agricultural scene.
The effect of what happened then still carries on today. Smallholders number about 570 million to date with majority living in the Asia Pacific region and sub-Saharan Africa (87 percent). However, an estimated 49 percent of these are found in the low-income or lower-middle income countries. More live in rural poverty conditions.
Despite this poverty status, smallholder farmers are still very much critical for food security. Put together, they actually produce about 70 percent of the food consumed globally. As such, in light of the threat of global food shortage, smallholder farmers have once again been placed on the radar of the agricultural industry today as a potential solution to achieve global food security. In order for this to happen, governmental bodies and international associations need first help them out to resolve several of their imminent plaguing problems.
Plaguing Problems
As aforementioned, majority of smallholder farmers today live in poverty, despite them producing a large percentage of the food consumed globally. A number of factors add to their poverty, making it difficult for them to profit any more than what they are getting currently.
Lack Of Support
A large part of this is the lack of support from government authorities to encourage citizens to buy local produce. With the extent of globalisation today, it is easy for the average citizen to purchase imported produce in the local supermarkets, as it is for them to also purchase foreign goods from overseas via the convenience of the internet and home delivery systems.
Also, there has been a subtle shift on emphasis from public to private research, particularly in biotechnology in recent years. These researchers get funding from the government to look for ways to improve agriculture and produce for effectively nutritious crops that can better benefit the nation's population. While this may be a move 'for the greater good', the smallholder farmers again lose out because of this.
Any new information gleaned from research on better ways to farm is sometimes not passed on to the farmers, ironic as it may seem, since farmers are at the core of the agricultural industry. Further, private research companies may lack the incentives to address the farmers' concerns; if they were to work directly with the farmers, they could get more accurate on-the-ground information for crop production, and yield better results in the research, which would help the farmers even more.
Keeping Up To Date With Technology
Technology is always advancing, especially with researchers looking for ways to improve productivity. These can include a variety of solutions for improving farming productivity, such as fertilisers, machines, or simply knowledge of better methods for producing crops or 'climate smart' methods to help farmers cope with environmental changes.
However, often for the smallholder farmers, their common poverty status limits their access to these sophisticated technologies that are designed to significantly step up their farming productivity. Not only in terms of financial credit, but being poor, farmers may not be well educated as education can be seen as a luxury to some; even if they did have access to these technologies, not knowing how to operate them or what their purpose is would be equally limiting.
Deteriorating Farmer Population
Another important factor contributing to the plight of smallholder farmers today is the deteriorating farmer population. The current average age of farmers worldwide stands at about 60 years, and there are progressively older and fewer farmers as the years go by– a likely trend to continue as fewer of the younger generations are stepping up to fill the emptying shoes.
This itself poses quite a few problems on its own. Firstly, being older and generally poorly educated, the majority of farmers would be less likely to introduce new, transformative production techniques that would help to improve their current situations. In fact, with their typical traditional mind-set, they might resist any change to their methods of farming, even if research can prove that the new methods would be significantly better.
Secondly, the farmer population might eventually die out, affecting the amount of food produced for global consumption. In the developing countries today, about 60 percent of the population is aged 25 years and below. However, farming is generally seen as a less popular mode of employment or lifestyle, so few of these youth see their future in farming and many are migrating to the cities for 'better work'. By 2030, the FAO projects that about 60 percent of the world's population will be living in urban areas, which will further compound this ageing farmer problem.
Another factor that affects the dwindling farmer numbers is the issue of gender inequality. In the developing countries especially, women are still not seen as an equal counterpart to the men, and do not have the same access to productive resources as men. Should women be allowed to have this though, they would no doubt help to alleviate the impact of ageing farmers today.
In fact, women comprise an average of 43 percent of the agricultural labour force in the developing countries, and up to 50 percent in Eastern and Southeastern Asia and sub-Saharan Africa. According to FAO, should women be treated equally as the men, they would actually be able to increase farm yields by about 20 to 30 percent, and lift 100-150 million people out of hunger. However, this would not be a feasible solution as of yet, because many societies today still do not condone the concept of gender equality.
Improving The Situation
With smallholder farmers being put back on the radar as a solution for securing food for our future, it is evident that steps should be taken to improve their current plight. The following are examples of what can be done to help the farmers, thereby aiding us to achieve food security.
Farmer-Support Programmes
Programmes aimed to help the farmers directly, such as those that allow, aid and encourage farmer-led innovations, can be implemented. Farmers, being on the ground all the time, would know their terrain best and can pre-empt how different processes will work on their crops. With the precise and accurate information as well as feedback they can give, this would help to increase the success rates of new production methods.
These can also be programmes that involve researchers and farmers working together, which would enable researchers to immediately test on wider scales their improved methods or new crop productions, and in turn allow the farmers to learn first-hand from the researchers what else they can do to improve yield or quality of crops.
Farmer Organisations
Besides external support for the farmers, it would also be easier for farmers if they had support from other farmers like themselves. With the formation of farmer organisations, these groups can encourage knowledge-sharing among the farmers so as to spread the best practices of certain crops, or together they can also collectively manage market prices and safeguard themselves from too much competition in the market.
Recruiting New Blood
To alleviate the ageing population of farmers, governments or farmer organisations can target institutions such as youth farm field and life schools or youth entrepreneurship facilities to encourage youth to go into the agricultural line of employment. For example, FAO and the local authorities of Tanzania and Zanzibar have previously collaborated to conduct youth-target training in organic farming, and it was revealed that when the youth went back to their communities at home, they passed on knowledge of organic agriculture to their peers and families.
A Peek Into The Smallholder Dairy Industry
The smallholder farming industry comprises many different sectors, from fisheries to agricultural crops like rice, wheat or sugar, or even dairy. Besides being essential for producing food for the future, smallholders are also critical for the immediately needs of the people, such as for nutrition.
Asia, with its young and thriving populations especially, has a need for more dairy products to ensure healthy infants, children and consequently, adults. It is thus no surprise that the region has the world's highest growth in demand for dairy products. In fact, according to FAO, consumption of dairy products in the region has doubled over the last 30 years, contributing to more than 60 percent of the global consumption gains.
Like smallholder farming in agriculture, smallholder dairy farming contributes to a significant percentage of the world's dairy needs. With millions of smallholder dairy farmers across Asia, each having one to five cows, these farmers currently supply more than 80 percent of the annual 240 million tonnes of milk produced in Asia Pacific.
According to the Organisation of Economic Cooperation and Development (OECD) and FAO, this annual amount is expected to increase to 320 million tonnes by 2021. Farmers will thus have to increase their productivity by almost 50 percent in order to meet that need. The exponential increase in demand for milk and dairy products is, however, happening at the time when the dairy farming industry is facing its greatest pressures to produce more with fewer resources and coping with the challenges and impact of climate change tangentially.
Similar to all other smallholder farming industries, the dairy is no different in needing help from external sources such as governmental authorities or industry giants in order to cope with the increasing demands from consumers.
One such dairy co-operative aiding the smallholder dairy farmers in Asia as well as Africa is FrieslandCampina, who with their FrieslandCampina Dairy Development Programme, helps to empower the farmers with the capabilities, skills and access to affordable financing to run their businesses optimally and raise the quality and quantity of their dairy production.
While this can be beneficial for the smallholder dairy farmers, more however, still needs to be done for the smallholder farming industry on the whole by more industry giants, government authorities or even international associations, especially if the smallholder farmers are indeed to produce the food for our future.
FrieslandCampina Dairy Development Programme
Farmers

participating in a knowledge-sharing session under the
FrieslandCampina Dairy Development Programme
FrieslandCampina leverages its strengths in producing milk and building to meet the needs of consumers, local communities and governments. The programme has helped develop new institutional capacities, policies and practices around development that benefit both smallholder farmers in Malaysia, Indonesia, Thailand, Vietnam and Nigeria, and their countries.
What The Programme Does:
Establish a holistic milk collection system;
Provide technical services and high quality training and consultation programs;
Establish stringent quality control systems and assurance from farm to factory;
Offer incentive payment as quality and volume delivered; and
Build good, lasting relationships with local

farmers

, government and community
Benefits Of The Programme:
For The Farmers:
Provides an efficient model of transfer of dairy husbandry techniques to

farmers

Improve milk production and milk quality
Have a better control on farming cost
Enhance profit stability
Benefit from sustainable development
Receive guaranteed price through the option of selling milk directly to the company
For The Community:
Creates jobs and stable income for local

farmers

in rural areas and enhances the prospects of farming for the rural young
Contributes to sustainable development of dairy farming
Sets a reference price for local dairy projects
For The Government:
Ensures agricultural and rural development
Meets the objectives of local sourcing
Facilitates knowledge transfer
Develops the local economy
Additionally, the programme also makes available knowledge-sharing platforms to farmers. These include setting up a farming network and discussion group and engaging in radio and television programmes to provide a forum for farmers to consult for information and assistance. To date, the programme has supported more than 45,000 local dairy farmers directly and indirectly, while ensuring that local and overseas consumers get quality, nutritious and safe milk.
SHARE WITH FRIENDS:
TAGS: