Significance Of Using The Right Food Grade Lubricant
Saturday, September 16th, 2017
It is essential that the right food grade lubricant is used in factories as a mistake can severely affect the productivity rate, occur unnecessary costs or worse, trigger a recall due to contamination. What can manufacturers do to safeguard themselves? By Imtiaz Ahmad, Asia-Pacific Mobil SHC brand manager, Exxon Mobil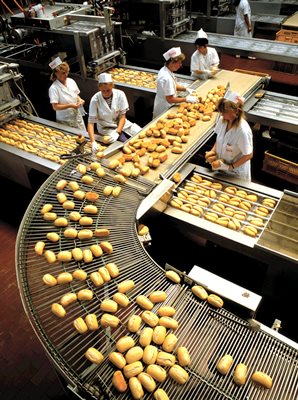 Food grade lubricants are lubricants that are used to protect and maintain food processing equipment from wear and tear. The market size for food grade lubricants today is big; its current estimated size is at 43.7 kilotonnes. This is expected to grow to 60.6 kilotonnes by 2020, at a compound annual growth rate of 6.7 percent between 2015 and 2020, according to MarketsandMarkets.
Food grade lubricants based on application are categorised into four broad categories: food, beverages, pharmaceuticals and cosmetics. Currently, food application is the largest segment of the market, accounting for approximately 66 percent of the global market in 2014, in terms of volume.
The largest type of food grade lubricants based on the base oil type is white mineral oil, followed by synthetic oil. The market for mineral oil in 2014 was approximately 78 percent of the total market, in terms of volume.
Though the markets for these lubricants are larger in Europe and the US, those in developing countries are expected to increase as well with the rapidly growing middle classes and the consequent increased demands for food.
Due to the drive to produce new products and increase concerns over food safety and its strict regulations shape the food processing industry, the demand for customised and high performance food grade lubricants is expected to increase in near future.
Disposable Food Packaging Industry
The disposable food packaging industry is seeing significant market growth attributed to the expanding fast food industry, hectic lifestyles of the growing urban population and increased expenditures on ready-to-eat products. These factors have resulted in a larger demand for more convenience foods and takeaway food services than ever before, causing the demand for disposable food packaging to increase significantly. Smithers Pira forecasts that the global market for disposable food packaging will grow at an annual rate of 2.4 percent to 2016, to reach two trillion packs valued at almost US$40 billion, and Asia is expected to be the fastest growing market in the disposable food packaging industry.
Thailand—Southeast Asia's Market Leader In Disposable Food Packaging
The trends and demands in food expenditure of an increasing urban population are also apparent within the Asian region, especially so in Thailand. According to a report by Canadean, Thailand's consumption of prepared meals is forecast to rise at a compound annual growth rate of 9.8 percent. This is much higher as compared to other Southeast Asian countries like Indonesia and the Philippines, which are only expecting to have a growth rate of 6.0 percent and 2.3 percent respectively. This increase is due to major changes in consumer preferences, as they shift away from non-processed foods to processed packaged food. In addition, the rise in new forms of organised retail in Thailand has also driven the increasing demand for ready-to-eat products.
In response to this change, food packaging manufacturers have also shifted their focus to developing new packaging solutions and convenience packaging to provide consumers with the convenience of on-the-go consumption, while addressing other key concerns such as food safety, efficiency and sustainability. This means that packaging manufacturers in Thailand need to keep up with the rising demand from the food retail sector, where light, convenient and easy-to-use disposable packaging is essential.
Food Grade Lubricant's Role In Disposable Food Packaging
There are many unique challenges when it comes to choosing the right food grade lubricant in the food and beverage processing industry. Food safety is of utmost importance, so processes of disposable packaging—though they do not come into direct contact with food in the factory—need to be free of contamination and have the highest sanitation and quality control in place. This can pose as a challenge for manufacturers, especially when it comes to food grade lubricants, as finding the right one and its application can be complex.
The food industry uses lubricants ranging from compressor, hydraulic, gear and bearing oils. Food grade lubricants must not only be food safe in the event it accidentally comes into contact with food, but must also perform the same technical functions as any other industrial lubricant including providing protection against wear, friction, corrosion and oxidation, while withstanding conditions ranging from extreme freezing and baking temperatures to frequent high-pressure washdowns and hot, corrosive atmospheres.
In addition, different applications within the food sector may demand that lubricants have specific properties such as resisting degradation from food products, chemicals and water/steam. They must exhibit a neutral behaviour toward plastics and elastomers, have the ability to dissolve sugars and most importantly, comply with food/health and safety regulations.
The lubricants based on ingredients used are categorised as H1 (food grade lubricants, permitted for incidental contact), H2 (lubricants not permitted for incidental contact), and H3 (soluble oils). As food safety is the highest priority for the food processors these days, H1 lubricants are the most common broad spectrum food grade lubricants that are used in machinery involving incidental food contact.
The certification for this categorisation is provided by organisations such as National Sanitation Foundation (NSF) International, along with the United States Department of Agriculture (USDA). Similarly, the ISO provides certification 21469 to manufacturers with high sanitation and hygiene standards for manufacture of food grade lubricants. The manufacturers may also attain additional certifications for halal and kosher compliance, which will allow them to broaden their market space.
Surprisingly, many lubricants used in the food and beverage industry today are not NSF H1 registered. This puts the production under unnecessary risk, as just one product recall can devastate a brand. The food and beverage industry is predicted to grow globally. As manufacturers, food safety and productivity should be up in the list of things to take into consideration, and implementing the right food grade lubricant is essential. Choosing the right food grade lubrication for one's needs can be a complex and highly personalised decision, but it is highly worth the investment and time. Not only can a successfully implemented food grade lubricant comply with regulations, it can also help reduce cost in maintenance, be more environmentally friendly and also improve productivity as premature equipment failure is less likely to occur.
Km Packaging Company Limited: A Case Report
Established in 1984, KM Packaging Company Limited is a Thai-based manufacturer of disposable food packaging in Thailand. The company produces poly-coated paper cups instead of using wax paper and uses paper cup forming machines that were lubricated with a synthetic ISO viscosity grade 220 gear oil in their production.
The lubricant had an oil drain interval (ODI) of six months and created oil darkness and sludge formation in the machinery's lube oil sump, causing unexpected downtime and lowered productivity of the machinery, which is a critical component on the production floor.
After consulting Mobil Engineers who performed an on-site investigation, the company replaced their gear oil to the suggested lubricant that has multifunctional purposes and a longer ODI. They also installed an oil analysis program to monitor the lubricant performance.
Once the switch was made, the company found that the extended ODI reduced the number of preventive maintenance checks needed annually. This reduction in human machine interaction also led to a subsequent decrease in safety risks along the production line. In addition, the extended lubricant and equipment life of the machinery helped reduce oil waste, resulting in a more positive impact to the environment. Using an oil analysis program also helped the company improve maintenance planning, increased productivity and helped prevent unscheduled downtime for the paper cup forming machines.
All these led to an increase in operational productivity and a significantly higher number of paper cups produced. KM Packaging has since has a total cost of ownership savings of US$50,000 annually.
SHARE WITH FRIENDS:
TAGS: