Saving Food Via Resealable Packaging
Friday, March 15th, 2019
Resealable packaging has become a most effective feature in reducing food waste. By Michael Dossor MAIP, Group General Manager, Result Group.
Many studies have proven packaging to be an environmentally advantageous and cost-effective strategy to reduce in-home and in-store food waste. At the present time, packaging seems to be getting a 'beating' on the environmental front, but let's not forget the role it plays in protecting the product and reducing food waste. Food loss and waste are an even bigger environmental problem than the perceived problem of plastics used in packaging.
One of the very useful features available in modern packaging is resealable packaging. Whilst not new, resealable packaging has become a most effective feature in reducing food waste. Attention to shelf-life extension and reducing waste whilst showcasing produce at its best has led to the development of various types of resealable packaging formats.
The design challenge is building a reclose feature into the pack to protect the product from spoilage after multi-use occasion, while doing it without adding more packaging material, specifically plastics. There are other options outside of traditional zip locks. Here are some examples…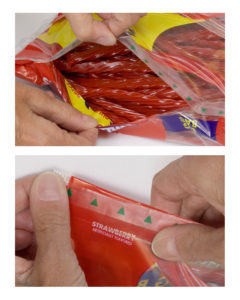 Resealable Lidding Films
Grape N Go, a new innovation in shelf-ready packaging for fresh fruit snacks can stay fresh for twice as long as grapes packed in a standard pouch bag, without the addition of any preservatives or additives. Its reclosable packaging consists of a lightweight lidding material that utilises a special, uncured adhesive layer that is exposed when the consumer first opens the lid.
Once exposed, the layer maintains its adhesive properties for up to 20 uses, even under challenging cold conditions of refrigerated storage. This resealable function has enabled the grapes to stay fresh twice as long as they would in a standard open-pouch bag format, leading to less waste.
Resealable Tapes & Labels
The SunRice Pour and Seal and Mission Foods Wraps packs are examples of clever packaging designs that deliver maximum effect to the consumer via a re-closable packaging format that enables portion control.
The SunRice Pour and Seal rice packs are enabled with a peel and reseal 'tab', which can be opened and re-closed without affecting product quality. The resealability function prevents the rice from spilling once the bag has been opened. The function is a perforated die cut placed into the flexible packaging and a self-adhesive label applied over the tamper evident opening. The label is applied just like any other label but has been developed to open and close without removal from the pack. A simple and easy to use system that can be delivered either on the wrapping machine or off line and pre-applied as a raw material input.
The Mission Food packs, the consumer simply peels back the tape strip, takes out how many wraps he/she wants, presses the tape back down, pops it back in the pantry or fridge, and they are ready and just as fresh to be used at a later time. This gives customers a longer time-frame to eat the product whilst retaining its freshness and great taste. Delivery to pack is done by fitting a device to the wrapper that places perforated slits to act as an opening in the film and then applies a finger-lift tape directly over that created opening.
It is like an adhesive zipper. Apart from delivering easy open and reclose functionality the amount of plastic used is up to 90 percent less than zippers and the additional headspace of film is not required on the tape functions on the current pack size.
Ultimately, smart resealable packaging formats that address the management of food spoilage and the resulting food waste can substantially and successfully reduce in-store and in-home food waste while reducing the environmental footprint for the brand owner. 'Resealable Packs' are now an important Save Food Packaging design feature that need to be considered by all food manufacturers to assist in minimising food spoilage and the resulting food waste.
SHARE WITH FRIENDS:
TAGS: