Safeguarding Brands With Meat And Poultry Coding
Tuesday, June 4th, 2019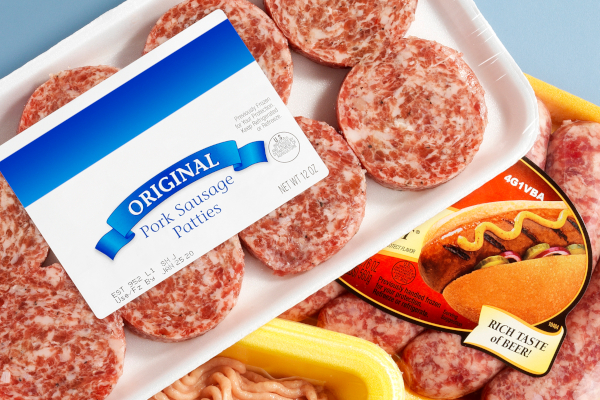 James Wolff, Global Marketing Manager at Videojet Technologies, looks at the evolving regulations in coding and marking for the meat and poultry sector, and how technology can be used to comply with these standards, safeguarding brand image in challenging environments.

According to Technavio, the global meat market has reached an estimated year-on-year growth rate of 2.67 percent for 2019, and the global meat market size will grow by USD 210 billion during 2019-2023. With continuous changes in consumer lifestyle and awareness about protein intake in the daily diet, shoppers are seeking greater convenience and shorter food preparation time, which are main drivers for growth in this category.
While providing greater choice for consumers, growth in the global meat market can have a downside. In some regions, a largely unorganised market with many small manufacturers can pose a real risk when it comes to hygiene, food safety and product quality standards. Consumer trust has been built over many years with highly regulated processes, but this trust can easily be damaged with one product incident.
Coding in the meat and poultry industry is becoming increasingly complex. With a tighter international regulatory focus on food safety, meat and poultry producers have more codes to keep track of than ever before. More unique codes mean greater risk for coding errors, which can be costly for meat and poultry producers due to product rework, regulatory fines and recalls.

Managing Meat Labelling Norms In Different Countries
National regulations dictate meat labelling norms; guidelines and implementation of legislations vary between regions. In the US, imported meat, poultry, and egg products must adhere to the labelling standards in the Federal meat, poultry and egg products inspection Acts, regulations, and policies, or their equivalent. Some require certain cuts of meat to display standard nutritional information, and a condition which hold imported foods to the same standard as domestic products. The US Food Safety and Inspection Service also reinspects certain labelling requirements, such as the product name and the presence of cooking or heating instructions, and in some cases safe handling instructions to verify the classification of the process and product categories.
The European Union (EU) holds the most rigorous labelling guidelines globally. While each European country also has their own set of guidelines, for the purpose of free movement of goods, producers must also comply with the centralised EU labelling guidelines.
Asian countries too have specific requirements as dictated by national regulations. Meat labels in China must include product name, country of origin, production date, expiration date or storage period, storage temperature, country of destination, net weight, inspection legend, name and address of company, production lot number and specification. Japanese legislations require country of origin, standard weight, best before date information, as well as information pertaining to additives.
In India, these guidelines are set by three agencies—the Food Safety and Standards Authority of India, the Office of Legal Metrology, and the Department of Commerce. Besides product information such as ingredients and name and address of manufacturer, market regulations are also enforced, including the required labelling of maximum retail price. In addition, meat products require a specific logo to identify non-vegetarian food. Any food that has been irradiated or have artificial colours added must also be identified.
The Country of Origin Labelling (COOL) is a set of guidelines recognised to varying degrees globally. In the EU, these guidelines are becoming increasingly more standard. In the meat industry, the regulations dictate that meat labels should contain animal's country of birth, rearing and slaughter, along with nutritional value and allergens. For example, the Food Safety and Standards (Packaging and Labelling) Regulations in India state that the country of origin must be stated on all packaged foods sold in the country. This includes bulk food items labels, although bulk products do not require COOL labelling at retail.
Safeguarding Brands Through Regulatory Compliance
With a platitude of new regulations implemented in various regions globally, food manufacturers must consciously examine how to comply with new legislations, while simultaneously maximising profitability. Meat and poultry producers now manage more codes per production line than ever before as SKU complexity is on the rise. It is ever more likely that human error could lead to incorrect information being printed onto a product, and in order to combat this, advanced code assurance technology has been developed to make this occurrence a near impossibility.
Bar code scanners are a relatively inexpensive way to reduce the risk of selecting the wrong code when changing over to a different production run. A handheld bar code scanner plugs into the bottom of a coder that either has internal memory or is connected to a network. At installation, all codes used for the specific line are pre-programmed into the coder or on the network along with a UPC code for each package type. Then, during a changeover, the line manager simply scans the new package UPC or associated bar code from a job card to automatically retrieve the correct code format and content. No required typing means no room for code errors.
In addition to using a bar code scanner to load product codes in a multi-product operation, coders can be networked to help ensure product code accuracy. Multiple coders can be connected using common software through a company network and an internet or Ethernet connection. Networking enables centralised message creation and message loading to multiple coders on a line or in a facility. Once all the coders are connected to a single network, a production manager can use a computer to create or load specific codes from the saved database.
Coding To Withstand Tough Environments
Regulatory requirements will often dictate that a line must be washed down at regular intervals. Sending contaminated product into the retail supply chain not only puts a business at severe risk, but more importantly, also puts the end consumer at risk. For instance, the current Good Manufacturing Practices (cGMPs) and most regulatory inspection agencies around the world would require all equipment in meat and poultry plants, including package coders, to always be free of rust and corrosion in order to prevent the potential contamination of products, which is of high risk especially in the meat and poultry industry.
To avoid these problems, facilities must maintain a pristine production environment— presenting a challenge to balance harsh washdown sanitation procedures with efficient equipment maintenance. Often, sanitation procedures can create extreme conditions in meat and poultry production or packaging environments, due to humidity from high pressure, hot water cleaning and strong chemical agents, which may damage equipment. Coding equipment used to apply dates and other essential information to each package must be protected along with all the other sensitive machinery on a production line.
Furthermore, a line will have to be stopped to be sanitised, therefore speed is of the essence if lost production time is to be kept to a minimum. Where coding and marking systems are concerned, an expert provider will work closely with its customers to identify the pain points such as removing the printer or placing plastic bags over printers during a washdown.
For example, Continuous Inkjet (CIJ) Printers are available on the market today that enable efficient cleaning operations without the need to use bags. The Videojet 1860 CIJ printer, for example, enables an efficient cleaning operation and faster restart of your line. Hygienic design following industry guidelines incorporates slanted surfaces that help to prevent fluids or debris build-up, and help eliminate potential dirt traps. In addition, an optional IP66 ingress protection rating enables operators to clean printers without removing them from the production line. This further enhances the speed at which washdowns can be carried out, as the printer effectively lives on the line, having been designed specifically to deal with its intended environment.
Where coding applications require a significant amount of content, such as ingredient lists and traceability information, Thermal Transfer Overprinters (TTO) are often deployed. They are suitable for high speed applications and offer significant uptime advantages, especially where multi lane and thermoforming applications are concerned in washdown environments. This eliminates the need for special enclosures for protection and further enables washdowns to be carried out quickly and efficiently on the line.
Working smart in meat and poultry is the only way to remain profitable, and as the market continues to gather momentum, so too does the drive of machine manufacturers to offer ever more advanced and efficient capital equipment. By working with an expert provider to ensure the correct configuration is selected for a particular line, manufacturers can start to reap the rewards from the very first day of installation, safeguarding the product and brand from incidents, while ensuring profit margins remain the right side of the line.
Further reading:
SHARE WITH FRIENDS:
TAGS: