A Focus on Asian Cuisine: Roquette's New Singapore Facility
Thursday, July 27th, 2023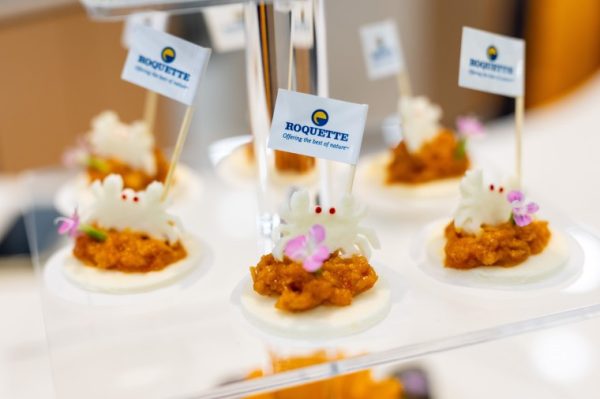 Asia is now the largest food consumer market, with an additional S$5.9 trillion (US$4.4 trillion) in spending expected by 2030. To capitalise on this trend, Roquette opens a new dedicated facility that will allow customers to experience their offerings through Asian cuisine, from early innovation to the final plate.
Roquette inaugurated the opening of its new Customer Experience Center in Singapore on 20 July 2023. Their new facility aims to further enhance its partnership with customers to create more exciting food innovations in Asian cuisine. Composed of a culinary studio and a sensory hub, it aims to elevate everyday food experiences and value through science and innovation.
According to a 2021 study by PwC, Rabobank and Temasek, Asia is now the largest food consumer market, with an additional S$5.9 trillion (US$4.4 trillion) in spending expected by 2030 (considering that 55% of this increase will be directly driven by consumer choices).
Furthermore, the pandemic has changed consumer habits, especially in what and where they eat. Since then, eating healthier and using sustainable ingredients have become more prominent in Asia. The new Roquette facility will have a pivotal role in building a stronger Asian food story in the development of delicious, innovative and sustainable food experiences.
A State-of-the-art Facility Focusing on Asian Cuisine
Singapore is a melting pot of Asian cuisine and cultures. The Southeast Asian country also has mature food production systems. Furthermore, Roquette's regional headquarters is located in Singapore, which makes the island state the ideal regional food innovation hub where like-minded companies develop future-ready and sustainable food solutions.
The culinary studio allows for various cooking methods in Asian cuisine. The aim is to effectively showcase the variety ways in which Roquette ingredients can be used for Asian cooking. By imagining and designing the future of food, it welcomes a sensory hub where panelists can evaluate the functionality, taste, aroma, and visual appearance of a variety of Asian cuisine using Roquette ingredients.
"Roquette's decision to establish its new Customer Experience Center here will leverage Singapore's status as a food innovation hub to serve the diverse cultures across Asia. This dedicated space will support partners, including Singapore companies, in the growth of their novel food technologies, which include alternative proteins. This can happen through enabling the co-creation and advancement of products that are tailored to the preferences of consumers in this region. We look forward to see more nutritious and sustainable food solutions that will augment our growing local agrifood ecosystem," said Mr Damien Chan, Executive Vice President of the Singapore Economic Development board. Mr Chan attended the inauguration of the Customer Experience Center along with Roquette's customers.
With 90 years of plant-based innovation under its belt, Roquette has the expertise to reimagine food concepts that meet the unique and essential needs of various consumer lifestyles.
For Rohit Markan, CEO of Roquette Asia Pacific Pte. Ltd., "The inauguration of this Customer Experience Center is close on the heels of the Food Innovation Center opening in France, and the third new facility to be inaugurated in 2023 by Roquette. It is another proof point of Roquette's commitment towards innovation and our deep understanding of building the right capabilities to serve the markets, while tailoring our offer to consumers' eating habits. Moreover, as part of a global network of Roquette expertise, this new center that focuses on Asian cuisine lives up to our proven track record of bringing plant-based innovations to the food and nutrition sectors."
"The expertise we have accumulated gives us considerable advantages in the food and nutrition sectors. Singapore offers a vibrant ecosystem for food innovation to flourish and to develop new solutions for a more sustainable food system in the region" says Mr Markan.
MORE FOR YOU
The Future of Food 2040 — by Deliveroo
Edible Packaging — Cups You Can Eat
e-Commerce Packaging: More Than Just a Box
Breaking Down the Benefits of Inclusive Packaging
Sustainability in the International Supply Chain
Plant-based Beverages and Frozen Desserts
Sustainability at the Core
Packaging Trends
Sugar Alternatives
The Demand for Immune Boosting Foods
Plant-Based Formulations Using Citrus Fibre
Sealed Air: The Future Of Packaging Is Here
SHARE WITH FRIENDS:
TAGS: