Rise Of Alternative Beverages
Friday, February 25th, 2022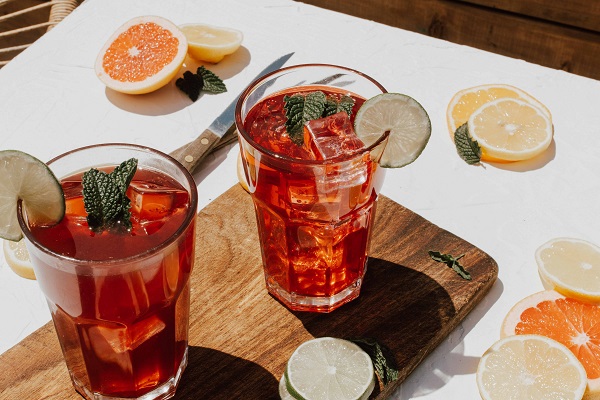 Alternative beverages are taking the beverage industry by storm. Consumers' increasing focus on health and wellness is leading to decreased interest in products with sugars, by-products, and artificial ingredients. Consumers are ready to try innovative, healthy and natural products and eventually replace traditional beverages with enhanced products. This interest is also sparking the development of new companies and providers that are crafting their niche and competing with the giants of the beverage world. The emergence of alternative beverages with a focus on health is paving the way for an entire movement of drinks providing a specific function.
The pandemic has accelerated an already growing trend of health awareness in public. People are looking for food and beverages that can boost immunity and improve health. 
Plant-Based Milk
According to Frost & Sullivan research, plant-based milk now accounts for about 10 percent of the total milk market in North America. Plant-based milk includes almond, coconut, soy, oat, and rice. Although soy still dominates the market, almond milk has experienced the largest growth in the U.S. There are many reasons for the popularity of plant-based milk: the rise in the adoption of plant-based diets due to health and moral grounds, environmental concerns with claims that plant milk has a lower greenhouse gas footprint, and an apparent increase in the level of lactose intolerance in developed countries.
Asia Pacific is the largest market for these alternatives. This is especially true for soy.
Premium/Flavoured Hydration
Consumers' thirst for healthy, flavourful, and functional beverages has spurred growth in the premium hydration or flavoured water market. Premium hydration beverages are for consumers looking to achieve the same hydration as water without the additives present in some hydrating beverages. Interest in new taste combinations, herbal infusions, and energy or immunity-supporting ingredients is transforming the competitive market. New product launches promise enhanced physical and mental well-being and promote ingredients that are natural, sugar-free, pH-balanced, and in line with diet trends.
Consumers are increasingly moving away from carbonated drinks and other sugary beverages, seeking healthier—yet flavourful—alternatives. These trends are driving increased consumption of sparkling beverages as well, and the industry is continuously innovating with a diverse range of healthy products that feature bold fruit flavours and unique ingredients. From fresh fruit and botanicals to functional ingredients like ginger, turmeric, etc., flavourful yet healthy ingredients are elevating the appeal of water and creating an entirely new hydration experience.
Encompassing the enhancements of regular water, flavoured water or premium hydration products will continue their rise in popularity as health professionals also stress the importance of getting the required hydration levels while balancing with micronutrients. 
Tea And Coffee
Consumers are also looking for coffee and tea options that deliver functional benefits. Amplifying sensory experiences by adding textural complexity is another trend that's grown significantly over the past few years.
Teas have always come with health claims such as antioxidants, anti-aging, weight loss and cancer prevention. However, in recent times, texture trends have started to gain importance as well. For example, bubble tea, which is popular in the APAC market, has now emerged as a fast-growing trend in the U.S. 
In addition, brands are enhancing tea and coffee products with functional ingredients like nootropics and adaptogens, which can improve brain function, focus, mood and productivity. Coffees and teas that boost mental clarity and relieve stress are also popular. 
Specialty iced versions of coffee are also increasing in demand, especially cold brews. Sales have shown the fastest growth in this coffee category.
Biotics
In recent times, beverage companies have focused on digestive health by introducing fermented products such as kombucha and kefir in the mass market. These companies use prebiotics and probiotics to enhance the digestive health element. 
The kombucha market is expected to grow at 25 percent per year for the next three to four years, while the overall market for digestive/gut health beverages is also expected to have double-digit growth. Drinks that incorporate fibre also promote digestive health. According to Frost & Sullivan research, more than 40 percent of shoppers in North America have shown interest in or bought beverages that contain probiotics.
COVID-19 has also caused many to seek probiotic drinks to assist with preventive care and control of their health. 
Health-and wellness-related beverages are also finding increased interest because they are ready to consume. Consumers find it easier to open a bottle and drink rather than use dietary supplements or probiotics in powder format. 
Kombucha is also gaining ground as a fermented tea, which is perceived as a healthier option among drink types. 
Organic Beverages
Companies have embraced the organic trend by reformulating their beverage brands or introducing a new product line. The market is expected to have double-digit growth over the next five years, with North America and Europe expected to have the highest growth. 
Organic beverages are slowly moving away from being just a niche product. The market is expected to become a USD 50 billion industry in the next five years, making it a mainstream product line.
Sugar Reduction
Sugar reduction is one of the most striking phenomena in the beverage industry. Consumers strongly prefer reduced sugar, alternative sweeteners and zero-sugar products. This trend has been encouraged by beverage companies as well. Multinational soda companies have provided these drinks for a while as the demand for reduced-sugar products gained popularity and sugar tax.
However, reformulating a popular product by removing or reducing sugar is not straightforward. Companies must maintain the flavour and taste profile while balancing it with being a healthier choice. For example, Coca-Cola saw success with Coca-Cola Zero Sugar but is not seeing similar success with Coca-Cola Stevia. The pandemic has also contributed to people re-evaluating their habits, and sugar reduction is one of the key focus areas. In an effort to support sugar-reduction trends while delivering on taste and texture, ingredient suppliers note that sweetener blends can fulfil this formulation need. Much research is focused on sugar replacement with natural alternatives while meeting the sensory profile offered by sugar.
Increasing health consciousness about low-calorie and functional solutions among the global population has forced beverage manufacturers and product formulators to opt for alternative product lines. The global market is highly competitive, with participants excelling in their own product segments through organic and inorganic growth. Rising consumer demand for alternatives has urged manufacturers to opt for these alternatives in their product pipeline. 
Product manufacturers are focusing on sugar-reducing solutions through novel extracts and technologies while not compromising on taste and nutritional benefits. Choosing the right mix/blends is necessary for an effective and successful formulation. Companies are making initiatives with analysis tools that reduce formulation time, minimizing product lead time to market. Getting creative with these unique and healthy options while maintaining the feel of the classic beverage will keep companies on their toes.
MORE FOR YOU:
Growing Popularity Of 'Food As Medicine' Concept Amongst Global Populations
Supporting Growing Consumer Health Needs With Fortified Food And Beverages
Coffee Evolution: Adding A Healthy Halo With Protein
Red Microalgae Makes Veggie Burgers 'Bleed'
Colouring Food With Food
What Happens To Bad Seeds?
Metal Detection, X-Ray – Or Both?
Traceable, Nutritious And Delicious: How ofi Is Bringing A New Perspective To Food Ingredients
We Want "Toxin-Free" Milk!
To not miss our exclusive articles, follow us on our social media platforms LINKEDIN, FACEBOOK, TWITTER
WANT MORE INSIDER NEWS? SUBSCRIBE TO OUR DIGITAL MAGAZINE NOW!
SHARE WITH FRIENDS:
TAGS: