Rethinking Food Safety In Dairy
Monday, December 11th, 2017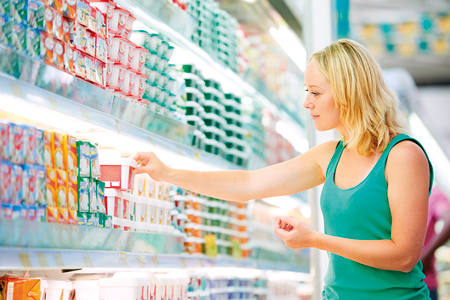 Consumer demand and current market conditions are pushing the industry to dig deep to deliver improved product quality and safety for customers across all food and beverage sectors, including dairy. By Samantha Wong, food technology specialist.
Plagued by major product recalls and health scares in recent years, the food and beverage industry has too often placed itself in the spotlight for the wrong reasons. The dairy sector is one where food safety controversies have dealt blows to both brand reputation and product sales. And as preference for dairy alternatives (e.g. lactose-free and plant-based options) grows, the dairy sector has to grapple with tougher competition and diminishing trust among consumers.
Yet, despite the challenges, the outlook for the dairy sector remains positive. A 2017 report by Deloitte predicts global demand to rise by 2.5 percent year-on-year till 2020. Among the factors driving dairy consumption are rapid urbanisation and changing diets that are replacing basic carbohydrates with protein. Simultaneously, the continued emphasis on well-being and nutrition means that food safety concerns will remain of particular importance to food manufacturers and suppliers.
Exacting standards and regulations are just as crucial, if not more, in the dairy sector as the short shelf-life of dairy goods increases the likelihood of deficiencies or spoilage. Proper storage temperatures, pasteurisation and sanitation procedures are key to ensuring that only quality dairy products reach retail shelves, while adequate access to product information will help educate consumers and strengthen brand reliability.
The Digital Boost
Evolving consumption habits and attendant expectations of the dairy industry are putting positive pressure on businesses, with the active development of new technologies being one significant outcome. Through collaborations between dairy research centres, food scientists and the industry, technological innovations targeted at improving both food safety standards and profitability are finding broader applications in the dairy sector.
From multimedia gadgets that continually monitor and analyse data, to emerging technologies like blockchain that can track what goes into a product and who handles it, dairy supply chains are welcoming innovations that contribute positively to efficiency, productivity and safety. Mobile apps, robotics and micro-sensor technology, meanwhile, could well be common features of dairy farms, production facilities and distribution centres in the future.
As the dairy sector adapts to modern food standards and an information-savvy consumer base, embracing technologybased tools will be a huge stride in bridging existing gaps—in providing the detection levels needed in the industry, sharing the comparative data that consumers require to make informed decisions, and producing safe and healthy foods that meet the claims of the products' labels.
Maximum Safety, Minimal Impact
Given its efficiency to inactivate pathogenic microorganisms that cause food spoilage, thermal treatment of dairy consumables is most often used to ensure food safety and shelf-life stability. However, subjecting foods to high temperatures may also cause changes to the colour, flavour and nutritional value of these products. With consumers leaning towards more wholesome and minimally modified products, alternative strategies that produce safer foods with minimal heat treatment are increasingly favoured.
Among the promising developments in the dairy industry, non-thermal processing technologies like power ultrasonic systems and pulsed electric fields are creating significant impact in food processing worldwide. These techniques can inactivate bacteria without the high temperature of traditional pasteurisation, resulting in enhanced safety and reduced nutritional losses. Also capable of removing some food preservatives, these alternatives have added appeal for companies focused on clean-label products.
High pressure processing (HPP) that employs extreme pressure rather than heat to disrupt the microbial biochemistry of pathogens and bacteria, is one other technique used to preserve freshness. HPP presents exciting opportunities, particularly in controlling and developing novel protein structuring capabilities that in turn can help reduce additive use in formulations.
HPP has already shown positive results in specific dairy products. When applied in the preliminary treatment of milk used for yogurt production, for example, improved firmness of the curd and limited collection of whey on the yogurt's surface were observed. Ice cream made from pressure-treated mixes also had improved sensory properties, possibly due to pressure-induced protein gels. The economic benefits of improved food safety and quality through HPP are prompting more companies to incorporate the technology in their food manufacturing operations.
Singapore's first-ever HPP line, introduced early this year, allows companies like Golden Bridge, Joe & Dough, The Seafood Company, and The Soup Spoon (TSS) to use the technology to develop preservative- and additive-free food products that stay fresh for longer. With improved shelf-life, these products can now be shipped further, making exports to the region a real possibility.
For TSS, access to HPP has allowed it to increase the shelf-life of its soup packs from three weeks to approximately three months. "The process has saved manpower and resources with the product development time being reduced by 50 percent. The extended shelf-life has enabled SMEs like us to export our products to bigger markets," remarked Andrew Chan, managing director of The Soup Spoon.
Contamination-Free Compressed Air
While maintaining sanitary environments and using uncontaminated ingredients are principal concerns for dairy manufacturers, they often overlook the key role that a utility like compressed air plays. An indispensable resource in modern production facilities, compressed air is often used to clean containers prior to packaging, as well as to sort, cut and shape food products. For maximum safety, it has to first be free of water vapour, moisture, solid particulate and oil aerosols.
In dairy manufacturing, supplying compressed air of the necessary purity can be especially challenging since there is direct contact with the foods during ventilation of the milk silo as well as during the filling and sealing processes. With milk being a naturally excellent growth medium for various pathogenic and non-pathogenic microorganisms, contact with contaminated compressed air can expedite spoilage and affect dairy products' taste and appearance, rendering them unfit for consumption.
To ensure a reliable supply of oil-free compressed air, dairy manufacturers can incorporate the use of compressed air systems, such as BOGE's Bluekat Converter technology. With its innovative converter principle, compressed air meets the most stringent standard for purity class zero oil-free air quality.
The system offers reliable protection from oil breakthrough and the resulting contamination of compressed air by making active use of technology to convert oil constituents and hydrocarbons contained in compressed air into carbon dioxide and water (i.e. substances that occur naturally in air).
"The technology ensures that all hydrocarbons are removed by the catalytic material, while microorganisms and bacteria are largely reduced during the conversion process due to the process temperature of 230 deg C—offering a safe solution for sensitive applications like dairy production," said Nalin Amunugama, general manager of BOGE Asia Pacific.
Functioning on very little energy, the low-maintenance converter is also more economical than conventional treatment methods. When connected downstream of frequency-controlled machines, the converter system offers variable volume flow rate that ranges from 20-110 percent, thus allowing production facilities to save on resources while helping them function with maximum safety around the clock.
Quick And Efficient Analysis
Looking beyond manufacturing facilities to the entire dairy production cycle, reliable and rapid testing has no doubt been instrumental in controlling costs and food quality. Innovations in analytical technology have since emerged to help improve overall safety and productivity. These testing solutions provide users with precise data in increasingly shorter times, and more importantly, help manufacturers limit liabilities and potentially damaging product recalls.
Efficient analysis of product components also enables manufacturers to maintain accuracy; ingredients can be properly specified, while formulas and labels can be regularly reviewed to ensure uniformity and consistency. In the case of milk production, fat and protein content are often the main parameters of interest for suppliers, with measurements being as accurate to fractions as small as 0.05 percent.
With the aid of tools that are capable of quick, comprehensive analysis, manufacturers can identify possible adulteration and the samples that require additional assessment, thus minimising costly and time-consuming laboratory tests.
Analytical instruments today utilise a variety of nondisruptive technologies—among them, X-ray fluorescence analysers determine the chemistry of foods by measuring the fluorescent X-ray emitted from a sample, while nearinfrared (NIR) spectrometry quantifies the composition of complex mixtures using the near-infrared region of the electromagnetic spectrum.
NIR spectrometry is employed by FOSS' FoodScan Dairy Analyser, which measures a variety of parameters (e.g. moisture, fat, salt and protein) in a sample of cheese, whey powder, butter or yogurt. As chemicals are not necessary in infrared spectrometry, users further save on reagent costs.
Future-Proofing The Dairy Chain
The dairy chain, as an integral part of global food supply, has to be made safer than ever before. With the anticipated rise in the consumption of dairy—led by growing public awareness of its health benefits, rising incomes and populations—businesses will have to implement programs that combine strong controls with vigorous surveillance if they are to introduce quality products to the market and effectively address changing consumer preferences.
The industry only has to look at the effects of the 2008 melamine scandal in China—still evident in the Chinese infant formula market today—to understand the important role of end-to-end quality control and sustained transparency.
"It is a challenging landscape but also an exciting one. New technologies are pushing our horizons further, and the move towards increased digitalisation and innovation is a step in the right direction in light of recurrent food safety lapses and weakened consumer confidence," Mr Amunugama reiterated.
SHARE WITH FRIENDS:
TAGS: