Regard D'Experts: Asia's Baking and Bread Industry
Thursday, September 21st, 2017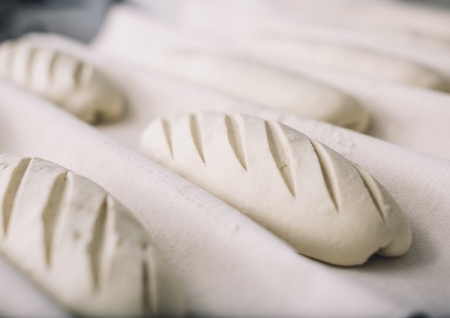 What these baking industry experts have to say is critical knowledge regarding the Asian baking industry and its markets. By Gilles Edouard Salmon, sales director of SAF-Viet JV Company; Michael Bultel, manager, Lesaffre Singapore Baking Centre; and Nigel Saunders, international baker and expert in bread products (APAC region), Lesaffre
Understanding Differences And Needs
Identifying the markets' needs can allow manufacturers to provide bakers with tried-and-tested products, while also adapting or creating new recipes or processes to address their unique needs.
Breadmaking in the Asia-Pacific region, often abbreviated as APAC, is very diverse. In this regard, it includes both 'mature' countries, whose bread consumption remains stagnate, and 'growing' countries, whose consumption is rising or evolving.
In the former (Australia, New Zealand, Japan, Singapore and Malaysia), bread is either part of tradition or was introduced in the 1950s. It is produced both industrially and in local bakeries, with daily consumers covering the entire demographic spectrum (various socioprofessional categories, age ranges and urban and rural populations). It is seen as simply a commodity, a basic foodstuff.
In the latter (Vietnam, Myanmar, the Philippines and Indonesia), breadmaking was first introduced by colonial powers, or more recently, as was the case with Thailand in the 1980s. In some countries, it remains a snack, seen as an upmarket treat that is consumed in the city by middle-class/well-off citizens who have western consumption habits. In others, a 'basic' loaf has become part of the local diet (banh mi in Vietnam, pandesal in the Philippines), consumed by all social classes.
This, however, is in the process of changing. Consumption is becoming more diverse with the arrival of new concepts (bakery chains, fast food) and modern distribution channels (supermarkets, convenience stores). In these countries, bread is usually eaten in the form of a sandwich bread, sweet/ savoury pastry or when dining out such as with buns (burgers), sandwiches (toasties or banh mi) and pizzas.
Expectations vary for each country, and the baking solutions will benefit different people.
Mature Countries
For mature countries, they require three main things: cost control, management of working hours, and security of supplies.
Regarding cost control, this can refer to line productivity, especially the machinability of the dough. In recent years, deactivated yeast with reducing power and highly-active yeast have helped enormously for this aspect.
Cost control can also refer to yield, meaning the rate of baked product per tonne of flour used. There has been a recent introduction of special pushtray proofing, high-hydration yeast that increases the yield for bakers.
Or, cost control can refer to the surplus rate. Recent yeast solutions and ingredients have focused on preserving long-term softness and minimising mould. Another focus is on minimising the cost of raw materials, improving ease-of-use and limiting environmental impact. These include bulk or liquid industry packs for semi- or fully-automatic dosing, as well as cardboard-free industry packs, which are now available.
To manage working hours, there needs to be research into mass production to achieve critical volumes and into lab/factory manufacturing of pipeline products (fresh or frozen) with completion at the point of sale/ consumption at the bakery station. Numerous projects are currently under way with activity-regulated yeast (by cold or at room temperature) and specialised functional ingredients such as frozen improvers, oven proofing, minute bread, which are already available in the European market.
Supplies should also be secured based on two aspects. The first is food safety, referring to the necessity of an ISO certification of production sites, quality products and systems, etc. The second is source safety, which simply refers to sourcing from multiple sites to guarantee a back-up in the event of an issue with the regular supplier.
Growing Countries
The needs of growing or developing countries are slightly different. For example, these countries would require large ranges of products with smaller limited editions that can be frequently renewed to boost sales and attract customers. Examples of these include blends which have been developed and ingredients (e.g. yeast and levains) for specific use, such as Mantoa.
Ultra-fresh and soft bread would also be popular, such as those achieved by using special processes like flour blanching, sponge and dough, or those that include specialised ingredients.
Further, products would need to cater to consumer demands. These include those under the dietary range (with vegan, organic, Halal or Kosher products), ethical range (American, Mexican or French products), special flavours range (sourdough, savoury/ sweet combinations), and the healthyliving range (reduced-salt products).
Think Global, Be Local
Sustainable players in the Asian cereals/bread market must be in daily contact with their customers, providing a targeted product delivered through an efficient distribution network.
Knowledge Of Raw Materials
Understanding both the richness and technical constraints of the region's various flours—determined by the cereals and grinding techniques used—is vital.
Depending on the types of flour, bakers may need advice on the breadmaking process—such as proofing, length or speed of kneading, rest in tray—and any modifications to ensure better machinability or to enhance the final product's characteristics such as softness. Asia possesses several centres capable of analysing flour and, if needed, making corrective ingredients.
Knowing recipes and being able to securely and independently test them in suitably-equipped centres, before starting production of the selected formulas, is essential in order to support bakers as well. And this is especially for those without the scale to possess a built-in Research & Development (R&D) centre. Some countries have public or private centres that provide this baking solution, as do some private businesses.
Knowledge Of Production Methods And Machines
Varying processes or creating new ones for oven proofing, pre-cooking, and blocked proofing at positive temperature are very common nowadays in order to aid employee training such as in production or R&D. These include demonstrating how sugar or preservatives affect fermentation, how to optimise kneading and what happens when cooling occurs too quickly; or for product development.
Keeping up-to-date with local and international machines to keep bakers at the forefront of technology, and being able to access centres which provide bakers the ability to test these in real conditions is something that industrial players should provide for bakers as well.
Maintain The Diverse Workforce
All players in the industry (millers, manufacturers, bakers, suppliers, schools, etc.) should have a professional place to convene outside of the production line or trade shows. Regions should also use competitions to uncover new talents and encourage candidates to meet. Such meets are increasingly common in some countries, which are even going as far as to include the end consumer. This can be done by providing information on the varieties of bread and how it is eaten, since this foodstuff was not introduced into their diet at an early age.
Participating in continuous professional development is essential for one to master breadmaking. In addition to the initial apprenticeship, on-going training not only enables bakers to reproduce new trends, but also to understand their impact. This understanding helps further the industry as it allows for recipes and processes to be suitably adapted to external changes (e.g. quality of raw materials, season), and for new products to be developed in regions where high-margin products possess a short life cycle.
Incorporate Future Food Industry Concerns
Also, players of the industry should minimise the industry's environmental footprint. For example, they can incorporate eco-friendly procedures, optimise grinding processes, employ low-energy baking techniques and use light/recyclable packaging.
This can include ensuring sufficient volumes so that bread becomes or remains available to all, while guaranteeing quality through nutritional balance or food security.
Drivers Of The Asian Bread Industry
Who is the key driver of the bread industry in Asia?
While there may be different opinions, there are four main drivers for Asia's bread industry: the consumer, who is nostalgic for his childhood diet or who discovered bread later in life and sees it as a 'western trend'; the manufacturer, who occupies an ever-growing share of the market; the distributor, who decides which bread or snacks to deliver from the wide range of choice in accordance with consumer demand and profit margin; and the private caterer, who possesses a growing share of the market with food such as burgers, pizzas and sandwiches, or the public caterer such as hospitals, military, schools, or prisons.
There is no clear-cut answer, all the players are decision makers, and their importance varies according to the consumption trend (domestic or not) in each individual country. However, one thing is certain: you must address the requirements of all the intermediaries or your product will never reach the consumer.
Consumers
For consumers, their main expectations are: healthy-eating products, personal identity products, and enjoyment.
People identify themselves more and more by what they eat, and prefer quality and taste over quantity. In contrast with the West, products with zero salt, gluten or sugar are less sought-after, and individual consumption is lower.
On the other hand, enriched products (e.g. with added fibre, dietary supplements or vitamins) and cultural bread (e.g. pita, tortilla, baguette) are in high demand. The appropriate baking solutions are ready-to-use mixes that include various cereals like flour or grain, and the necessary ingredients. Sourdough is also increasingly popular thanks to its taste and nutritional value.
Manufacturers:
Manufacturers look for security, operations, and a good price-to-benefit ratio.
Own-brand productions on behalf of large distributors allow no room for risk, and so a sufficient stock of healthy products, in the right location, must be guaranteed.
Works in recent years have focused on the logistics aspect, including the manufacturing of frozen or blockedfrom- rising bread which can be completed at the point of consumption, or long-life and pre-portioned products. The price is also a key factor for the top players, with a longer distribution chain resulting in more intermediaries while also faced with a money-conscious consumer.
Distributors:
Distributors look for products that have a long life combined with freshness, are of a wide variety with an easy renewal, and that provide good margins.
Good margins make a product attractive, with surplus having the opposite effect. A balance must be struck between strong sales, a large range (often very elaborate in chain stores), profitability and an easily controlled bake.
Some urban distribution networks have achieved a scale that allows for the production of 'specialised' breads, such as organic bread, vegan bread or bread with crusts.
Caterers:
Caterers prioritise guaranteed availability, freshness and variety and consistency
A shortage of stock or low-quality bread is a caterer's nightmare. In public catering, consistency and the inclusion of cultural/religious values can affect the products delivered, such as encouragement to buy local or religious diets (Halal).
As for the private sector, the important factors are price, quality and functionality—for example, pre-sliced buns and non-crumbly baguettes.
SHARE WITH FRIENDS:
TAGS: