Protecting Your Heart With Mediterranean Ingredients
Thursday, August 16th, 2018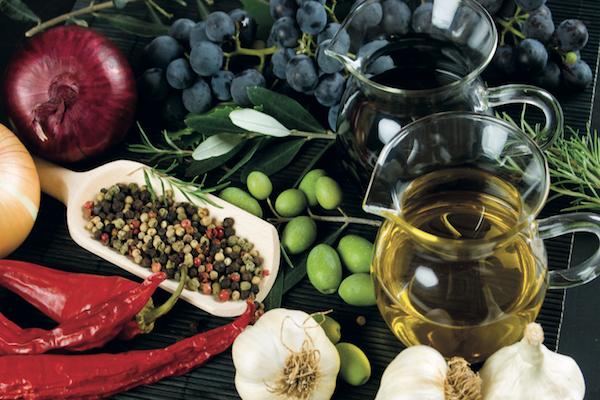 Population studies revealed lower rates of chronic diseases and differences in mortality statistics in Mediterranean populations compared to other parts of the world. By Frutarom.
Cardiovascular Disease On The Rise
Cardiovascular disease (CVD) is increasing in Asia and the Pacific region. CVD is now the leading cause of mortality in the region, accounting for 9.3 million deaths in 2014. However, CVD is highly preventable.
There are a number of causes of CVD: sedentary lifestyle, stress, diet, excessive alcohol consumption and smoking. Compounding these lifestyle changes is the fact that Asia's population is rapidly ageing, a problem that is particularly acute in North Asian countries such as Japan, China and Korea.
CVD covers a range of diseases related to the circulatory system, including ischemic heart disease (known as IHD, or heart attack) and cerebrovascular disease (or stroke). Together, IHD and stroke comprise 83 percent of all cardiovascular deaths in Asian countries.
The Mediterranean Diet: A Heart Smart Choice
But not all ageing populations have to age poorly. Population studies revealed lower rates of chronic diseases and differences in mortality statistics in Mediterranean populations compared to other parts of the world.
A high adherence to the Mediterranean diet during midlife was associated with a 39 percent lower coronary mortality risk and a 29 percent lower cardiovascular mortality risk in middle-aged and elderly people. Moreover, recent review papers confirm the Mediterranean diet is inversely associated with IHD and stroke and exerts a protective effect on the risk of CVD.
The heart health benefits of the Mediterranean diet are manifold: an improvement of blood pressure and vessel function, a modulation of blood lipids and glucose homeostasis and a reduction of inflammation and other complications related to excessive adiposity. Traditionally, these effects have been attributed to the richness of the Mediterranean diet in antioxidants, anti-inflammatory actions, the impact on cell membrane viability and the modification of the microbiota. On top of these well-known mechanisms, emerging research points to the ability of single ingredients like polyphenols to modulate gene and protein expression.
Olive oil polyphenols such as oleuropein and hydroxytyrosol have been studied extensively for their anti-oxidant and anti-inflammatory effects. Today, it is established that hydroxytyrosol-rich olive oil decreases the oxidative damage to LDL cholesterol, an important atherogenic factor. Consequently, the European Food Safety Authority (EFSA) approved a health claim that "olive oil polyphenols contribute to the protection of blood lipids from oxidative stress". Experimental studies on oleuropein have further revealed anti-thrombotic, anti-atherogenic and vasodilatory properties.
Alongside olives, citrus fruits are typically consumed in the Mediterranean diet. They are notably rich in a different type of polyphenols; flavonoids such as naringin, naringenin and hesperidin. Many of the citrus compounds improve vascular health and have biologic activities on lipid metabolism, oxidative stress and inflammation.
Another lesser known but highly interesting plant eaten widely around the Mediterranean is purslane (Portulaca oleracea). Purslane has been traditionally used to manage several health conditions thanks to its anti-oxidant and anti-atherogenic effects. The World Health Organization listed purslane extracts as one of the most useful medicinal plants naming it the "Global Panacea". Experimental studies demonstrated its potential for diabetes prevention and treatment due to positive effects on glucose metabolism, beta-cell regeneration and reducing diabetic vascular complications.
Benolea—Keeping The Beat
Hypertension or raised blood pressure affects around 40 percent of adults aged 25 and over. Because of population growth and ageing, the global number of people with high blood pressure, or uncontrolled hypertension rose to nearly 1 billion in 2008. An increase in blood pressure is mostly caused by aging-related arterial stiffening, and can be accelerated by the presence of metabolic syndrome.
Treating systolic blood pressure and diastolic blood pressure to a level under 140/90 mmHg is associated with a reduction in cardiovascular complications. Fortunately, aging arteries contributing to elevated blood pressure can be rejuvenated by the consumption of olive polyphenols.
Benolea (EFLA 934) is an olive leaf extract manufactured from carefully selected Mediterranean-grown olive leaves (Olea europaea L.). It is standardised on its two key constituents; oleuropein and polyphenols that act in synergy with other chemicals in a multicomponent system to help reduce multiple CVD risk factors such as high blood pressure and raised blood lipids.
The blood pressure-modulating effects of Benolea have been confirmed in an open, randomised, controlled clinical trial comparing the effect of lifestyle changes to the daily consumption of 500 mg Benolea in twenty twin pairs with slightly elevated blood pressure. Benolea significantly reduced blood pressure after six weeks, up to 6 mmHg systolic and 5 mmHg diastolic pressure, respectively. A dose increase to 1000 mg Benolea enhanced the effect, adding a difference of up to 13 mmHg systolic and 5 mmHg diastolic. In addition to the anti-hypertensive effect, a significant reduction of low-density lipoproteins (LDL-cholesterol) was observed in the groups consuming Benolea.
The anti-hypertensive effect of the olive leaf extract was compared in a double-blind control study to captopril, a standard therapy for individuals with stage 1 hypertension. 232 patients with elevated blood pressure were randomised to 500 mg Benolea twice daily for 8 weeks or to an increasing dose of captopril that was adapted to the patient´s response. After 8 weeks, both groups experienced a significant decrease in systolic and diastolic blood pressure (Figure 1).
Figure 1: Decrease of systolic blood pressure from baseline
(*p<0.05, significant differences between groups based on statistical analysis).
Throughout the studies, Benolea showed high safety and excellent tolerance.
CitrOlive—Protecting Your Arteries
Normal vascular function is dependent on a functional endothelium. An impairment of endothelium-dependent vasodilation is an important factor of cardiovascular diseases. Aging reduces the bioavailability of the endothelium-derived dilating molecule NO (nitric oxide) as a result of oxidative stress and also blunts the vasodilator effect of another important vasodilator, prostacyclin (PGI2). Increasing oxidative stress also contributes to an accumulation of LDL (oxLDL)—the most atherogenic form of LDL—that impairs endothelial function and promotes foam cell formation.
CitrOlive is a unique synergistic blend of citrus and olive extracts; the combination of the key olive polyphenols oleuropein and hydroxytyrosol with citrus flavonoids such as naringin and neohesperidin confers CitrOlive's robust antioxidant and anti-inflammatory activities, which are the basis for its documented benefits for vascular health.
A sustained triglyceride-lowering of about 15 percent has been reported in a double-blind, controlled pilot trial supplementing 500 mg/d CitrOlive for three months. This is of interest as accumulating evidence suggests that elevated levels of fasting and postprandial triglyceride levels predict higher cardiovascular risk.
Figure 2: Relaxation caused by CitrOlive  in different methoxamine pre-contracted aorta ring preparations from spontaneously hypertensive rats: intact (n) endothelium, denuded endothelium (n) intact endothelium incubated with L-NAME (n), intact endothelium incubated with indomethacin (n), intact endothelium incubated with siritinol (n). Data are means ± S.E.M. for at least 3 preparations and 3 animals. Similar letters represent and no significant differences (p<0.05). p was estimated by two-way ANOVA (Bonferroni test).
Additionally, CitrOlive has vasodilatory effects and induces endothelium-dependent vascular relaxation in methoxamine pre-contracted aortic rings (Figure 2). The vasodilatory activity is attributed, at least partly, to an increased NO release and to a modulation of prostacyclin formation. Finally, the citrus and olive extract blend successfully decreased oxidized LDL by 38 percent (p<0.05) in subjects with elevated cholesterol (Figure 3). This effect was accompanied by an increase in paraxonase-1 activity, a protein involved in the protection of HDL-C and LDL-C from oxidation.
Figure 3: Change in LDL-C oxidation after 3 months of supplementation of placebo or CitrOlive
Portusana—Glucose On Track
Metabolic syndrome and its components such as hypertension, dyslipidemia, and diabetes, have been recognised as independent potential risk factors for CVD.  Studies in the Asia Pacific region showed that the blood glucose levels are an important risk factor for CVD even well below the glucose level defined for diabetes.
With Portusana, Frutarom has developed a scientifically proven and unique purslane herb extract that helps maintain healthy blood glucose levels by modulating three key mechanisms of blood glucose metabolism.
Glucose absorption
The mechanisms contributing to the increased cellular glucose uptake have only recently been examined. Researchers found that purslane enhanced translocation of the glucose transporter 4 (GLUT-4) to the plasma membrane in an insulin-like manner. GLUT-4 translocation stimulates cellular glucose uptake and thus decreases elevated blood glucose levels in diabetics and people with elevated blood glucose.
The beneficial effects of Portusana have been confirmed in proprietary studies. Purslane extract supplementation of 180 mg/d for five weeks improved blood glucose levels over time in an open uncontrolled pilot study including participants with untreated elevated blood glucose concentrations.  A randomised, double-blind, placebo-controlled trial confirmed these effects. Sixty-three patients with type 2 diabetes received 3x 60 mg purslane extract or placebo daily for 12 weeks. After only six weeks, HbA1c (glycated hemoglobin), a marker for long-term blood glucose control, had improved in almost 80 percent of patients. After 12 weeks, purslane extract significantly reduced average HbA1c from 7.38 percent to 6.53 percent in the responder group outperforming placebo by 44 percent.
Preventing Cardiovascular Disease By Unlocking The Potential Of The Mediterranean Diet
Benolea, CitrOlive, and Portusana are three ingredients that reflect the essence of a Mediterranean diet. Based on sound scientific data and high-quality standards, they are ideal extracts enabling manufacturers to create innovative cardiovascular product concepts that target not only people with increased risk of CVD but also people interested in prevention.
Want more insider news? Subscribe to our e-book now!
SHARE WITH FRIENDS:
TAGS: