Preventing Physical Contamination
Tuesday, April 16th, 2019
Physical contaminants in food are a global safety concern. If fragments of metal, bone, plastic, glass or any other foreign body enter the food chain, they could cause serious harm. But there's more to it than consumer protection alone. Product recalls caused by physical contamination are also a considerable risk to reputation and can destroy the worth of a brand name in an alarmingly short space of time. By Mettler Toledo.
Foreign matter food contamination is a serious problem all over the world. In recent years, there have been several high-profile cases of precautionary product recalls and physical contaminants entering the food chain in key markets such as the EU and the US. In the UK, for instance, a baked goods provider recently recalled several meat and vegetarian pasty product ranges over fears of glass fragment contamination, with the products pulled from the shelves of large and well- known retail chains. Such recalls can easily cost millions of pounds to execute and they often trigger a chain reaction throughout the supply chain. Therefore, the risk of physical contamination must be avoided by food manufacturers and processors at all costs.
The Fight Against Physical Contamination
Fortunately, the evolution of product inspection technologies mean that most types of foreign body contamination are now detectable. The performance of such equipment is dependent on a range of factors that impact sensitivity. These may include the size and location of the contaminant, the speed of the production line, the comparative density of the contaminant to the product being inspected, and the type of product packaging material being used.
The type of foodstuff is also a major factor. In many food production processes, raw and incoming materials arrive in liquid, paste and slurry form, and are pumped through pipework systems before being mixed and blended. Detecting contaminants in such incoming materials early in the production process has many benefits. Liquid, paste and slurry products are often more homogenous and easier to inspect, and contaminants tend to be larger and easier to spot. Furthermore, early detection also protects valuable processing equipment from further damage downstream and it eliminates the contaminants before additional production value has been added, minimising wastage.
When it comes to detecting contamination in unpackaged bulk, loose and granular products, inspection technology—positioned over a horizontal conveyor or as the product falls under gravity conditions directly before processing or packaging—is an efficient way to remove contaminants. Typical bulk products which allow for this inspection method include sugar, flour, grains, cereals and pulses; though it is equally applicable for snack foods, confectionery, meat, poultry, fish and seafood. Final inspection of products at the end of the production line, once processing and packaging has taken place, is the last line of defence before shipping to retailers and supermarkets. In this environment, the type of packaging and the potential type of contamination dictate the type of product inspection system which should be used.
Ensuring Due Diligence
Broadly speaking, there are two mainstream physical contamination detection technologies—metal detection and x-ray inspection. Modern metal detection systems can identify all metals including ferrous (chrome, steel, etc.), non-ferrous (brass, aluminium, etc.) and both magnetic and non-magnetic stainless steels. X-ray inspection systems, meanwhile, are capable of detecting metal as well as non-metallic contaminants such as glass, mineral stone, calcified bone, high-density plastics, and rubber compounds.
The easiest means of choosing between metal detection and x-ray inspection is to start with the application. The first step is to carry out either a Hazard Analysis and Critical Control Points (HACCP) audit or a Hazard Analysis and Risk-based Preventive Controls (HARPC) audit. A HACCP audit will identify the risks of contamination being introduced in the manufacturing process, and the types of contamination likely to be encountered. Critical Control Points (CCPs) should be established to mitigate the risks, and product inspection equipment needs to be installed at these points to reduce the risk of contamination to acceptable levels. A HARPC audit also covers contamination in the manufacturing process, but will take into account additional security, such as visitor access and control.
Furthermore, it is increasingly common for major supermarket brands to implement their own codes of practice, which are often even more demanding than international food safety regulations. Marks and Spencer, a major retailer, acts as a case in point. They have developed comprehensive Technical Terms of Trade* which set out the minimum technical requirements for suppliers in order to meet its commitment to customers to deliver products that are safe, legal and high quality.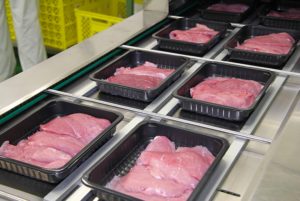 Choosing the Best Technology
If an audit determines that metal is the only likely contamination to be found, then a metal detector is the best solution. However, if other contaminants like glass, stone or dense plastics are identified as likely to be encountered, then it is probable that x-ray is a more suitable solution. In any case, it is always advisable to conduct product testing to establish the most appropriate technology.
While metal detection and x-ray inspection offer differing capabilities, neither approach is infallible. For example, when it comes to aluminium contaminants in non-metal packaging, metal detection would be deemed the most suitable technology. Aluminium is a lightweight metal and a good electrical conductor, but its radiographic absorption is lower compared to other metals such as ferrous and stainless steel. This causes a reduction in the sensitivity on an x-ray inspection system and means that it can only detect aluminium at twice the size of ferrous or stainless steel contaminants. In contrast, due to its good conduction properties, aluminium can be detected at smaller sizes using metal detection, which makes it the better solution.
By comparison, when attempting to detect metal contaminants in aluminium foil packaging, metal detectors struggle to spot the contaminants amidst the packaging. Due to the way in which an x-ray system works, aluminium packaging has a negligible impact on detection levels. X-ray inspection can see straight through the low-density foil to get a better view of the metal contaminants within and offers the better solution in this case.
Outlook: Digitisation Will Improve Efficiency
It is clear that the changing nature of the food sector—a wider range of products, made in more efficient plants, and driven by higher expectation from retailers and consumers alike—is leading to rapid advancement in product inspection technology. The capabilities of modern metal detection and x-ray equipment have already evolved to enable the detection of a wider range of contaminants, in smaller shapes and sizes and with better resolution. With the development of better software and more intuitive touch screen displays, the usability of such technologies is also much improved, allowing for faster and automatic set-up on the production line.
Digitisation is a major trend, and food manufacturers are increasingly looking to improve automation and traceability within their plants. Connected manufacturing across networked infrastructures can improve production line efficiencies and management control, and contamination checks can be streamlined across operations to achieve standardisation of quality control. This trend towards digitisation is enabled by real time data collection, which can prove useful in the event of suspected contamination incidents.
In the event of a product recall, manufacturers and brand owners need to demonstrate that they have exercised full diligence to authorities. The most effective way to achieve this is from real-time reporting of all contamination checks. Product inspection systems now come with full data acquisition acting in support of audit compliance. This enables food manufacturers and processors to prove due diligence in their actions, taking all potential precautions to minimise contamination risks.
For more information on this topic download the free whitepaper Ensuring Food Safety Through the Prevention of Physical Contamination here: www.mt.com/pi-contamination
To get involved in the conversation about preventing contamination, ensuring conformance and improving operational efficiency in the food manufacturing industry, join us at #MTinsidefood on Twitter, or sign up to our blog at http://www.mt-product-inspection.com/
For more information about Mettler-Toledo and the products and services of the Product Inspection Division for the food manufacturing industry follow us on Twitter (@MettlerToledoPI) or LinkedIn or visit www.mt.com/pi and YouTube.
About METTLER TOLEDO
METTLER TOLEDO is a leading global supplier of precision instruments and services. The company has strong leadership positions in a wide variety of market sectors and holds global number-one market positions in many of them. Specifically, METTLER TOLEDO is the largest provider of weighing and analytical instruments for use in laboratory and in-line measurement in demanding production processes of industrial and food retailing applications.
The Product Inspection Division of METTLER TOLEDO is a leader in the field of automated inspection technology. The Division incorporates the Safeline Metal Detection and X-ray Inspection, Garvens and Hi-Speed Checkweighing and the CI Vision and PCE Track & Trace brands. The solutions provided by the business increase process efficiency for manufacturers while supporting compliance with industry standards and regulations. Systems also deliver improved product quality which helps to protect the welfare of consumers and reputation of manufacturers.
For general information about the Product Inspection Division of METTLER TOLEDO, visit: http://www.mt.com/pi
Press contact:
Alison Jones, Technical Publicity
Tel: 01582 390980
Email: [email protected]
SHARE WITH FRIENDS:
TAGS: