Premium Indulgence On A Dairy Basis
Monday, October 7th, 2019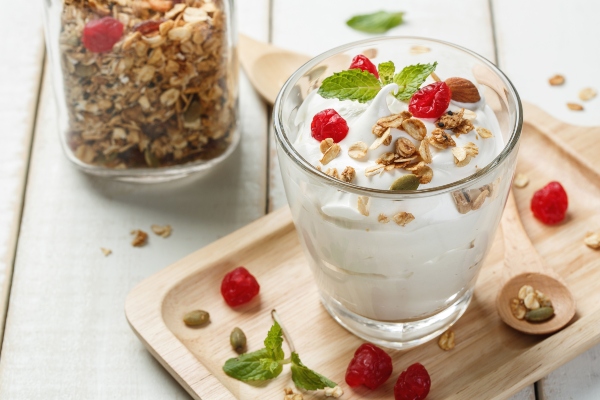 With rich texture and mouthfeel key to creating a premium experience in dairy, there lies tremendous potential and virtually endless opportunities in Southeast Asia for manufacturers to develop novel food and beverage options, reformulate existing offerings with on-trend label claims, and add on new product lines in keeping with the trends sweeping across Southeast Asia.
There has been a drive for premium products due to rising affluence and awareness (Euromonitor, 2019). In Southeast Asia, dairy products with clean-label claims such as "natural", "no additives/preservatives" and "organic" have increased steadily. "No additives/preservative" claims themselves grew from 202 product launches in 2013, to 360 in 2018 (Innova Market Insights, 2019).
Dairy alternatives drinks are also on an upward trajectory in Southeast Asia. While soy still occupies much of the market share, there has been increase in other ingredients such as almond, coconut and even pea (Innova Market Insights, 2019). Governmental implementation of sugar taxes and health-driven dairy campaigns seen in Southeast Asia are also driving better-for-you products such as low-fat yoghurt and low-sugar flavoured milk (Asia Nikkei, Malay Mail, 2019).
Taste And Texture Remain Crucial
Even as these clean-label, plant-power and other better-for-you trends become increasingly important, none of these should come at the expense of indulgence, the delight factor. Taste and texture are paramount as purchase drivers, which could explain why more texture claims such as "luscious," "smooth" and "creamy" are appearing front-of-pack for yoghurt products (Innova Market Consumer Research Survey, 2017).
From yoghurt to flavoured milk, consumers are unwilling to lose the indulgent texture they receive from the product. Manufacturers also need to pay close attention to how they can maintain or enhance texture and mouthfeel to grow in line with premiumisation and today's consumer trends.
Achieving Indulgent Texture And Mouthfeel In Challenging Dairy Formulations
A concern for manufacturers in that regard is that a single tweak in a formulation could often result in an adverse change in the desirable flavour and/or texture. While answering these trends may bring challenges, doing so successfully creates opportunities.
These are some of the possibilities that manufacturers can explore, together with helpful guides for such formulations.
Low Fat In Flavoured Milk
Consumers in Southeast Asia are getting more health conscious in the wake of rising adult and childhood obesity rates, which helps create potential for low-fat flavoured milk choices.
The rich and creamy mouthfeel delivered by full-fat flavoured milk can be achieved by building back texture in reduced-fat formulations with the use of a functional starch ingredient. This can help make a low-fat milk enjoyable to consumers.
Modified and clean-label mouthfeel starches would be suitable in such instances. They act as texturisers to provide body build-back when fat is reduced or removed, helping to restore body and mimicking the creaminess of full-fat milk.  
Low-Sugar Drinking Yoghurt
The 'war on sugar' movement is taking place on multiple levels. Diabetes prevalence is high across Southeast Asia, prompting many governments to introduce sugar taxes and public health campaigns (Nikkei Asian Review, 2019). Many multinational companies in Southeast Asia are also joining the reduced sugar movement (The Star Online, 2018). As for the increasing number of health-conscious consumers, their perception of sugar has shifted. Sugar is now seen as leading to obesity and diabetes, and best avoided.
What does that mean for a popular dairy product like drinking yoghurt? In a low-sugar drinking yoghurt, a high intensity sweetener (HIS) is often used to replace sugar. However, HIS is used in such low dosages ppm (part per million) in comparison to sugar or sucrose, that it results in texture lacking in bulk.
In light of this, more manufacturers can now incorporate new solutions such as Isomaltooligosaccharide (IMO) into low-sugar drinking yoghurt. An IMO can be used to build back texture, as well as introduce some sweetness. A HIS is then used to reach the desired sweetness level. The advantage of this approach is that manufacturers can achieve both texture and sweetness targets with the IMO-HIS pairing, and since the HIS has zero calories, the drinking yoghurt could also boast a reduced calorie proposition. Inversely, while using an HIS alone may allow for a "zero calorie" claim, such a formulation would fall short on the textural experience consumers prefer.
Plant-Based And Alternative Milk Beverages
The dairy market also saw demands in dairy alternatives through plant power. Its total market value for China and Southeast Asia is projected to hit US$13.8 billion by 2022 (Innova Market Insights, Food Metrix, 2019). Plant power and dairy alternatives are driven by health and wellness objectives; flexitarian, vegetarian, vegan and allergen-related dietary choices; and ethical and sustainability concerns in terms of animal welfare and planet wellness. Within the Southeast Asia context, demand is further fuelled by how the region has a higher prevalence of lactose intolerance (Sutter Health Palo Alto Medical Foundation, 2019).
When formulating dairy alternative drinks, the type of plant ingredient used is critical. Pulse, such as pea protein isolates, have none of the unwanted "green," "raw" or "beany" tastes.  Imparting clean flavour, pea helps deliver indulgence in dairy-alternative beverages.
The choice of stabiliser is important as well, especially for high-protein non-dairy ready-to-drink (RTD) beverages and instant powdered high-protein products. RTD and instant products are commonly seen in Southeast Asia as they are stable enough to address cold chain logistic challenges.
For an RTD beverage, stabilisers provide functionalities that range from suspension, protein stabilisation to emulsification. They can be used for texture variation, including indulgent texture, or to deliver some mouth coating with minimal increase in viscosity. The right choice of stabilisers would also prevent the unwanted age gelation associated with high concentrations of dairy proteins in beverages.
In instant powders, cold water stabilisers can be used to provide suspension and viscosity, reducing the awareness of particulates. These, in addition to enhancing stability, texture, cold water-solubility, and improving mouth coating.
Clean-Label Yoghurt
A mindset of "you are what you eat", coupled with concerns over food safety, is influencing consumers' food and beverage choices. Assurance in the form of "natural," "no additives," "no preservatives" and "non-GMO" claims are appealing, as are easily recognisable ingredients on the label (Ingredion Proprietary Research, Global Clean-Label Consumer Study, 2017).
Some texturisers have unfamiliar or chemical-sounding names, and today's consumer preferences lean towards ingredients which they believe are natural, trustworthy and hence acceptable to them. Going clean-label, however, can seem technically difficult to achieve with the processing and shelf stability needs of packaged food.
With a wide range of base materials and proprietary technology, Ingredion can provide effective clean-label solutions without compromising product shelf life and sensory appeal. Clean-label starch-based texturisers can be used to create a smooth texture and shiny surface.  They can replace fat in yoghurt, and yet achieve a thick and rich mouthfeel along with firm texture, and a clean taste.
Dear Dairy, Indulge Me
With rich texture and mouthfeel key to creating a premium experience in dairy, there lies tremendous potential and virtually endless opportunities in Southeast Asia for manufacturers to develop novel food and beverage options, reformulate existing offerings with on-trend label claims, and add on new product lines in keeping with the trends sweeping across Southeast Asia. Customised solutions are the key to unlocking this potential; the strategy to create winning recipes that can meet consumer preferences, and stand up to process requirements without compromising on stability, and shelf-life.
Contributed by: Chai-Yen Kao, Director, Business Development, Marketing and Innovation, ASEANI and Food Systems, Asia Pacific, Ingredion.  
Read more:
Yili Enters Southeast Asian Market To Bolster Local Industry
Consumers Want Protein With Clean Labels
SHARE WITH FRIENDS:
TAGS: