Precise And Quick With igus Knife Edge Rollers Without Lubrication
Tuesday, October 29th, 2019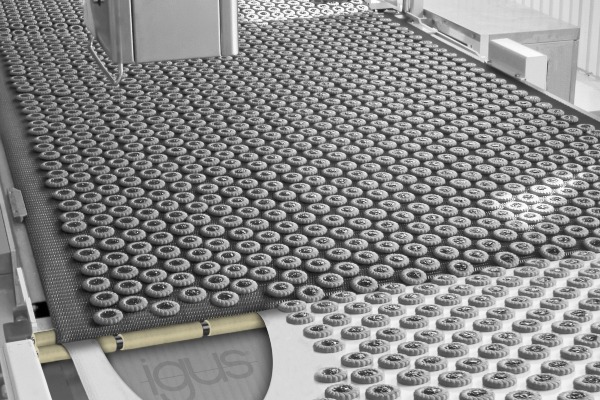 Maintenance-free knife edge rollers offer precise movement of goods and food stuffs at high speeds. By igus.
When conveyor belts have to be defected with precision in narrow spaces with narrow radii, knife edge rollers from the motion plastics specialist igus offer optimum results. They are not only cost-effective, lubrication-free and maintenance-free, but also utilise the installation space to the maximum even with small bend radii. Igus has now developed knife edge rollers made of the material iglidur H1 as a problem solver, especially for applications with higher transport speeds.
A gentle and speedy transport of goods plays a special role in the material handling and packaging industry. Above all, the speeds of plants are constantly increasing due to increased productivity. For this reason, igus has developed knife edge rollers for belt deflections made from high-performance plastic iglidur H1, especially for applications with higher transport speeds, thus expanding its range of knife edge rollers to a total of four materials.
Above all, the new rollers are characterised by a better performance at higher conveying speeds and have a very long service life even at higher temperatures. In addition, the chemically resistant iglidur H1 is the best choice in the igus knife edge range, when the rollers are exposed to aggressive cleaning media. Therefore, the rollers are particularly suitable in the packaging industry, material handling, automation and food technology.
Multifaceted Material Selection For Lubrication-Free Knife Edge Rollers
To implement an exact deflection of conveyor belts, igus has developed a standard range for different application areas. Besides the new iglidur H1 for high transport speeds, this consists of the universally applicable iglidur P210 as well as the FDA-compliant materials iglidur A180 for temperatures up to 90 degrees Celsius, and iglidur A350 for application environments with temperatures of up to 180 degrees Celsius, which are particularly suitable for use in the food industry. Independent of the material, all the rollers are characterised by their compact design and long service life, thus contributing to the high efficiency of the machines.
Check out these articles:
Lubrication-Free Plastic Solutions For Food Processing
New Online Tool For Maintenance-Free Guide Rollers From Igus
Maintenance-Free 3D Printed Grippers Make Packaging Machines Effective
Festo: Food For Thought (Packaging
SHARE WITH FRIENDS:
TAGS: