Snack Manufacturing: Potato Chip Manufacturing Thrives On Efficiency
Friday, July 19th, 2019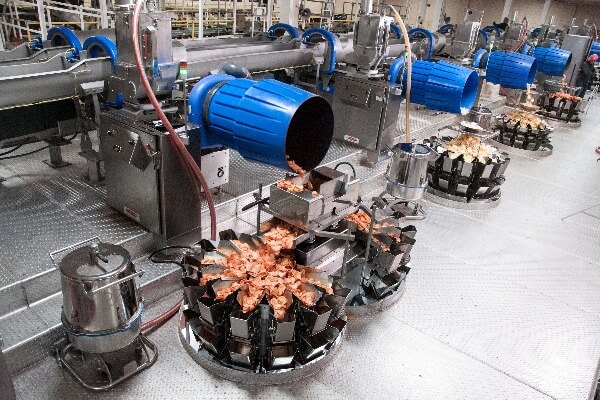 A top-selling salty snack for 150 years, the humble potato chip manufacturing industry is thriving as it takes clever measures to improve efficiency and profitability. By Heat and Control.
State-of-the-art potato chip manufacturing consciously balances speed and efficiency with consumption of power, water and oil. Intelligent design, quality equipment, modern controls and monitoring systems are a recipe for success in competitive commercial food production.
Potato chip fryers need to precisely control temperature, product and oil flow for superior potato chips with uniform colour and consistent finished moisture content. Heat and Control's range of potato chip fryers achieve this, also offering multi-zone oil flow for improved cooking control or to produce chips with different textures.
Oil-Wise Frying
Each Heat and Control frying system is designed to customer specifications to ensure that the oil temperature remains at the desired set point and aligned to production requirements. Temperature will remain the same throughout production thereby giving a consistent product and maximising the life of the frying oil.
Frying oil can be an expensive part of food processing. Any steps the processor can use to reduce loss or wastage of oil will result in greater business profitability. Oil recovery during production reduces energy usage, ensuring measurable savings. Where cooking oil is used during production of the finished food product, Heat and Control have innovated to increase oil life.
Heat and Control Fryers incorporate hoods to cover the cooking area and protect the oil from unnecessary oxidation. The closed design allows the steam to blanket the oil and purges oxygen to prolong cooking oil quality and protect against oxidisation.
Regeneration of frying fats or oils by means of filtration is recommended to eliminate highly oxidised, polymerised fat components and other impurities. Heat and Control offers various, effective options to continuously filter oil and prevent fines build-up in the fryer. Clever solutions like the Drum Pre-Filter or KleenSweep Centrifugal Separation System by Heat and Control also use these techniques to reduce clean-up time.
Total and structural oil content of potato chips increases as frying time increases. In batch operation, chips have a higher fat level, more blistering, and a harder surface due to the presence of starch on the surface. With a continuous fryer, the potato slices are continuously fed into the fryer, and cooked as they are conveyed and removed at the end. This allows for greater control and consistency of product.   After frying, before the product cools and the surface oil solidifies, is the optimal time for the application of salts and or seasoning.
Smart Seasoning
A complete system by Heat and Control can feed seasoning drums as part of the conveying line— saving you space and investment in additional equipment. On-Machine-Seasoning Systems by Heat and Control use the efficient FastBack Revolution On-Machine Seasoning System deliver consistent seasoning coverage with little seasoning waste.
As a unit, the FastBack Revolution On-Machine Seasoning System combines the superior seasoning performance of the patented dynamic AccuFlavor Tumble Drum, the efficiency of the Modular Dust Collection System, and the advanced FastBack Model 260E-G3 into one compact, cost-efficient, standalone unit designed to overcome seasoning challenges at the weigher. Its gentle handling has been shown to reduce product damage and coating loss while reducing warehousing and product time-to-market when integrated in a savvy production line.
Automation With Intelligent Systems
Heat and Control's New Horizon is an information system that equips manufacturers and operators to visualise live production status, to receive timely advice, and to benefit from Heat and Control's experience and expertise in real-time. With an intuitive interface, operators are more aware of the performance of the equipment, can easily see what is needed for optimal production, and receive intelligent performance advisories.
Commercial food production requires large industrial-size equipment for profitable throughputs. Food production operators depend on interfaces to operate these large systems. New Horizon delivers essential information to help operators and maintenance personnel succeed. New Horizon features a clear touchscreen display and an intuitive interface that can be quickly and thoroughly understood and correctly operated. All relevant information is in one location. Operators can get real-time indications of the machine's performance—necessary when making adjustments to keep a production line moving for best efficiency.
Heat and Control are specialists in providing complete turnkey solutions to any processing or packaging line. From concept, testing and installation, to after-sales service and support, Heat and Control's team of technicians, engineers and equipment experts have the knowledge to ensure your systems are up and running smoothly and optimised for your product specifications.
Competitive Market
Market evaluations have shown the global potato chip market to be highly fragmented due to the presence of several leading international and regional players. These entities stay competitive based on pricing, new product introductions, manufacturing line extensions, new flavour innovations, strategic alliances and sophisticated marketing activities. The Global Potato Chips Market 2017-2021 report by Technavio predicts the global market is on track to generate revenue of more than USD$ 30 billion by 2021. The market study highlights the increasing demand for low-calorie potato chips as one of the primary factors to shape the potato chips market in future years.
Heat and Control offers comprehensive technical support—commissioning, start-up, parts, repairs, modifications, and training to keep equipment operating at peak efficiency. In the competitive market of potato chip manufacturing, reliability and efficiency are crucial for profitable commercial food production.
Investment in quality equipment and long-term supplier relationships enhances all scales of chip manufacturing.
Contact Heat and Control to discuss how our proven solutions can equip your potato chip operations for a prosperous future.
Further reading:
SHARE WITH FRIENDS:
TAGS: