Popularity Of Asian Flavours Soars In The US
Wednesday, September 20th, 2017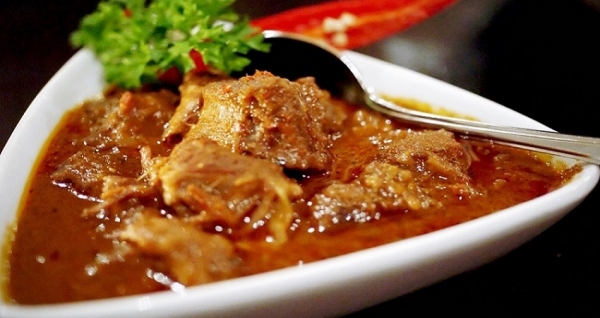 Exotic flavours are in, and with american consumers being unfamiliar with Asian cuisine, flavours like sambal, rendang and turmeric seem to be gaining traction. By Manik Mehta
With their taste buds craving for exotic food varieties, American consumers are discovering the pleasures of the Asian culinary diversity.
According to McCormick, a US spice company which markets all kinds of spices from Asia, Latin America and other parts of the world, the American consumer is increasingly going for spicy foods such as sambal, rendang, haldi (turmeric) and srirachan-flavoured dishes.
In its annual Flavour Forecast Report for 2016, also touted as the 'spice horoscope' in food circles, McCormick has forecast trends that will captivate consumers in their quest for new food varieties. Asian foods and spices are projected to figure in the list of favourite foods.
Midori
Besides healthy herb mixtures that will include, for example, chia seeds blended with bold flavours, the average Joe Smith is moving toward spicy, tangy dishes. The red fiery sauce Sambal, made from chilies, rice vinegar, garlic, and more, is expected to figure well in US food culture in the future. Sambal is supplied by a number of Asian countries, but Malaysia, Thailand and Indonesia lead the pack.
Rendang curry is a Malaysian dish made from chilies, lemongrass, garlic, ginger and turmeric. McCormick believes that American consumers will become adventurous enough to try out dishes from Malaysia such as the rendang curry. Experts say that Delivery.com had discerned a 70 percent surge in orders for the rendang curry between 2014 and 2015 over the earlier corresponding period.
The interest for Asian foods and spices was also evident at the New York Fancy Food Show (NYFFS) 2016, held in June this year in New York, which has become a platform for suppliers from the Association of Southeast Asian Nations (ASEAN) to foray into the lucrative US market, the world's biggest market, in value terms, for specialty foods.
ASEAN Expansion Into US
The ASEAN suppliers' keen interest in the US market is understandable: according to the US Specialty Food Association (SFA), total US specialty food sales in 2015 hit a record value of US$120.5 billion. SFA reported a 21.2 percent increase in specialty food sales from 2013 to 2015; retail accounted for 78 percent in specialty food sales and the food service sector the remaining 22 percent.
Exhibitor contingents from ASEAN member states such as Indonesia, Malaysia, the Philippines, Thailand and Vietnam showcased at the NYFFS a wide range of products from ready-to-eat frozen foods through biscuits, cakes and other bakery products to spices, fruits and vegetables.
With over 47,000 specialty food professionals attending the show, ASEAN exhibitors vied with each other to attract the buyers; they also faced fierce competition from other Asian food suppliers who already had a strong foothold in the US Asian ethnic food market and now want to break into the mainstream market.
The example of India illustrates the point. Once described as a traditional 'curry supplier', India has over the years climbed up the supply chain ladder by adding sophisticated frozen and other fast-food varieties—ranging from 'diabetic rice' of low glycaemic content through spices and snacks to ready-made curry-based food products which have become very popular among mainstream consumers besides, of course, catering to the two-million financially strong Indian diaspora and other Asian communities in this country.
theimpulsivebuy
Another element that is making inroads into the US market is the 'Sri Racha' flavour —Americans spell it as 'Sriracha'—that is evident in a variety of food products such as potato chips, popcorn, nuts, sauces, etc.
Indian suppliers have also, cleverly, devised ways to increase their market share. The 'Malaysian Paratha'—a white fluffy fried bread that goes well in the roti-channai combo and supplied as ready-to-eat frozen item by Malaysian suppliers—is very popular in the Indian and the South Asian diaspora in the US. However, this delicacy is also being supplied by Indian food suppliers.
Tapping Onto Opportunities
The SFA maintains that the top five emerging cuisines are Mediterranean, Latin, Greek, Spanish and Thai. Malaysian company, Hua Huat of Johor Bahru, is keen to penetrate into the US market which offers good business potential for its products such as biscuits, chocolate wafers, etc. According to Kelvin Ong, Hua Huat's export development marketing manager, US is a "good market with tremendous growth potential for our products which are already visible on the shelves of the Hispanic and Asian markets."
He discerns a demand in the US for organic, gluten-free and non-GMO products. "With rising health consciousness, Americans are increasingly paying attention to nutrition. This will also fuel demand for organic products," he said.
In an interview, Louise Kramer, the communications director of the US Specialty Food Association, provided some useful insights for ASEAN suppliers while tapping the huge US food market. "Even during the last severe recession, American consumers were buying specialty foods. In general, I can say that young consumers, for example, are the main driver of consumption of specialty foods. One out of three food dollars is spent today on specialty food," she said, adding that the "crossover cuisine"—the fusion variety—has become a trend here.
In her view, Thai flavours, for example, have been quite popular. She cited the example of children being given seaweed snacks today in their lunchboxes instead of potato chips which contain saturated fats and cholesterol. Indeed, rising health consciousness is changing consumer food habits. Thus, Asian seaweed does have sales potential in the US market.
SaltedCaramelKayaBasket
ASEAN suppliers of ready food products should also note that vegetarianism and vegan diets are becoming increasingly popular in the US particularly among young people. Ms Kramer said that as such, Indian cuisine which is 'vegetarian friendly' is quite popular in the US.
An enterprising young Malaysian female chef, Auria Abraham, is gradually moving into the mainstream US market with her small food company called Malaysian Kitchen offering sambal, coconut jams, and more. Ms Abraham, who hails from Serembam, is presently focusing on producing and selling two spicy Malaysian sambal varieties—the hot-chili sambal and the lime-leaf sambal. She also sells green and brown kaya with sambal.
"Americans are more open than any other nation to foreign cuisines and are familiar with Asia's culinary diversity. However, Americans are intrigued by the colourful packaging of Malaysian food products and names of dishes, and want to know more about them. Malaysia and ASEAN will have to do some savvy marketing to establish themselves in this lucrative food market," she said.
The Appeal Of Southeast Asian Flavours
Malaysian food is becoming increasingly popular and will continue to make inroads into the American market. "This encouraging trend is gauged from the responses received from buyers and consumers to our food-promotion campaigns conducted under the Malaysia Kitchen USA programme," Muhd Shahrulmiza Zakaria, Malaysia's trade commissioner in New York said.
According to him, Malaysian cuisine has been listed amongst the top five trending flavours in the US for two years in a row (2014 and 2015), based on a survey by the National Restaurant Association, a US restaurant and food service trade association.
The 'Malaysia Kitchen USA' programme, aimed at promoting Malaysia's food exports, has created a new wave of exciting and flavourful range of food and beverages in the American market. While the first phase of the programme was aimed at creating a buzz about Malaysian cuisine, capitalising on the presence of around 80 Malaysian restaurants in the US, the second phase called "Bringing Malaysian Food to Every American Home" was aimed at promoting more Malaysia-made food products as well as beverages into the American market.
As a result, Malaysian food brands such as Julie's, Lingham's, Mamee, IEFI, S&P, Hernan and Delicoco, are prominently visible in Asian ethnic stores.
Martin Ang, director of Perfect Food, said his company has also adapted its marketing strategy to the rising health consciousness of US consumers who are increasingly turning their backs on traditional fat-rich, and high sugar and sodium food products. The company's oatmeal-based products are popular in the US market.
Simon A. Eugster
Trends discerned in the US market suggest the rising popularity of turmeric, the spice that lends the strong, yellow colour to curry, and is increasingly used in foods by the American housewife. Turmeric's attractiveness is further enhanced by reports and studies suggesting it has medicinal properties that are helpful in combatting a number of ailments, including arthritis; turmeric is also coveted because of the fragrance it adds to the food.
Besides being used as a spice, turmeric is sold in various forms. US-based company Rishi's offers turmeric ginger chai, the Republic of Tea supplies turmeric cinnamon tea, while Feridies sells turmeric-flavoured peanuts and Vosges produces ginger-turmeric dark milk chocolate. Experts describe these trends as "tomorrow's common products."
Other food novelties that appear in the market include beet hummus, dessert hummus and lentils—they were also showcased by several exhibitors at the NYFFS show—and these can also be supplied by a number of ASEAN countries which, backed by savvy marketing, can carve out a sizeable share of the lucrative US market.
Indonesia and Thailand are also aggressively marketing their food products in the US, with shows like NYFFS serving as a platform for them to come into contact with local buyers. Thai suppliers have been offering frozen sea foods among other things, while Indonesians are pushing their organic products, including spices, artisanal, coco sugar, chili sauce, non- GMO varieties and Sunria rice.
Reza Pahlavi Chairul, Indonesia's trade attache in Washington, said Indonesia has a 'huge advantage' in producing and exporting natural commodities as well as value added products. "We have Indonesian producers, companies and brands, that are committed to produce natural and organic products," he said. Indonesia's food and beverage exports to US amounted to US$3.4 billion (accounting for 17.5 percent of Indonesia's total exports to US).
Safety And Legitimate Claims Still A Priority
US is the world's largest market for organic food products. The country's organic food industry has been booming, posting new record sales of US$43.3 billion in 2015, up 11 percent over the previous year's level and exceeding by far the mere three percent growth achieved by the overall food market, according to the Organic Trade Association's (OTA) 2016 Organic Industry Survey.
This specialised segment is inherent with good business opportunities for Asian suppliers who will, however, need to ensure that the food they supply is indeed organic— not just certified—and pass the vigorous tests that these products can be subjected to in the US market.
Previously, so-called organic food products, including green tea, supplied by certain countries were found to contain pesticide residues. Such practices can destroy the overall reputation of a country which can acquire the dubious distinction of being called a supplier of contaminated and health-hazardous products that do not conform to the claims on their labels.
SHARE WITH FRIENDS:
TAGS: