Overcoming The Hype-Curve In Digitalisation And Industry 4.0 With Agile IoT
Monday, June 10th, 2019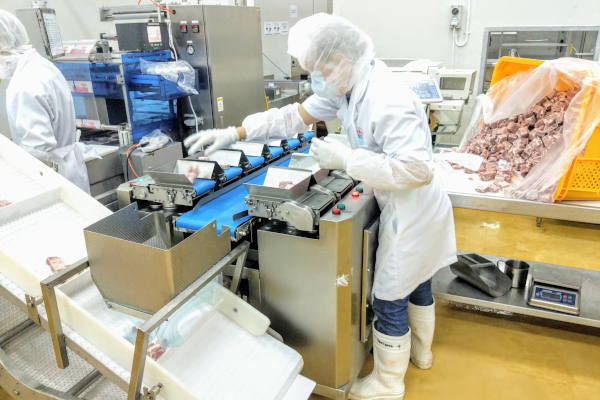 Surveys of global MNCs and manufacturing conglomerates indicate that digital transformation is one of the top strategic objectives across companies, yet only a handful are making significant headway into reaping bottom-line gains from pursuing digital innovation. By Auk Industries.
Transformational Results Realised In Early Adopters Among Food Manufacturers
Some pioneering food manufacturing companies are already reaping transformational improvement in their operations through the use of Industrial IoT systems.
A global meat processing company, manufacturer of Sadia, Farm Pride and Perdigao introduced the Auk Industrial IoT system across three processing plants in Singapore. Ranging from meat-cutting, slicing, mincing, weighing, packaging, to smoking ovens, more than 70 industrial machines are connected to stream real-time operational data for analysis on overall equipment effectiveness (OEE).
A short few months after rollout, they were able to sustainably raise equipment output by 30 percent, and subsequently, further reducing workforce man-hours by more than 25 percent. Previously, productivity was tracked by human observations and paper logs, which were labour-intensive and often plagued with issues of accuracy, precision and timeliness. 24/7 round-the-clock data collection was impossible. Now, Industrial IoT systems provide a "single source of truth" for fact-based discussion and collaboration among stakeholders to work on real impactful issues.
In another regional beverage company, a bottling plant is connected with Auk Industrial IoT system to achieve more than 80 percent increase in throughput. By using existing equipment and manpower resources more effectively to meet the demands of a fast-growing market, the company was able to save large capital expenditure (CapEx) previously required for investment in capacity expansion. Now, their workforce has become leaner and more efficient. In their next steps, they are deep-diving into material yield, defect rates and value stream losses leveraging the rich IoT data at every step of the manufacturing flow.
So, What Sets Them Apart?
As these examples illustrate, key success factors are clear identification of business objectives, recognition of technological tools as means, not ends, and the avoidance of decision paralysis by exhaustively assessing of the entire technology landscape.
The paradigm adopted by these successful companies is one of "think, act, think, act" in quick iterations between initial ideas and hypothesis-testing rather than "think, think, think, act", which misplaces focus on arriving at a perfect theoretical solution before implementation. A light-weight, cost-effective pilot was first introduced, and quickly after verifying business value, full-scale implementation across multiple plants in different locations were completed in weeks. This idea of agile development, commonly practiced in the software development world, enables companies to discover new information and address them quickly by proliferating good practices and discontinuing bad ones.
Management and production staff were introduced to the system and now use operations data to drive performance management and business decision-making. In the industrial environment, the benefits of successful early adoption can quickly outweigh the relatively small costs in pilot trials.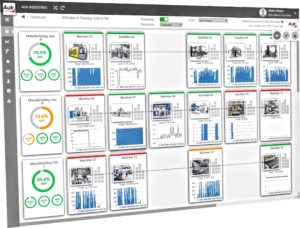 Figure: Industrial IoT dashboard and analytics software
Industrial IoT Systems Made Simpler, Faster And Better
Building on knowledge gathered from field experience within the team of operations and technology experts, Auk Industries designed and built pragmatic and powerful systems for the industries, based on lean operations principles.
At the core of the technologies, there are two key ingredients and concepts. Firstly, "Fitbit-for-machines", the enabler hardware, captures data signal from the machine's sensor through I/O and/or serial communication. Secondly, "Ops-analytics-in-a-box", the software engine, processes and transforms data synchronously using advanced algorithms and state-of-the-art analytics tools to generate powerful and actionable operational insights.
With cost-effective universal IoT devices that can be quickly deployed in minutes onto a diverse range of industrial machines, vital machine statistics can be streamed to secure enterprise cloud platform in near-real-time. Data analytics workloads are run on the cloud and visualised remotely on computers or mobile devices to generate actionable operational insights for the end-user. Round-the-clock machine monitoring tools and notification triggers can be set to alert the production team for expeditious response.
Unlike generally available solutions, Auk Industrial IoT system is simple to implement, easy to understand, and sidesteps pitfalls in high-risk, long lead-time IT projects with highly customised systems, allowing clients to reap immediate benefits.
The Industrial IoT system is scalable up to 10,000 devices per site and is future-proof through continuous development to include machine learning updates and enable integration with other products in the exciting Industry 4.0 ecosystem, including the latest MES and ERP systems. Auk Industries have been engaged by clients across different industry sectors in South-east Asia with transformational results.
Biggest Roadblocks
Key challenges to digital transformation cited include project complexity, costs, unclear business objectives, and inadequate capability to support digital initiatives. Except for a few model factories designed for marketing purposes, there exists a huge variety of different machine model and make, and a mix of old and new equipment in any given manufacturing plant. These differences only serve to compound the problem of data collection and integration on the manufacturing shop floor, and significantly increase implementation costs, with standard solutions requiring huge customisation efforts and extensive hardware rework to existing equipment.
Even with such extensive efforts to push for digital solutions, the use-cases and business objectives are often unclear and internal stakeholder engagement is neglected. As a result, operational staff regard these new technologies little more than aesthetic management eye-candy, and IT teams find themselves under-equipped to support the new IT infrastructure.
A Few Guiding Principles Are Required To Get Started
To address these obstacles and kickstart effectively, companies need to realign themselves to these guiding principles.
First of which, is to adopt a business-focused approach
instead of one that is technology-focused. Too many companies have dived headlong and poured investments into technologies such as augmented reality or digital twins without appreciating the Return-on-Investment (ROI) or end outcomes they hoped to achieve. Instead, lean methodologies can be a good starting point for companies to realise process improvements.
Secondly, companies should use data as a tool to drive continuous improvement. Quantify expected outcomes and regularly track performance against targets.
Thirdly, organisational mindset and culture must be reshaped to inspire the pursuit of innovation driven from the bottom up. This is best realised by empowering staff with data, and paying attention to how operational pain points can be alleviated.
In this regard, Auk Industrial IoT solution has proven to be a game-changer for companies looking to realise significant gains in their digital transformation journey. By distilling complex applications into elemental building blocks, a suite of modular "Lego-like" tools are now available to serve an entire spectrum of use cases, from the simplest to the most sophisticated applications. And notably, in an agile approach.
SHARE WITH FRIENDS:
TAGS: