Online Grocery Shopping On The Fast Lane
Friday, September 22nd, 2017
Online grocery shopping is accelerating at an enormous pace, and it is inevitable that e-grocers will have to start looking at automating their fulfilment centres in order to continue to meet the strong demand or risk being phased out eventually by competition. By Carsten Spiegelberg, general manager, Systems & Automation, SSI SCHAEFER
Online grocery shopping in Asia is big and getting much bigger. According to food and grocery research and training organisation IGD, three of the top 10 online grocery markets in the world are in Asia—China at number one, Japan at number three, and South Korea at number six. By 2020, it estimates that the online grocery market in China will be worth almost US$180 billion, nearly five times its current value of US$41 billion.
Expansion of the Asian middle-classes, increasing mobile and Internet penetration—the same factors that are driving e-retail—are fostering the growth of e-grocery. This is further bolstered by the rise of online grocery platforms. Some are pure play online grocers like Singapore's RedMart and South Korea's Hello Nature, while others are marketplaces like China's Alibaba and JD.com.
Challenging Business
It is well acknowledged within the industry that of all the products, grocery is most challenging to manage. Not only are there many more items per order as compared with electronics, apparels, toys or books, but the demand placed on e-groceries is also higher.
The products they have to handle are also often bulkier and heavier, and the margins are lower compared to other consumer products. Further, some are perishables where losses are incurred due to product damage or product expiry.
On-time reliable delivery is therefore critical in ensuring customer satisfaction. It took Amazon, the "granddaddy" of Internet shopping sites, years to expand into grocery, after having successfully tackled books, toys, electronics, jewellery, housewares, music and movies.
Fulfilment Centre—Focal Point Of Successful Online Grocery Operation
As in any e-retail operation, the fulfilment centre is integral to the success of online grocery retail. Storage of goods at one centralised location is critical as this undoubtedly contributes to shorter delivery times with the steps required for grocery retailers to fulfil the order being reduced.
It is also eminent that e-grocers look at having chilled and frozen zones in their fulfilment centres where products that are temperature sensitive can be kept fresh to diminish losses due to storage handling.
On top of that, order picking is also one of the key factors—get it right and customer satisfaction improves, and you will probably generate more repeat business. The converse is also true should orders arrive late or are damaged.
But What Storage Systems Can Be Introduced To Improve Pick Rates?
A lot depends on the volume as well as the product mix. As a general rule, it is advisable to have some degree of automation when you have to pick multiple items within narrow delivery windows, even in countries where labour cost is low. With automation, you can increase productivity, improve efficiency and optimise available manpower.
Pick-by-light is well worth exploring as it speeds up the picking process by directing the operator's attention to the requisite pick face by light, resulting in increased pick quality and speed. Goods-to-man system supported by carousels and shuttles are also recommended as it minimises walking, searching and selecting. The larger the warehouse, the greater is the productivity improvement.
One of the latest trends which combine proven equipment such as shuttles and lifts saw the introduction of a 3D Matrix concept which removes the limitations of conventional automatic and storage retrieval (ASRS) systems and eradicates bottlenecks.
The concept, comprising of a high density warehouse system, integrates goods-to-man retrieval and order picking. Automated shuttles operate within the framework, storing and picking pallets, trays, totes or cartons between anywhere in the warehouse and any picking station. This allows a very high throughput at optimal storage density to be achieved, with easy access to all SKUs without any decrease in the performance; this could well suit a largescale e-grocer fulfilling large quantity of orders at pressing delivery times.
For fulfilment centres with few SKUs, it is recommended to batch pick—an efficient picking process that maximises pick quantities and uses a put-to-light system to help operators allocate picks to orders. Batch picking by SKU ensures high pick efficiency as each SKU location is visited only once. The larger the batch, the bigger is the gain in picking efficiency.
Reaping The Benefits Of An Automated Fulfilment Centre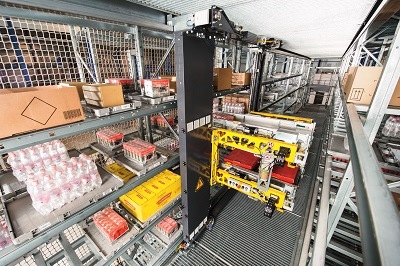 Automating fulfilment centre allows for product locations to be easily traced as storage location can be flexibly assigned. Stock control is also improved as automated fulfilment centres can accurately track stock levels. Product shrinkage is minimised as e-grocers will have fewer instances of having fewer items in stock than what was stated in the inventory list due to the possibility of clerical error or goods being damaged, lost, or stolen.
In addition, implementation of automation in e-grocery fulfilment centres creates an ergonomic working environment for staff as there is lesser need to bend and lift the goods which can result in injury accumulation over a period of time. Staff absence due to illness can also be reduced.
Workers working in such environment are healthier and more productive; productivity usually increases by about 20 percent. Automating the fulfilment centre also means reduction in error rates and order lead times. The reliance on manpower can be reduced. Staff can be redeployed to other areas to cater for further future expansion.
With the demand of online grocery shopping accelerating at an enormous pace, it is inevitable that e-grocers will have to start looking at automating their fulfilment centres in order to continue to meet the strong demand or risk being phased out eventually by competition due to failure in meeting delivery times.
Case-Study:
Enhanced Operation at RedMart In 2014, Singaporean online grocer RedMart invested in a fulfilment centre, as the old facility which extended over two floors could not adequately meet its requirements. It engaged SSI SCHAEFER to design and develop a layout which would suit its expanding operation then.
After extensive studies and detailed discussions with the RedMart team, SSI SCHAEFER proposed to separate the 9,300 sq m centre into four distinct temperaturecontrolled areas—a 22 deg C ambient room, a 7 deg C cold room, a 2 deg C cold room, and a -18 deg C freezer—with each area seamlessly integrated with the rest to ensure that productivity remains at the optimal levels as the operation grows.
With this segregation of the fulfilment centre that was fitted with Selective Pallet Racking, two-tier Free Standing Mezzanine, Carton Live Storage and Long Span Shelving, the results were immediate. Pick rates doubled within the first week of operation. The design is also more efficient with respect to product slotting.
SHARE WITH FRIENDS:
TAGS: