NEWBrew: Beer Made From Sewage Water Wins Praise
Thursday, May 11th, 2023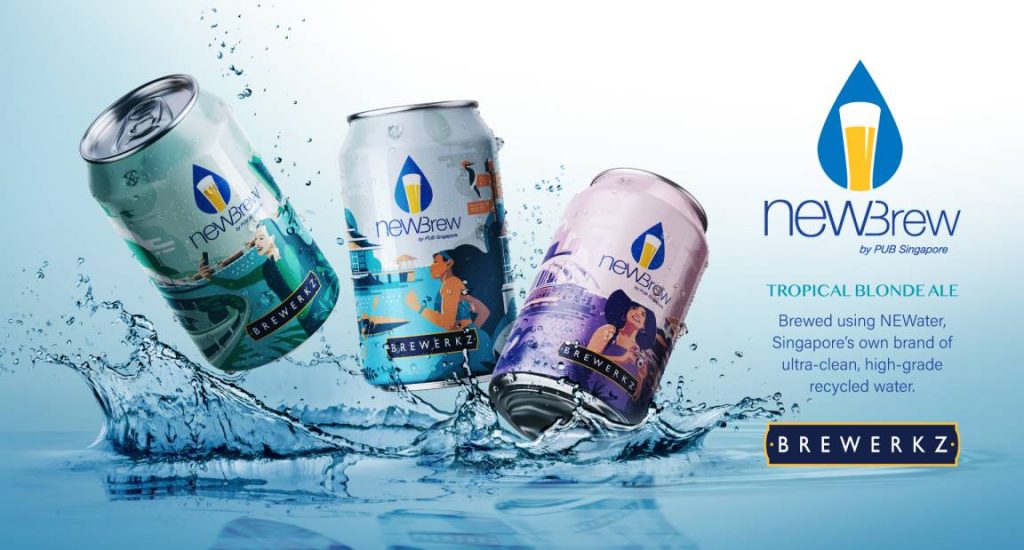 Packaged as a tropical blonde ale that has a smooth, toasted honey-like aftertaste, it is hard to imagine that NEWBrew has its origins in sewage water. Brewerkz and PUB share their stories.   
NEWBrew, A Brewerkz + PUB Collaboration
NEWBrew debuted in Singapore in 2018 and hit the right notes with both the local and international audience. 
This year, the 2022 edition is "a Tropical Blonde Ale made using the finest ingredients, including premium German barley malts, aromatic Citra and Calypso hops, as well as kveik, a highly-sought after strain of farm-house yeast from Norway." This year's edition of NEWBrew generated lots of public interest and was widely reported by the media both locally and internationally. 
The media rode on the shock factor that Singapore had produced a beer out of sewage water. Singapore's Business Times published an article on it that bore the title: 'Piss drunk': A toast to beer from Singapore's recycled toilet water. Other international news outlets reported something along the lines of Singapore making craft beer from recycled toilet water, which includes urine. But the main takeaway from these stories was that the world is facing a water crisis, and that we need to start working on using water sustainably. The aim of the Brewerkz-NEWater collaboration was to shed light on this water crisis. 
Water Chemistry In Beer Brewing
The importance of water quality for a beverage industry cannot be overestimated. Besides being the major constituent of any beverage, it contributes to flavour and supports various chemical reactions.
Certain beer styles, techniques and methods emerged in certain regions due to the unique materials that brewers used. For example, the terroir of water defines its fingerprint mineral and trace element contents, depending on the type of soil, microclimate and environment where it is sourced from. This is known as water provenance, or the specific water chemistry associated with particular regions of the world.
These properties affect crucial chemical reactions during brewing and play a significant role in perception of the final product. In general, high mineral content yields hard water and vice versa. Various minerals dissolved in water, their ratios and interactions affect conversion of starch into fermentable sugars during mashing (an obligatory process that distinguishes brewing from winemaking). 
Brewers of the past found out by trial and error that water high in scale-forming carbonate favours the addition of roasted malt, an ingredient that supplements natural acidity. If roasted malt were not added, it would result in lifeless sweetish beers. This discovery of historical significance led to the emergence of porter in London and stout in Dublin. On the other hand, naturally low mineral content water of Pilsen (a German name of the modern day Plzeň in Czechia) propelled the crisp refreshing drinkability of Pilsner, the most widely brewed beer style in the world.
Good taste of palatable water, its purity and mineral content become truly pivotal given the fact that an average pint of beer contains about 95% of water by volume. 
For NEWBrew, Brewerkz wanted to ensure the quality of water used, and NEWater was that perfect candidate that would form the indispensable part of the equation.
NEWater is an ultra-pure water obtained through reverse-osmosis membrane filtration technology. Reverse-osmosis filtration allows not only to remove most of the particles, proteins, minerals but also bacteria and viruses, leaving extremely pure and neutral-tasting water. This technology (also simply referred to as "RO") has become an industry standard for beverage manufacturers that allows brewers to mimic virtually any water terroir by adding various salts back during production, providing extreme flexibility and setting brewers free from the limitations of natural water sources. The latter is of extreme importance in the ever-changing world of craft brewing as it gives us an opportunity to keep up with the rising demand for beer style diversity and variety. Most importantly, NEWater is highly sustainable. This is crucial in times of global water scarcity.
Ensuring The Quality Of Water For Brewing
Good Brewing water should check the following boxes:
complies with potable water standards;

Tastes good;

Contains as few minerals and trace elements as possible.
To ensure that the quality of the water meets brewing standards, several tests should be performed. They include tests for:
alkalinity, hardness;

mineral (ion/cation) content;

chlorine/chloramine content;

metals/heavy metals content;

pesticide, nitrite/nitrate content;

haloacetic acid, Tetrahalomethanes content;

turbidity, TDS, pH.
To quote a Brewerkz spokesperson: "Working on NEWBrew has made us realised that it is not enough to simply own the technology and knowhow to recycle sewage water. It is just as important to prepare the public to accept consuming such a product. This journey will take a very long time, and we are proud to work with PUB as a part of this public education effort." 
Here's the background story of PUB's NEWater, the essential ingredient in NEWBrew.
PUB To Close Carbon Loop While Ensuring Water Sustainability
NEWater is one of Singapore's greatest achievements. Simply put, the process of producing NEWater involves recycling treated used water into ultra-clean, high-grade reclaimed water that supplements Singapore's water supply during dry weather. It is also an effort to move the country towards water sustainability. 
Known as the third water tap of Singapore, NEWater was first introduced to the nation's public in 2002. The concept of NEWater garnered international attention for two main reasons: Firstly, it was an impressive feat for land-scarce Singapore to turn its water vulnerabilities into opportunities for innovation. Secondly, it was inconceivable to many that sewage water could actually be turned into clean water for industrial use and even for drinking.
Now that Singapore has managed to close the water loop by recycling used water, the PUB (Singapore's National Water Agency) is now focused on reducing carbon footprint while continuing in its quest for ensuring water sustainability. For example, in 2021, PUB launched a "Carbon Zero Grand Challenge" that offered attractive prize funding for game-changing solutions that are capable of removing carbon emissions from water treatment facilities. The Grand Challenge is designed to last about 45 months, until the third quarter of 2025.
Simply put, the process of producing NEWater involves recycling treated used water into ultra-clean, high-grade reclaimed water that supplements Singapore's water supply during dry weather. It is also an effort to move the country towards water sustainability.
Three-pronged Strategy to Close Carbon Loop – Replace, Reduce, Remove
To ensure sustainable operations, PUB has been actively replacing carbon-based energy sources with solar photovoltaic (PV) systems deployed on facility rooftops and reservoirs over the years. There is also ongoing research and use of new technologies to improve energy efficiency and reduce energy required for water treatment processes. With these efforts, we expect to abate approximately 600 kt CO2e/year or 60% of total emissions by mid-century.
Capturing and removing carbon that we release into the atmosphere is the next big task on hand. PUB is already studying new technologies such as CCUS and carbon removal solutions that can be integrated with our water treatment facilities, to remove the remaining 40% or 400 kt CO2e/year of emissions.
Replacing Carbon-based Energy Sources with Solar Power
Following the opening of the Sembcorp Tengeh Floating Solar Farm in July this year, one of the world's largest in-land floating solar farms at 60 megawatt-peak (MWp), two smaller-scale floating solar farms at Bedok and Lower Seletar Reservoir have also commenced operations. These two floating solar farms at about 1.8hectares in size, are able to generate 1.5MWp each. PUB currently harvests some 70 MWp solar power from both its land-based installations and floating solar photovoltaic (PV) systems which can offset 8% of PUB's annual energy needs. 
PUB will be conducting feasibility studies in 2023 for two other large-scale floating solar PV systems at Lower Seletar (100MWp) and Pandan Reservoirs (44MWp).
Lower Seletar Reservoir Floating Solar Farm in Singapore.
Bedok Reservoir Floating Solar Farm in Singapore.
Reducing Carbon Emissions
Water treatment processes to desalinate sea water and recycle used water to produce NEWater are energy-intensive. PUB has been working with industries and research institutes to develop and test next-generation membranes that can substantially reduce the energy required by 50% or more. They are also constructing energy self-sufficient water reclamation plant (Tuas Nexus) that can utilise rich carbon content in used water to produce more biogas for electricity generation. On the demand side, PUB will continue to push for water conservation and water recycling among households and industries.
PUB Chief Sustainability Officer, Chong Mien Ling said, "Sustainability has always been at the core of PUB's work — we have diversified Singapore's water sources through its Four National Taps strategy and manage the entire water system in an integrated manner. As we grapple with the challenges of climate change, it is imperative that we continue to ensure that Singapore's water supply remains resilient but also sustainable. With water demand projected to almost double by 2060, the energy required to produce water is also expected to quadruple if we continue business-as-usual.
"Our ambition is to achieve net zero emissions by mid-century and we have mapped out a strategy to close the carbon loop by using more clean renewable energy and reducing the energy consumption of PUB's water treatment processes. Without the luxury of space as a small country, it is important to think creatively and embrace technology." 
We look forward to more innovative solutions that can yield something as revolutionary as NEWBrew.
MORE FOR YOU:
Plant-based Beverages and Frozen Desserts
Sustainability at the Core
Packaging Trends
Sugar Alternatives
The Demand for Immune Boosting Foods
Plant-Based Formulations Using Citrus Fibre
Sealed Air: The Future Of Packaging Is Here
Food And Nutrition Trends
Getting It Right With Plant-Based Alternatives
Fibre — A Tasty Solution For Fat And Sugar Reduction
Digital Transformation In The F&B Industry
SHARE WITH FRIENDS:
TAGS: