Natural, Clean-Label Solutions For Beverages
Thursday, December 5th, 2019
For F&B manufacturers, clean-label and natural shelf-life extension solutions are necessary for a rigorous food safety regimen to engage health-concerned consumers. By Kemin.
In conversation with Fintan Sit, President of Kemin Food Technologies Asia, at Food Ingredients Asia 2019:
Consumer trend reports indicate that while majority of the demographic requests healthier and nutritious options, taste and flavour cannot be compromised.
As advocated by The Consumer Goods Forum, "What's good for consumers is good for business", a motto that urges food manufacturers to strive to create good, nutritious food with the best ingredients at their disposal. However, the preservatives they utilise have yet to evolve with the clean and natural trend. Especially in Asia, we see many snack and beverage producers resorting to using preservatives and additives that are synthetically derived with e-numbers, which in turn, do not appeal to the consumer. Long, chemical-sounding e-numbers are instantly associated with artificiality and struck off most grocery lists.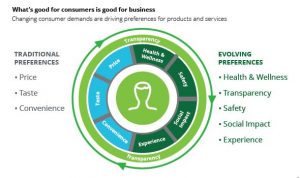 Looking at Europe and Japan a decade ago, food manufacturers in both these markets faced similar pushback from consumers for using artificial preservatives. This sparked a movement to switch to all-natural options—this wave of consumer-led change is slowly coming to Asia.
Kemin, with its natural ingredient solutions, can help food manufacturers evolve with the trends by identifying clean-label solutions to extend shelf-life and ensure the safety of consumable products. We specialise in natural antioxidants that help to extend shelf-life. In particular, it is Kemin's rosemary extract of which we are most proud. As the first and only SCS-certified rosemary for its antioxidant content, the production of Kemin's rosemary extract is fully controlled through vertical integration. Thus, Kemin has full control from farming to harvesting, extraction and formulation, ensuring a consistent extract. This traceability aspect differentiates us from other rosemary extract suppliers in the world, giving us the control, the quality and the efficacies of our product.
For food manufacturers, catering to local tastes is a key contributing factor for success. In Asia, we're seeing a strong growth in the demand for dairy beverages like milk tea. Ready-to-drink milk teas are a common phenomenon in Asian countries. These are usually packaged in clear PET packaging so the consumer can peruse the texture and type of contents within before purchase.
The challenge with milk products like these is that it is exposed to elements like light, air and environmental changes—milk products that contain fat are susceptible to oxidation. Once oxidised, both the colour and the smell of the product change, creating an unpleasant experience for the consumer.
To prevent such an occurrence, Kemin helps food manufacturers provide an extra layer of protection for their milk products through extracts that may be directly added to their recipes.
As long as a milk-based product is in a PET bottle, it requires protection. Our spearmint extract, FORTRA, protects the colour of products containing fat, like milk. This occurs because the fat content is well preserved so the products do not turn rancid easily despite being subjected to different external conditions. Apart from protecting the fat content in milk content from oxidation, FORTRA is also able to protect coloured beverages such as juices from colour degradation. Likewise, the FORTIUM blends also help maintain the colour consistency of these products by preventing rancidity. These two combinations—FORTRA and FORTIUM—provide a holistic dual-defence against colour changes, ensuring the consumer receives a pleasant experience.
Check out these articles:
GlobalData: Plant-Based Meat Market Attracting 3D Printing Firms
Unilever Reduces Food Waste With "Best Before, Often Good After" Labels
BENEO's Game-Changing Ingredients (Sports)
SHARE WITH FRIENDS:
TAGS: