Multi-Spectrum Metal Detectors
Thursday, August 4th, 2022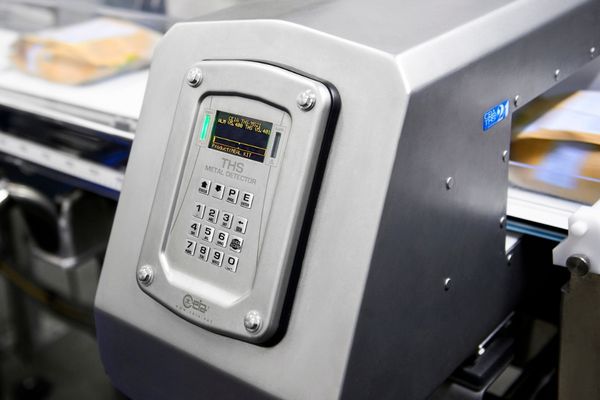 High performance multi-spectrum metal detector: As the focus on food safety intensifies, there is a need to address the challenges caused by "product effects" on metal detectors.
Metal detectors send out electromagnetic pulses to single out metal contaminants in food products. Food products with high salt and moisture content can affect a metal detector's ability to differentiate between product attributes and non-ferrous metal contaminants. This phenomenon is called "product effect". Product effect refers to the influence a product has on the magnetic fields generated by a metal detector. 
There are a few food products that frequently interfere with a metal detector's ability to single out contaminants, usually due to their high salt, moisture or mineral content:
Meat and seafood

Baked goods that are fresh out of the oven

Dairy products

Fruits and vegetables
Choosing The Right Metal Detector
Choosing the right metal detector can be a complex process. Especially when product characteristics such as salt content and temperature variations are involved. It becomes critical to then choose the correct model of metal detector to best cope with these variations. Partnering with a supplier with extensive experience, and who understands and can explain the various concepts behind the technology becomes even more critical to success.
While many processors expand their product ranges to remain competitive and/or capture new markets, the pandemic has also seen them putting in additional production lines to help them pivot their operations and meet demand for new and different products.
In many cases, their standard metal detector is no longer able to cope with the variety of products running down their new lines, but by utilising high performance solutions which incorporate multi-spectrum technology, they are now able to successfully manage the variation of products produced.
Make Multi-Spectrum Metal Detectors A Standard
CEIA is the world's largest manufacturer of metal detectors. It is also the only company to make metal detectors using a patented cutting-edge multi-spectrum technology. This innovative technology uses multiple frequencies simultaneously, meaning they can increase sensitivity, reduce false rejects and detect thin metal fragments.
The CEIA THS/MS21 is the world's only multi-spectrum metal detector. It has unique detection capabilities and extreme sensitivity of magnetic, non-magnetic, and even 316 stainless-steel metal contaminants, and is available in a USDA-approved design. 
It is suitable for nearly all variations of food product characteristics, and can detect foreign objects while operating simply, efficiently and at a high speed. At the same time, it collects and retains important production run data.
Integrated Auto-Learn functionality allows a multi-spectrum metal detector to be easily set up for new products all the while ensuring high levels of sensitivity. With minimal manual adjustment, the metal detector can quickly learn the properties of any new product and informs the user on how many passes it needs in order to understand and map the new product. More importantly the MS21 also self-calibrates itself on a continuous basis and logs the result in the data stream confirming that the unit is operating at its optimum level. If there is a problem in its calibration, the unit raises an alarm, which can be audible and visual highlighting that there is a noncompliance. This feature not only saves on the possibility of a contaminant escaping detection. More importantly, it reduces the risk of a potential expensive recall, along with damaging a product's brand.  
The auto learn function also outperforms other metal detectors which experience difficulty inspecting non-homogenous products. Inferior, traditional metal detectors commonly trigger "false positives" during metal detection, usually when food composition and mineral levels incorrectly indicate the presence of metal. This leads to a perfectly good product being rejected and the loss of a profitable, saleable product. 
Most currently available metal detectors are only able to use one frequency at any one time. Processors using a limited frequency unit must reduce the unit's sensitivity to prevent false reject signals. Product effect conditions such as salt and moisture content, for example, may trigger false signals even though they are inherently part of the products. As the CEIA multi spectrum technology utilises multiple frequencies at the same time. This enables it to understand the product effect better, leading to optimal metal detection performance, and therefore outstanding detection capabilities.
Food Processing is a fiercely competitive market, and consumer demand for new and different product varieties just keeps growing. Expanding your product range can present challenges when it comes to choosing the right inspection equipment needed to cope with a variety of product characteristics. Cutting-edge technology is now helping food processors run multiple products through the same production lines. Don't risk your brand's reputation with inferior equipment. For more information, write to [email protected] or visit www.heatandcontrol.com
The CEIA THS/MS21 is the world's only multi-spectrum metal detector.
MORE FOR YOU:
Plant-Based Diet: Texture Counts For Plant-Based Success
Is Ingredients Innovation The Key To A Continued Plant-Based Boom?
Intralogistics: Automation & Digitalisation Solutions
Metal Detectors: Pre-Packaging Inspection Of Raw Material
Sustainable Solutions To Food Waste & Food Safety Issues
APFI Magazine Speaks To Neils Arbjerg, President Of Asia Pacific Region, Danfoss
Innovating For Metabolic Health
Like our content? Connect with us on LINKEDIN, FACEBOOK, TWITTER
Subscribe to our digital magazine for the latest in the industry.
SHARE WITH FRIENDS:
TAGS: