Mengniu Yoghurt Pouch Designed for Recyclability in China
Friday, August 11th, 2023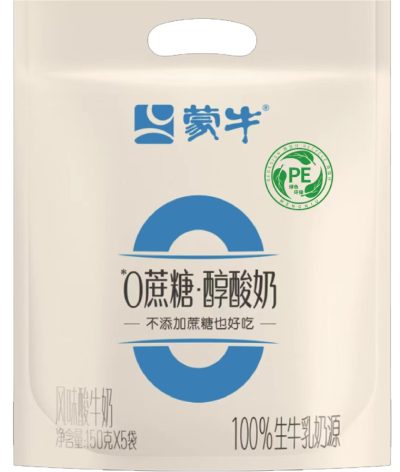 Earth.org reports that China consumes at least one fifth of the world's plastics. It is also the single largest producer and exporter of single-use and virgin plastics. However, in recent years, China has taken steps to ramp up recycling. Efforts are being made to address this issue, with some companies and initiatives working towards reducing plastic use and finding more sustainable packaging alternatives. Brands have joined forces to empower the possibilities of closed loop recycling. One such partnership was formed between Dow, a global materials science company, and Mengniu, a leading dairy company in China.
Dow has partnered with Mengniu, a leading dairy company in China, to launch an all-polyethylene (PE) yoghurt pouch designed for recyclability. This innovation strengthens both companies' commitment to achieving a circular economy in China.
Leveraging the materials science expertise of Dow and the collaboration across the value chain, Mengniu developed its first all-PE yogurt pouch designed for recyclability. Dow's INNATE TF-BOPE resins help ensure that packaging maintains its superior appearance and productiveness. The newly developed all-PE packaging enabled by INNATE TF-BOPE resins is a breakthrough for the dairy industry, as it enables traditional hard-to-recycle packaging to be integrated into closed-loop recycling streams through responsible recycling and mechanical recycling technology, providing consumers with more choices of sustainable packaging.
"This partnership with Mengniu is a milestone for both brands to pioneer all-PE dairy packaging designed for recyclability in China. The country's ambition to work towards Zero-waste Cities has changed how it tackles plastic waste. This collaboration is a significant step in facilitating recyclability and empowering the possibilities for recycled packaging to be transformed into high-value applications through responsible disposal and appropriate recycling process, reducing our industry's reliance on unrenewable resources. Through our advanced research and development capabilities, we strive to help brand owners like Mengniu to take action and deliver on their sustainability commitments," said Bambang Candra, Asia Pacific commercial vice president of Dow Packaging and Specialty Plastics.
Mengniu set a goal to achieve 100% technically recyclable packaging by 2025, striving to adopt low-carbon packaging in all product lines. Environmental-friendly manufacturing is an important pillar of Mengniu's sustainability strategy, and adopting more sustainable packaging is one significant action to fulfil the commitment.
Mengniu's yoghurt with this all-PE packaging designed for recyclability was unveiled at the 2023 International Dairy Forum from Aug 4 to Aug 7 in Hohhot, a major city in Northern China, and will be available starting from supermarkets across the city.
Dow Packaging and Specialty Plastics is a business unit of Dow (NYSE: DOW). It combines core strengths of R&D, worldwide reach, broad product lines and industry expertise to deliver high performing technologies for end-use markets in food packaging, personal hygiene, infrastructure, consumer goods and transportation. P&SP is one of the world's largest producers of polyethylene resins, functional polymers, and adhesives, and enabled by Pack Studios, is a leading innovator and collaborator across the value chain on sustainable application development and circular economy life-cycle design for plastics. www.dowpackaging.com.
China Mengniu Dairy Company Limited and its subsidiaries mainly manufacture and distribute quality dairy products in China. It is one of the leading dairy product manufacturers in China, with MENGNIU as its core brand. Mengniu offers diversified products including liquid milk products, ice cream, milk formula and cheese. Mengniu ranked 7th in the 2022 "Global Dairy Top 20" list published by Rabobank. As at the end of 2022, the Group's annual dairy production capacity reached 12.91 million tons. In March 2014, Mengniu became a Hang Seng Index constituent, making it the first blue chip Chinese dairy product manufacturer. In 2022, Mengniu's MSCI ESG rating improved to an A grade, the highest rating in the Chinese food industry, and it was included as a constituent stock in sustainable development indexes such as the Hang Seng Corporate Sustainability Index Series.
MORE FOR YOU:
Supporting Women's Health Needs with the Right Ingredients
Edible Packaging — Cups You Can Eat
e-Commerce Packaging: More Than Just a Box
Breaking Down the Benefits of Inclusive Packaging
Sustainability in the International Supply Chain
Plant-based Beverages and Frozen Desserts
Sustainability at the Core
Packaging Trends
Sugar Alternatives
The Demand for Immune Boosting Foods
Plant-Based Formulations Using Citrus Fibre
Sealed Air: The Future Of Packaging Is Here
SHARE WITH FRIENDS:
TAGS: