Maximising Bottling Production
Monday, September 18th, 2017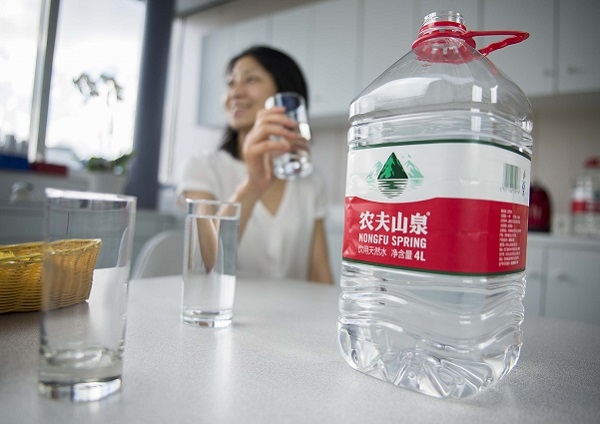 Chinese bottled water manufacturer Nongfu Spring previously had a four-litre family sized bottle which was only available in high density polyethylene (HDPE). Wanting to make the switch from HDPE to PET for this, they turned to PET production equipment and services provider Sidel for a solution. By Sidel
FOr humans, water is something that we cannot do without. In the world today, and with all the industry scandals and threats to food safety, having a good and reliable source of water is all the more important. Bottled water today is therefore popular in many countries, and in fact, is one beverage category that will likely continue to grow volume sales, according to market researcher Canadean in 2015. They predicted bottled water to overtake even sales of carbonated soft drinks last year, to reach 233 billion litres.
With bottled water gaining importance, manufacturers can also gain an extra edge over competitors if they aligned themselves with consumer demands. In China, the bottled water sector has been growing in recent years, reaching substantial volumes. This strong growth has been driven by the Chinese consumer demand and preference for bottled water over tap water, as tap water quality in the region is not consistently reliable.
Its consumers have also contributed to an increasing market demand for family-oriented packaging for bottled water. To meet this, Chinese bottled water manufacturer Nongfu Spring, released a four-litre sized bottle. In 2013, sales for this format registered a growth of 53 percent.
Previously, the company which sources its water from the natural spring 'Lake of a thousand islands' used high density polyethylene (HDPE) for all its bottle formats, which include 380 ml, 550 ml, and 1.5 litre sizes, on top of the four-litre one.
In an effort to save costs and achieve a more cost-effective and sustainable production process, they decided to switch from HDPE to polyethylene terephthalate (PET), which was possible for all but the four-litre sized bottle. They therefore turned to PET production, equipment and services provider Sidel for a solution.
Appealing Yet Cost-Effective PET Bottle
Besides wanting to save on costs, the company was also looking to create a four-litre bottle that would stand out on supermarket shelves. The inherent properties of HDPE result in certain constraints in bottle design, which lower the bottle appeal and perceived value for consumers. As PET bottles are fully transparent, brighter, and lighter in mass, the company hoped to be able to present to consumers a more appealing bottle.
PET bottles also require less material to produce and create less waste compared to that made with HDPE, which lack clarity and also require more material for their manufacture. Further, PET offers greater freedom of shape and can help the company to create a brand that stands out on shelves. It can be moulded into single-serve, multiserve or extended family formats, all of which offer the convenience, re-sealability and recyclability that consumers are looking for today.
PET bottling lines also offer a lower total cost of ownership through its capacity for higher production output than a HDPE line, which would allow the company to achieve a more costeffective and sustainable production process for this family bottle format.
Boosting Production
Sidel worked with Nongfu Spring on their precise and specifi c technical requirements for the bottling line: increased production capacity and efficiency, reduced production costs, and high speed and line effi ciency. The fruit of their negotiations was a unique and customised bottling line that integrated blow moulding, fi lling and capping functions into a single system. The line can also produce 14,000 bottles per hour.
An integration of compact and ergonomic machines, the line offers improved efficiency levels of about 2-4 percent higher than standalone machines. It also reduces operating costs of about 8-12 percent due to the use of fewer machines, faster format changeovers, lower energy consumption, and savings in labour, raw materials and spare parts.
Installed in 2014, the Combi line offers a reliable operational level that has allowed the bottled water manufacturer to boost its overall productivity and maintain a competitive edge in supplying four-litre bottles. Manufactured and tested at Sidel's Beijing plant, this enabled a fast installation of the line in Nongfu Spring's production facility, as well as a quick validation of all components and options that was required.
The line also integrates a conveyor system, labeller and carton caser from third party companies, so as to ensure a smooth production from bottle production to packaging at the desired effi ciency and output levels. With this integrated system, conveying, empty bottle handling, accumulation and storage are all eliminated, and the line is further optimised with a smaller footprint.
Since the installation of the first line and the muchcelebrated success with it, the bottled water manufacturer has since installed a second line to boost production even more and meet the ever-increasing consumer demand for bottled water in China and for family-oriented packaging formats.
SHARE WITH FRIENDS:
TAGS: