Lubrication With Zero Waste
Saturday, September 16th, 2017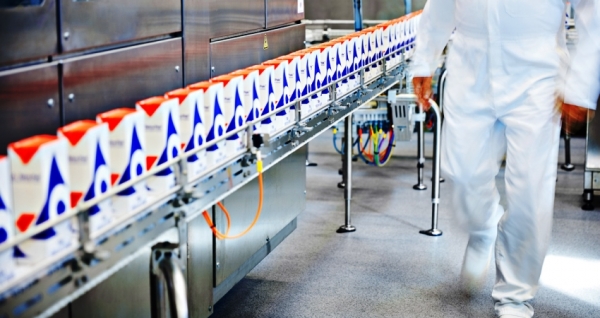 An increasing amount of manufacturers are turning to dry lubrication, a solution that can help improve a company's processes and environmental footprint, while reducing costs. Klara Svedberg, director of parts, consumables, and upgrades at Tetra Pak, explains why.
There is an ever-increasing expectation that companies play an active role in creating a sustainable world. The broader societal concern about sustainability has grown from almost nothing in the early 1990s to a dominant theme today.
Sustainability in the food and beverage industry is a major strategic issue for stakeholders across the entire value chain. It can come in the form of making operations greener, by using fewer resources, pledging to cut CO2 emissions, incorporating more eco-friendly materials in packaging (recyclable or biodegradable), or even sourcing ingredients in a sustainable manner.
Packaging manufacturer Tetra Pak similarly found that companies must increasingly compete for customers and resources, and consumer interests and resource scarcity are changing the way they do business.
Consumers care about the environment—and they want to know that the businesses they buy from share this concern. In fact, according to Tetra Pak's environmental research in 2015, 66 percent of consumers have avoided a product or brand for environmental reasons.
To stay competitive, companies must look beyond their own operations and consider opportunities to reduce their environmental footprint and increase resource efficiency across the entire value chain: at the front-end, in the design and manufacturing of products and packaging; and in the systematic recovery of valuable materials once the consumer is finished with the product or package.
One way to make a lasting positive difference is through collaboration and partnership. Working closely with one's customers can help with the development of new products and processes that meet customers' responsible business needs.
For example, Tetra Pak developed a dry lubrication kit for packaging line conveyor belts and distribution equipment. This new solution helps customers make efficient use of resources, including water, while simultaneously helping them lower their production costs.
This way, customers can achieve their sustainable business goals by managing and minimising their environmental impact throughout the value chain while also improving the efficiency of their operations.
Lubrication Of Conveyor Systems
For food and beverage manufacturers, conveyor systems are a key feature of their product lines. Manufacturers are continually looking to improve their conveyor systems, which travel at high speeds, eventually causing wear and tear on the belts.
Lubricants aid manufacturers by reducing friction along the face of competition. The conveyor belts, improving the longevity of the equipment, preventing costly unplanned downtime, ensuring less falling and/or squeezed packages and reducing noise levels.
The lubricants used on conveyor belts can be divided into two types—wet lubricants and dry lubricants. Wet lubricants are traditionally based on soap solutions, providing slip properties that must be used with softened water or otherwise contain a suitable chemical to control the hard water salts. It leaves both the equipment and factory floor wet.
In contrast, dry lubrication removes the use of water, meaning that the process of lubricating conveyors and distribution equipment is nearly dry.
Dry Lubrication And Its Benefits
Dry lubrication involves a drop of food grade oil roughly the size of a pea (80 cube millimetres) being directly added to the conveyor belt to reduce its friction with the package.
Such a lubrication application system can be fully automatic and specifically developed to meet the stringent requirements of the food and beverage processing industry, and amongst other things, ensures limited or no risk in case any incidental food contact occurs. The operator only needs to refill the lubricant and cleaning agent.
During the last few years, there has been growing interest from manufacturers to switch from wet lubrication to dry for their conveyors and distribution equipment. Dry lubricants can help them improve their environmental footprint, while reducing operational costs.
Briefly, dry lubrication results in an estimated 50 percent reduction in running costs compared to wet lubrication. Additionally, dry lubricants save an average of 35,000 litres of water per filling line each year, and remove the need for waste water treatment or handling. Furthermore, dry lubricants reduce the load and strain on conveyor motors, reducing energy consumption.
A fully automated lubrication system also ensures precision and improves efficiency. For example, Tetra Pak's dry lubrication kit can result in a 75 percent reduction in man-hours requested in maintenance.
Another significant benefit of dry lubrication versus wet is that it improves the health and safety on the operation floor because it removes one of the main hazards of the production line environment—water. Wet, slippery floors compromise the safety of staff. Water can also damage packaging; for example, it can encourage bacterial or fungal growth on packages.
In summary, dry lubrication offers producers an efficient solution to help meet the challenges of food and beverage manufacturing in today's world—improving operational performance and decreasing costs, while also reducing a company's environmental footprint, enabling them to meet their sustainability goals. This helps to improve brand perception by consumers, giving their products an edge in the face of competition.
Focus On H1 Food Grade Lubricants
Consumables rarely steal the spotlight, but they are the everyday heroes that quietly make good things happen. In the event something goes wrong, that is when they get all the attention they could ask for. Choosing the right adhesives, lubricants and other consumables is important.
Better performing consumables mean much better performance throughout the line. As a trend, an increased interest from customers is being seen in improving overall operational performance as the industry looks to become more efficient and cost-controlling.
In 2015, Tetra Pak partnered Henkel to create a new range of synthetic H1 food-grade lubricants in a continued effort to help customers get the best from their equipment.
H1 lubricants may be used in applications where incidental food contact may potentially occur. They are specifically designed for food manufacturing equipment and are certified by global health organisation National Sanitation Foundation International (NSF).
The food grade lubricants are odourless and tasteless and offer advantages in performance and lifetime terms compared to traditional mineral based lubricants.
Testing found that H1 lubricants last up to three times longer, and wear rates are reduced with 67 percent, compared with conventional mineral oils.
SHARE WITH FRIENDS:
TAGS: