Insights On APAC's Bakery & Confectionery Market
Monday, November 16th, 2020
Government restrictions and consumer wariness due to COVID-19 is affecting bakery and confectionery markets across APAC, says GlobalData.
The onset of the COVID-19 pandemic impacted the bakery and confectionery markets across the Asia-Pacific (APAC) region from late March 2020. The strict lockdown enforced by several APAC governments disrupted production and transport of bakery goods due to an acute shortage of raw materials supplies and labour in bakeries across the region. 
Household consumers flocked to groceries and supermarkets to stock up on essentials, including staple bakery goods such as bread, as they cocooned in their homes to reduce exposure to the highly contagious virus. Retail store shelves were quickly emptied and store owners struggled to replenish stocks. As the lockdown across several countries extended, the production and transport of bakery goods resumed and off-trade demand stabilised. 
GlobalData Consumer Analyst Bobby Verghese points out that while retail sales for packaged bakery products such as bread, biscuits, and cookies picked up due to the increased at-home consumption of meals and snacks, household demand waned for products such as cakes and pastries. However, government restrictions and consumer wariness of shopping at large crowded retail outlets considerably undermined impulse purchases. E-commerce portals experienced above average demand for bakery goods amid this scenario. 
At the same time, the strict lockdown and social distancing norms imposed by governments compelled food service operators across the board to curtail operations or pull down their shutters, thereby eroding demand for bakery goods from bakeries, restaurants, institutional caterers, and even street eateries. The decline in demand from the HORECA channel thereby offset some of the gains realised by retailers during the outbreak. 
Within the region, countries which controlled the spread of the pandemic to some extent are experiencing a moderate revival of on-trade sales of bakery goods as offices, schools and HORECA outlets resumed operations. However, as episodic virus outbreaks continue to take toll on the cash flow and threaten the viability of many food service operators, the overall scenario for on-trade sales appears grim for the rest of the year according to Verghese.
GlobalData's 2020 survey reveals that 50 percent of the Australian consumers are purchasing the same quantity of bakery & cereals as before the pandemic as bread is a staple in the Australian diet. In comparison, close to a quarter of Chinese and Indian consumers have cut down on their purchases of bakery & cereals since the onset of the pandemic as they rationalised their discretionary purchases.
Confectionery Sales In Asia-Pacific Badly Hit By COVID-19 Pandemic
The APAC confectionery market has been growing from strength to strength in recent years. However, the fear of the COVID-19 contagion has compelled consumers to cut down their frequency of visits to grocery stores, public avenues, entertainment centres, and outdoor dining outlets, thereby undercutting impulse purchases such as confectionery. The decline in domestic and international travel and tourism and the restrictions on social gatherings and celebrations have also had a marked impact on confectionery sales since March 2020. 
Verghese also points out that impulse purchases account for a sizable share of confectionery sales in the APAC as shoppers generally perceive such products to be treats for special occasions, in sharp contrast to the Western consumers who consume chocolate more regularly. Demand for confectionery is expected to contract further owing to the rising cost of raw materials such as sugar and cocoa at a time when the global economic slowdown constrains household discretionary purchases such as confectionery. As a result, the APAC market is expected to make a slow and staggered recovery.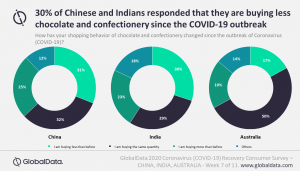 Owing to the COVID-19 outbreak, the sales of bakery & cereals and confectionery in the APAC region in 2020 are poised to marginally dip to 36.3 billion kg when compared to GlobalData's baseline forecast volume sales of 36.4 billion kg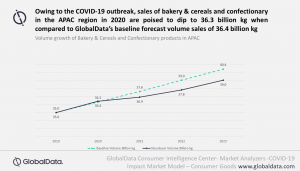 Demand For Functional Bakery & Confectionery To Grow
The grave health crisis unleashed by the COVID-19 outbreak is motivating more consumers to take up healthier lifestyles and diets as a means of strengthening their immunity against infections.  As a result, consumers are attempting to manage their health through their diet and stave off illnesses and trips to hospitals as far as possible.  APAC consumers, particularly those having medical condition such as diabetes or heart ailment or a loved one suffering from the same, have paying closer attention to the on-label ingredients of packaged goods than before the pandemic. 
Besides incorporating more nourishing regular meals, consumers are adopting healthier snacking habits instead of gorging on sugar, salt and calorie loaded products they were accustomed to before the COVID-19 pandemic.  The trend is partly driven by a realisation that the prolonged stay at home, which can lead to unwanted weight gain.  As reflected by GlobalData's COVID-19 survey, with more time spent indoors, a sizable section of APAC consumers have begun spending more time for prepping/cooking meals and snacks at home, thereby driving demand for baking goods such as flour.  
Verghese explains that this shift towards balanced meals and nutritional snacking has stoked demand for functional or better-for-you bakery goods and confectionery that are fortified with proteins, fibres vitamins, minerals, antioxidants, probiotics or botanical bioactive compounds that can elevate their overall health status, resistance against infections, energy levels or mood. For instance, following the virus outbreak, Indian start-up, The Health Factory, noted surge in sales of its 'Protein Bread', with each bread loaf loaded with 48 grams of protein, and 'Protein Cookie', with each cookie containing 6.77 grams of protein.
Products incorporating immunity-enhancing ingredients from traditional systems of medicine are also gaining favour in Asia. For instance, the Bangalore Bioinnovation Centre (BBC), a start-up backed by the government of the Karnataka state in India, launched BeamRoti, an Indian flat bread (chapati) infused with immunity boosting herbs recommended by the Indian government's Ayush ministry.  Another Indian manufacturer Bonn Group launched Nu Health Herb & Seeds bread with the claim of being enriched with 'immunity booster' ingredients such as turmeric, oregano, black pepper and pumpkin seeds.  
The Product Makers (TPM), an ingredients and flavor manufacturer based in Australia, developed a gold colored chocolate using its proprietary sugarcane extract Phytolin Plus. By substituting chocolate liquor in the end product with Phytolin Plus, TMP gave the chocolate a premium golden appearance, lowered its inherent sugar levels, and raised its protein and fiber content significantly. 
Online Shopping & Home Deliveries Takes Precedence Amid Pandemic
The unrelenting spread of the COVID-19 is driving a seismic shift in distribution channels, with online shopping and home deliveries gaining favour among shoppers who are hesitant to venture out to retail stores where they risk being exposed to the virus. The pandemic is accelerating the adoption of online shopping and online payments as revealed by GlobalData's survey owing to the growing consumer affinity for contactless deliveries and payments. This sent retailers scurrying to install or enhance their online shopping website and apps, and manufacturers vying to build their direct-to-consumer network in order to prop up flagging sales. 
Verghese concludes that the shift towards online shopping is expected to persist long after the virus outbreak is contained as more consumers grow accustomed to its convenience. Companies focusing on online sales need to pay heed to the growing customer demand for tamper-proof packaging as a safety precaution amid the pandemic.
Check these articles out:
APAC Packaging Industry Set To Ride On E-Commerce Wave
Asia Land Forum 2020: Covid-19 A Wake-Up Call For Our Food Systems
Asian Consumers Desire Natural And Tasty Confectionery
Euromonitor: Coronavirus Will Transform Consumer Behaviour
Japan: Chocolate Confectionery Market To Soar To US$6.13 Billion
The Growth Of Healthcare Confectionery
Chocolate Confectionery Market To Hit US$154.5 Billion By 2025
SHARE WITH FRIENDS:
TAGS: