Innovating With Health In Mind
Thursday, November 16th, 2017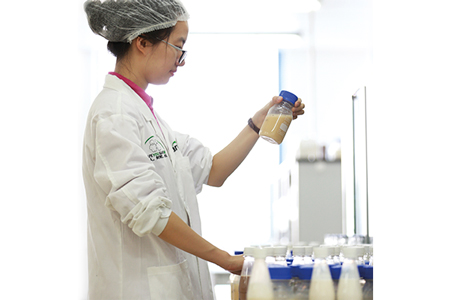 Health is the top priority for many consumers today, and it is vital that manufacturers innovate with healthy and natural ingredients to create products that consumers love. By Cargill
As a leader in nourishing the world, Cargill has been committed to providing consumers with more nutritious, delicious and healthy dietary choices through innovative food solutions for many years.
Take our usual favorite, yoghurt, for example. It is a product that is consumed by customers of different for different ages and at different occasions, and to this end, Cargill has developed many different yoghurt varieties to appeal to this diverse group of consumers.
Less Is More
Our fast-moving lifestyles mean that consumers need to pay extra attention to their health while coping with the added stress caused by urbanisation. Keeping to the principle of 'customer first', Cargill has introduced a low-fat yoghurt that retains the regular creamy texture loved by everyone—enabling consumers to enjoy nutritious products while on the go.
With the rise of diabetes becoming a global phenomenon, the company has also introduced yoghurts with natural sweeteners aimed at elderly and middle-aged consumers who wish to reduce their sugar intake to maintain health blood sugar levels.
For parents concerned about their children's health, Cargill has launched an innovative 'two-use' product—a smooth, creamy, delicate-tasting yoghurt that is conducive to intestinal health with a high protein content.
The highlight of this yoghurt is that it can be served two ways: as ice cream in its frozen form, or as a creamy yoghurt after having been defrosted for 20 minutes at room temperature. In addition to its health benefits, this product which is targeted at children will definitely intrigue young ones and give them a different way of consuming healthy dessert. Now, who says healthy food cannot be fun?
Going The Extra Mile For Dairy Customers In China
Xinjiang is the largest province in western China and home to many people whose diets have long included a strong tradition of eating dairy products. The province's 1.85 million cows produce 167 thousand tons of raw milk each month for processing: enough to meet local demand and also enable local dairy producers to export the surplus product to customers beyond the Xinjiang region.
However, because of the remote location of the province, local producers have not been exposed to external consumer trends and are not as equipped to meet the dairy demands of urban city centers like Beijing.
The Cargill team decided to engage directly with Xinjing dairy consumers on the ground in order to gain a better understanding of them, and work hand-in-hand with them to develop and innovate.
"On-site customer visits in this province are unusual. Customers here generally lack technical experience and are desperately in need of help," says Li, Dairy Technical Expert. "Cargill responded to this challenge by assigning a dairy expert to support and coach our Xinjiang customers on site—something none of our competitors have done before. This move signaled our commitment to our dairy customers and was instrumental in helping Cargill build a firm foundation of trust and partnership with them."
The Cargill team began working with the dairy farmers to develop new yoghurt products with a better mouth feel that incorporated distinctive Xinjiang characteristics such as concentrated tastes, fragrance and having an extra smooth texture.
Xinjiang customers were very focused in their demands; they wanted products developed in a short turn around time at a lower cost but still comprising the same high quality that Cargill is well-known for. In addition, they also asked for comprehensive pre-and-post production on-site support, including early, on-site, and after-sales assistance in marketing, production, quality control and packaging design.
A tall order indeed, but one which the team met boldly with a solution called AYS 6035 (TribosenseTM-MIS). This is used in four new products: Children's yoghurt, Concentrate yoghurt; Lemon Sea Salt yoghurt; and Green Lime yoghurt. The successful new product launches provide benefits for both the customers and Cargill.
"We helped our customers enrich their products, improve their profits and expand their market share in Xinjiang province," says Li. "We also helped increase Cargill's brand influence while developing a set of processes for providing technical services to our customers: a win-win, as we can now expect more future collaboration with them!."
Doing The Extraordinary
In addition to optimising food solutions, Cargill also improves the food production process to enable a healthy delivery. With health being the priority of consumers today, Cargill is committed to innovating with ingredients, food products and even food processes, in order to bring healthier solutions to meet consumer needs—especially in Asia.
"The Chinese dairy market is very fast growing fuelled by fast innovative solutions. This is why Cargill Texturising Solutions APAC has selected Dairy as a key category as we believe our team and product portfolio are great assets tow in with customers in this space," said Cargill's APAC regional director Franck Monmont.
Cargill works to nourish the world in a safe, responsible and sustainable way. Having been in the business for more than 150 years, the company has a history working with partners to navigate the complex food system from field to table. Their broad portfolio, market expertise and trusted supply chain can help customers satisfy the continuous rising consumer demand.
SHARE WITH FRIENDS:
TAGS: