Industry 4.0 Is All About Mass Personalisation & RFID Labels
Thursday, April 9th, 2020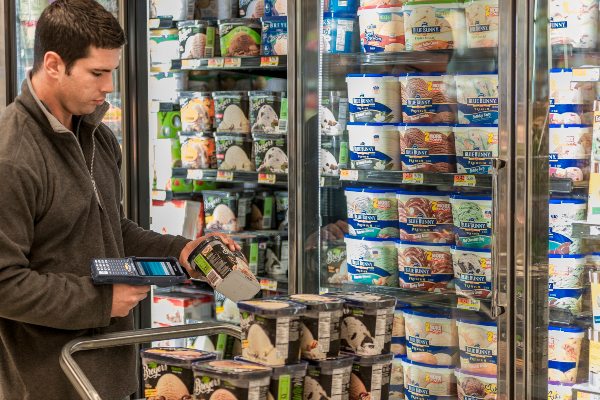 With traceability solutions, businesses in the F&B industry can tag food ingredients and products, making it easy to adapt these items to market changes and individual consumer demands.
With the Fourth Industrial Revolution (or Industry 4.0) underway, it is becoming clear that this era is all about product customisation and speedy fulfilment. With the "I-want-it-now" instant gratification mindset feeding consumers' need for faster delivery, Zebra Technologies' Future of Fulfilment Vision Study found that 67 percent of logistics companies expect to provide same-day delivery by 2023 and 55 percent anticipate delivery within a two-hour window by 2028.
Yet many manufacturers in Asia Pacific are finding it difficult to meet that expectation. Why? Because the efficiency demands placed on manufacturers during the First, Second and even Third Industrial Revolutions (less than 20 years ago) pale in comparison to what manufacturers are facing right now.
In this era of mass personalisation, customers are not just satisfying their needs, but also seeking a means of self-expression through their purchases. The hunger for customised, bespoke services seems unlikely to abate. Offering multiple options is no longer enough to satisfy customers' appetite for personalisation.
The Food and Beverage (F&B) industry must now accelerate technology deployments such as traceability solutions to gain visibility of assets, people and products to understand and meet these demands.
Track & Trace Technology Adoption In F&B
It is no secret that the F&B industry is being digitally transformed. Despite new innovations, food products are still perishable and are often shipped in huge quantities and to many different points of sale. This highlights the crucial need for traceability of these products as it requires interconnectivity and interdependency, which can be achieved through a combination of connected technologies being utilised to track food products, worker actions and productivity—including RFID, 5G, real-time locationing systems and more.
The global food traceability market is expected to reach an expected revenue of $14.1 billion by 2020. RFID technology is expected to grow at the highest rate of 19.4 percent among all food technologies. This is due to the need for real-time tracking of food items, stock inventory accuracy and visibility.
RFID tags and RFID solutions holistically could become the basis of digitalisation that is quickly defining the Fourth Industrial Revolution. That is because RFID does more than just digitally transform items and procedures that were historically just mechanical. It protects operational efficiencies and agility while uniquely providing external visibility into internal operations.
Injecting New Conveniences In The On-Demand Economy With RFID
Mass diversification introduces many risks to manufacturers. For one, there is the potential that the efficiencies of mass production – the very efficiencies that made items like cars affordable and customisable in the first place, way back in the First Industrial Revolution—could be lost. Then there is the possibility that bending to customers' ever-changing demands—implementing flexible, endlessly adaptable production and supply chain systems—might impact price and productivity advantages created by the unyielding, uniform production lines that have been in place for centuries.
In Industry 4.0, it has become critical for supply chain organisations—whether a retailer or manufacturer/supplier—to reduce the friction associated with delivering highly personalised services to customers. In order to deliver new conveniences to customers, organisations have to inject new 'conveniences' into their operations. For manufacturers, RFID becomes that source of 'convenience' by giving them a way to automate and expedite key processes as on-demand operations become more complex.
By requiring suppliers to mark food ingredients and products with RFID tags in addition to the standard barcode, businesses in the F&B industry are taking back control of their production processes, even as they create more individualised orders into assembly-line systems in highly automated factories.
For example, the operational oversight provided by overhead systems constantly tracking and tracing RFID tags will give food manufacturers the confidence that the right ingredients and products are being picked and delivered at precisely the right time. Being able to simultaneously direct the delivery processes accurately can help to improve productivity in warehouses and kitchens, as well as mitigate errors that can be costly in the form of customer rejections or recalls in the future.
Uncovering Maximum Value With RFID In F&B Supply Chain
RFID tags possess several key advantages over previous labelling technologies that make them ideal for more automated Industry 4.0 supply chain processes.
First, RFID tags tend to be more accurately identified than barcodes, especially from a distance. They can also be extremely durable, assuming you choose the right RFID tag for your application and material to which it will be applied (i.e. on-metal), a high-quality label, the right RFID inlay and a reliably performing RFID label printer.
Furthermore, RFID does not require line-of-sight or a light source for tags to be read, which presents a significant advantage over previous technologies such as barcodes. A reader can ascertain the entire contents of a box without the box being opened or can pinpoint a specific item in an area containing hundreds of diverse components. A vehicle being built can be digitally tracked during its production process, enabling workers to make the right decisions by understanding exactly, in real time, its historical production data and next requirements.
RFID tagging can also operate across large areas, integrating factory zones into a seamless Internet of Things (IoT) system that transmits data to and from back-end systems to accurately track the location of items. For example, a delivery's contents can be automatically identified by fixed RFID readers and antennas that are installed overhead or on the loading dock upon arrival and directed to the right area, without human intervention. Any item within the read range—inside or outside the four walls—can be located, retrieved and delivered where it needs to be, considerably reducing lost and miscategorised items.
With traceability solutions, businesses in the F&B industry can tag food ingredients and products, making it easy to adapt these items to market changes and individual consumer demands. It helps both manufacturers and suppliers to reduce their operational downtime and food waste. The ability to have visibility, improve operational efficiency and agility will be key in this on-demand and mass personalisation economy. Having connected technologies could be the prerequisite to staying competitive and ahead of it all.
Contributed by Tan Aik Jin, APAC Vertical Solutions Lead, Manufacturing and Transportation & Logistics, Zebra Technologies.
Check these articles out:
A Targeted Shift Towards Sustainable Packaging
US Dairy Partnership Inspires Food Innovation In Southeast Asia
Increased Spending On Health Benefitting Functional Food Ingredients Market
Beyond Meat And Roquette Announce Multi-Year Pea Protein Supply Agreement
Highlights: Sustainable Foods Summit In Asia Pacific
Ensuring The Safety And Quality Of F&B E-Commerce Products
Reducing Food Waste In Produce Processing
DHL Supply Chain To Manage Nestlé Warehousing Operations In Myanmar
SHARE WITH FRIENDS:
TAGS: