What Are The Implications Of Factories Of The Future?
Tuesday, July 24th, 2018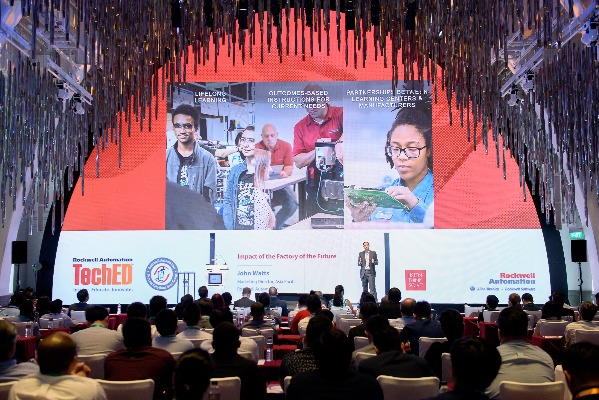 Rockwell Automation's TechED event, held from 18 to 20 July in Singapore, shed light on the digitisation journey and the merits of a connected enterprise.
John Watts, Marketing Director, Asia Pacific of Rockwell Automation notes that 10 years ago, there was a brick wall between the developments in emerging technology versus developments in manufacturing technology. That isn't the case today.
Utilising such established technology, a success story in Rockwell Automation's portfolio is global dairy co-operative, Fonterra, a prime example of how leading technology and software can be integrated to existing businesses in order to optimise production and ensure full product traceability.
Case Study: Fonterra
New Zealand, the dairy hub in which Fonterra is based, is geographically isolated from most of its overseas markets. As such, over the years, the dairy co-operative has had to invest in automated solutions in order for quality products to reach their markets on time in 140 countries worldwide.
With its focus on being an innovative co-op, Fonterra ensures that as it transforms digitally, its machines, supply chain and customers are continuously connected. In 2012, Fonterra formed a strategic alliance with Rockwell Automation to transform its business operations. These transformations include:
Data contextualisation across the supply chain by leveraging the MES platform
Highly automated operations programme
Mobilised operator trials
Cloud-based historian deployment
What does this mean for the consumer?
Product traceability is key to ensure product authenticity, especially for sensitive products like dairy. Rockwell's scalable solutions are necessary to allow the consumer to trace the journey of infant formula, for example, from the batch number to the region where the milk is produced.
In case of a product recall or temporary hold, Fonterra is able to trace where the ingredients of the product came from, whether it's within their dairy network or an external vendor. This will help identify a source of contamination and isolate it before it reaches the consumer. Connection is the single most important factor for Fonterra's success.
Note: technology is not, by itself, a solution. To enable a digital transformation, business design needs to be evaluated to concretise an overall operations strategy. Further, the organisation needs to be analysed to align its vision with the technological infrastructure. Only then can businesses technologically enable operations to draw up a comprehensive approach to realise benefits.
Want more insider news? Subscribe to our e-book now!
SHARE WITH FRIENDS:
TAGS: