The Impact Of Digitisation On The F&B Industry
Tuesday, June 5th, 2018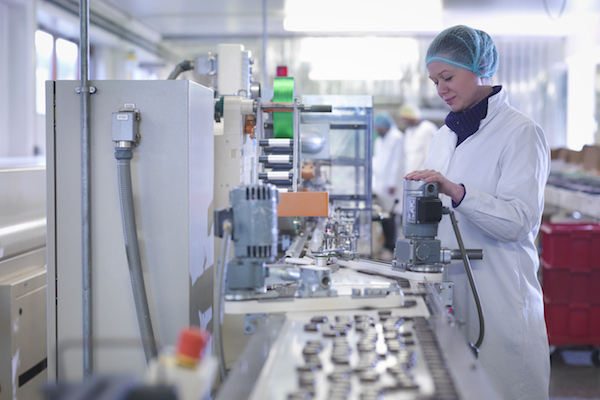 F&B manufacturers who are able to take the necessary steps in digital transformation will build trust with their consumers and gain a competitive edge, says Damien Dhellemmes, country president for Singapore, Schneider Electric.
The food and beverage (F&B) industry is going through a profound transformation driven by cost pressure, growing consumer demand for a variety of product types, as well as transparency in manufacturing operations. Despite this, the F&B industry remains one of the fastest growing industries in Asia Pacific.
Asia Pacific's F&B industry is projected to grow at 11 percent year-on-year in 2016, outpacing the second and third largest regions, Western Europe and North America, according to a report by Euromonitor International, a leading market research company for consumer products. In today's increasingly competitive business landscape and in the search for smart and sustainable solutions, F&B manufacturers are turning to the Industrial Internet of Things (IIoT) technologies for answers. IIoT describes the use of IoT technologies in manufacturing. Cloud, big data, smart manufacturing, and predictive maintenance—these are solutions that are currently being implemented across the F&B manufacturing industry.
As the sector evolves to become more digitised, there are opportunities for F&B manufacturers to meet ever-changing consumer demands by improving the agility of the production process and reducing the time to market in new product variations. For example, while processed food and ready-to-eat meals used to be in high demand, consumers now prefer healthy and organic products1. Therefore, to remain competitive in the market, F&B companies need to effectively manage more product variations and be flexible in their operations by tapping into a combination of energy management, automation and software technologies.
F&B manufacturers have continually invested in solutions to automate processes and provide visibility into operations as plant data is often trapped in silos and is not easily accessible. With IIoT, it provides an alternate, non-intrusive path for data collection and analytics. The advantage is that upgrades can now also be made without the need to change existing control systems and Programmable Logic Controllers (PLCs).
For instance, IIoT devices are able to easily collect sensor data without the need for additional wiring. Sensor data can also be collected directly from plant assets and production processes, which can then be delivered to the cloud for processing or storage.
Open connectivity can serve as a bridge between the 'back office' information technologies (IT) and operational technology (OT), enabling improved information sharing between plant and enterprise systems. Moreover, hardware agnostic platforms that leverage open connectivity can add further capabilities because information can be accessed across multiple devices, providing an additional layer of visibility during plant operations.
Technology—An Enabler For Employee Empowerment
While most of the conversation around digital transformation has focused on the effects of machine-machine communication, one crucial asset is its ability to empower employees to make better decisions.
With IIoT, employees are equipped with the right amount of actionable insights when needed. Digital transformation has enabled decision makers and operators in the plant to be equipped with actionable insights that can be accessed from either their workstations or mobile devices.
In particular, increased connectivity enables F&B manufacturers to gain a more comprehensive view at every step of the production process and the ability to make real-time adjustments to maintain the flow of finished goods and avoid any defects.
As employees are also directly involved with plant operations, from actual maintenance to strategic decision making, it is important for companies to invest in solutions that consolidate and contextualise data extracted across the business.
For example, with built-in analytics, manufacturers can now comprehend big data easier, which unlocks hidden correlations and empowers employees to make better decisions. Further, with advanced predictive analytics—which uses advanced pattern recognition and machine learning—employees can be notified about anomalies several months before a problem occurs, giving enough time for proactive planning.
As IIoT continues to transform the F&B industry, there is also a need for manufacturers to invest in upskilling their employees. In order for manufacturers to maximise the benefits of digital transformation, it is crucial to have a skilled workforce that can support its IIoT operations and take advantage of open connectivity during the work process.
Enhancing Traceability In The Production Process
For F&B companies to gain the trust of their customers, it is no longer enough to have products shipped in a timely fashion. Now more than ever before, consumers are looking to know more about the production and delivery process of their food products from shipping, handling, production, to packaging.  In an industry where safety is of utmost importance, transparency and traceability is key throughout the production process.
One example is a digital recipe and batch management system, which will allow manufacturers to be more responsive to consumers and reduce the time to market for new product introductions. Digital recipe and batch management is an essential tool that enables manufacturers to produce finished goods with added agility to remain competitive. It enforces repeatable quality and increased efficiencies by allocating equipment, downloading parameters, and automating recipe procedures.
Furthermore, another benefit is that it helps manufacturers reduce the risk of product recalls. This is done by ensuring that products are produced to specification and controlling the recipe management and execution process with detailed traceability and electronic batch records. For improved regulatory compliance, manufacturers can also offer consumers a complete recipe genealogy and product history. End-to-end traceability can be provided at the point of purchase by using a serialised barcode that can be scanned, displaying nutritional information that is useful to the consumer.
By integrating data from production processes as well as tracking and traceability, manufacturers will be able to control their production operations and hence, achieve significant savings in their production, logistics and inventory costs. In the long run, F&B manufacturers who are able to take the necessary steps in digital transformation will build trust with their consumers and gain a competitive edge.
Looking Ahead
In this new era of digital transformation, F&B manufacturers that are slow to adopt new technologies will be left on the side-lines, while the competition moves ahead. For F&B manufacturers to compete effectively, they will need to constantly evolve with changing consumer trends while leveraging the newest technologies.
IIoT, cloud, mobility and advanced analytics solutions will help to enable companies with the necessary steps required to transform their business with significant value. Digital transformation is far from a one-size fits all solution, but it offers the essential tools for businesses to operate with greater agility, while empowering employees to make better decisions and helping to improve overall work efficiencies.
By embracing digital transformation and IIoT, the F&B industry stands to greatly benefit as manufacturers are able to drive operational excellence across the value chain. By modernising operations across the enterprise, companies across industries can focus on developing new ideas, enhancing the quality of their products, packaging materials, and building consumer loyalty.
Want more insider news? Subscribe to our e-book now!
SHARE WITH FRIENDS:
TAGS: