Heavenly Water
Sunday, May 17th, 2020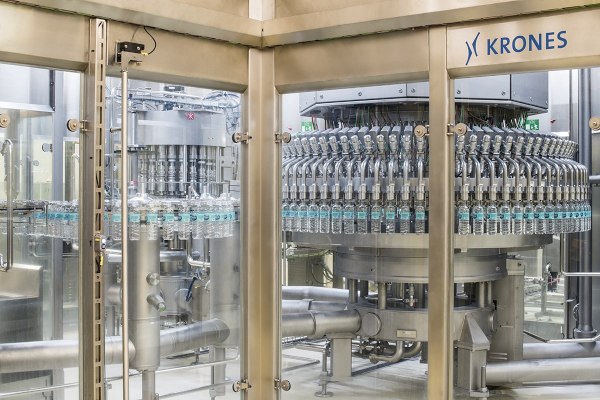 Bottled water producer, Yanbian Nongshim, reaps the advantages of Krones technology.
The water bottled by Nongshim bubbles up from a spring on Mount Baekdu, a still-active volcano, through the middle of which runs the border between North Korea and China. This mountain has quite a special meaning for the inhabitants of the Korean peninsula: "Legend tells us that our ancestor descended from the heavens right here and founded our people. So, the mountain is sacred to us Koreans, and thus our water is, too," relates Ahn Myung Sik, Chairman and CEO of Yanbian Nongshim.
It was precisely because of this compelling heritage that the Korean parent company Nongshim decided in 2012 to build a new turnkey factory at just this spot in the north-east of China. The water flows by itself from Heaven Lake located in the volcano's crater down to the spring about 40 kilometres away where it bubbles up from the ground—all of this without any artificial aid. It takes about 40 years to cover this distance in the natural way, during which time it flows through a series of rock layers that serve as filters. The water is transported by means of pumps only over the final three and a half kilometres or so from the spring to the production facility.
However, it is not just the natural modalities of its extraction that make this water so special: "Our spring is located at an elevation of just under 2,300 feet, and maintains a constant temperature of six to seven degrees Celsius. What's more, our water contains loads of minerals, chief among them silicates that are a prophylactic protection against dementia, for example," says Ahn Myung Sik. "These are all reasons why our Baeksan natural mineral water is definitely something quite special."
Three Times ErgoBloc L
The company is suffused with this love for the product they are making, and a special atmosphere that can also be felt by the numerous groups of visitors that flock to Mount Baekdu and on this occasion often stop over at Yanbian Nongshim as well. And to offer these groups a tour they will always remember, the firm has put its heart and soul into the presentation of its Baeksan water. On a route that's one kilometre long, the visitors learn not only everything there is to know about the spring water, the rock formations and the company's history, but are also given a crash course on PET materials and the bottling process. During this tour, visitors can repeatedly catch a glimpse of the production facility through large gallery windows.
The generously dimensioned halls accommodate three Krones lines equipped to the latest state of the art. They are almost identical in their layout, and an ErgoBloc L constitutes the heart in each case. The wet-end block for stretch blow-moulding, labelling and filling has been installed in a cleanroom so as to make absolutely sure the company's stringent quality stipulations are actually met. The new line runs at a speed of 54,000 containers an hour, so Yanbian Nongshim produces three million bottles a day here in total.
When the company began planning its new factory in 2014, it took Krones on board for this purpose: "Many large international water bottlers are using Krones lines. This was what drew our attention to this firm, and following a visit to a trade fair and a number of meetings with Krones Korea, we ultimately opted for Krones—and have been very satisfied with our decision ever since," relates Ahn Myung Sik.
An OEE Of 90 Percent
At that time, the client chose to buy two lines, each featuring an ErgoBloc L in the wet end, and a Variopac Pro, a Robobox and a Modulpal Pro for the packaging, grouping and palletising operations. Only a short time after entering the market, Yanbian Nongshim proved to be hugely successful, and it swiftly became clear: a third line was urgently needed to enable the high levels of demand to be met.
The company did not have to think very long about it, as Ahn Myung Sik relates: "Although the ErgoBloc systems installed in the first two lines already contained state-of-the-art technologies, Krones improved on these even further, upgrading energy savings and efficiency levels, for example. And so, we once again opted for this solution."
However, the third line differs from the two previous ones in certain points that additionally increase the speed and quality involved: the preforms, for instance, are ionised prior to being stretch-blow-moulded, and subsequently sterilised with UV light. Krones has integrated a separate inspector for checking the BB date in the Topmodul labeller, and also changed the way the adhesive is applied. So as to provide a maximally high degree of production automation, Yanbian Nongshim additionally uses two Multireel quick-change systems that automatically supply the two Contiroll stations with wrap-around labels.
"The line's efficiency is 90 percent; what's more, it's child's play to run it with only four operators. I am convinced that it was the best choice for us," says an enthusiastic Ahn Myung Sik.
Location As A Challenge
While the spring's location on a volcano right in the heart of nature brings nothing but advantages for the water's quality, this remoteness hampers any type of goods transport to and from the factory. The main sales market for Baeksan water, you see, is South Korea: around 70 percent of the containers produced go to the home country of the Nongshim Group, with the remaining 30 percent being supplied to China or Japan. To obviate the need for sending umpteen trucks a day on their journey along winding narrow roads through the north-east of China, Yanbian Nongshim uses an existing railway track that led through the present-day premises even before the water factory was built. From here, two to three trains per week depart with destination Beijing or the port of Dalian, where the water is loaded onto ships that take it to Korea, Japan and the south of China. For the loading routine, Yanbian Nongshim uses an intelligent high-bay-warehouse system that enables the pallets to be transported directly into the containers.
Here's To A Brilliant Future
Even though Yanbian Nongshim has not been active in the water business for very long, its market share in 2018 was already running at twelve percent—and the uptrend continues. This is because the Chinese government's license for the permitted production quantity is a long way from being exhausted. The company is optimally prepared to cope with these growing sales. Not only does the existing hall offer space for two more lines, but the company's premises also boast a sufficiently large free area for erecting another building.
Ahn Myung Sik hopes he will be able to harness Krones' assistance and expertise for any upcoming projects as well: "Krones is more than just a machinery manufacturer—the firm also offers all the associated service capabilities and looks after the organisation here on the spot. I hope that we will continue cooperating with them in future too," summarises Ahn Myung Sik. "For Nongshim, Krones is the best partner in the world."
Check these articles out:
Burcon, Nestlé and Merit Announce Collaborative Partnership for Plant-Based Proteins
Glanbia Nutritionals Acquires U.S.-Based Watson
Steinecker Brew Centre: World's Most Sophisticated Research Brewery Has Been Inaugurated
Global Tonic Water Market To Reach Value Of US$2.45 Billion
New Subsidiary For Krones In SEA
Krones: Unique Labeler For Unique Containers
How Do You Protect Coconut Water During Processing?
A Spotlight On Sustainability: Evian To Use Only 100 Percent Recycled Materials
PepsiCo Buys SodaStream In US$3.2 Billion Deal To Make New Inroads
Celtic Pure Increases Productivity And Flexibility With New Sidel PET Complete Line
SHARE WITH FRIENDS:
TAGS: