Growing Popularity Of 'Food As Medicine' Concept Amongst Global Populations
Wednesday, February 23rd, 2022
Key players of the F&B industry now have the opportunity to tap into this growing number through their own variety of functional foods.
By Kanchan more, data analyst for markets & markets
---
Rising Global Health Issues Increasing Consumer Demand For Functional Foods
An analysis by Google Trends determined that there is a sustained interest in wellness over 2020 and into 2021, growing 21 percent year on year. According to the 2020 Global Nutrition Report, poor diet is the leading cause of mortality and morbidity worldwide, exceeding the burdens attributed to many other major global health challenges. The majority of the world's population now live in developed countries where obesity kills more people than malnourishment. 
As per the above graph, the trends for high percentage of obese individuals is prevalent amongst the developed countries as compared to that of developing countries. Other than obesity, cardiovascular diseases and diabetes are other health challenges burdening global economies. The Institute for Health Metrics and Evaluation also indicates that the prevalent cases of total cardiovascular diseases (CVD) nearly doubled from 271 million in 1990 to 523 million in 2019, and the number of CVD deaths steadily increased from 12.1 million in 1990, reaching 18.6 million in 2019. This makes it apparent that global consumers are becoming more aware of their food choices and dietary intakes. According to the 2019 Food and Health Survey by "International Food Information Council Foundation", 23 percent of consumers said they actively seek out foods or follow a diet for health benefits. Most often the benefits they seek are weight loss, energy, digestive health, and heart health. 34 percent respondents to the same survey said they consume plant-based protein daily.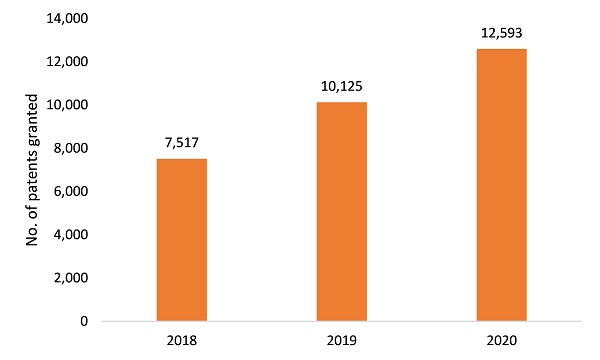 Source:Lens.org
Sales of plant-based foods reached US$4.5 billion in April 2019 according to Plant Based Foods Association (PBFA) 2019. Interest in the uniqueness of healthy foods and ingredients is also increasing and paving the way for superfoods and more novel functional foods and ingredients. All these factors are driving the consumption of functional foods in developed as well as high income developing countries.
Factors Propelling The Growth Of Functional Food Markets
The functional foods market is a steadily growing market and presently, there are many large and small companies venturing into it. As of 2019 Asia-Pacific holds the largest market shares of the functional food market at 46.8 percent. This market is expected to maintain its position as more developing countries in the region attain a higher disposable income and become more aware of their health and fitness. However, many of the key players in functional foods market include Danone S.A. (France), Nestle S.A. (Switzerland), General Mills Inc. (US), Glanbia Plc (Ireland), and Tyson Foods Inc (US) amongst others. These companies are actively investing into the development of novel functional food ingredients developments and developing new functional food products from there. 
Globally, new companies are also focusing on achieving the right mouthfeel, texture, and food flavours in order to make functional foods healthier and appealing to consumers. This is because a primary concern for the average consumer is still taste, and despite a desire to be healthy, many may still be hesitant to make the switch unless the taste of functional foods can compare to the regular foods they are used to. 
COVID-19 Impact On Functional Foods Market
The demands for health food are a on a rise post-spread of the COVID-19 pandemic. The pandemic has caused consumers to re-evaluate their eating habits, which in turn has boosted the demand for functional foods that provide wellbeing benefits such as immunity and stress management. This trend is not a short-term spike but is expected to go on for years as consumers' taste and consumption patterns change. 
In developed economies such as US, UK, Germany and Canada, consumers have also shown that they are willing to increase their expenditure for healthier products. A sharp spike in snacking and binge-easting was also observed amongst global population in the initial phase of pandemic breakout as more people worked and studied from home. Hence, as the pandemic progressed, more populations demand healthier snacks and bakery products.
MORE FOR YOU:
Supporting Growing Consumer Health Needs With Fortified Food And Beverages
Coffee Evolution: Adding A Healthy Halo With Protein
Red Microalgae Makes Veggie Burgers 'Bleed'
Colouring Food With Food
What Happens To Bad Seeds?
Metal Detection, X-Ray – Or Both?
Traceable, Nutritious And Delicious: How ofi Is Bringing A New Perspective To Food Ingredients
We Want "Toxin-Free" Milk!
To not miss our exclusive articles, follow us on our social media platforms LINKEDIN, FACEBOOK, TWITTER
WANT MORE INSIDER NEWS? SUBSCRIBE TO OUR DIGITAL MAGAZINE NOW!
SHARE WITH FRIENDS:
TAGS: